I definitely don't have a dining room (or even a dining table) in my tiny apartment, but that hasn't stopped me from contemplating the types of chairs that I would want if I did have one! My parents are redoing their living room, and my Mom and I recently got to discussing which are the best dining room chairs. She concluded that her favorite is the square, straight-backed chair, and I'm a fan as well – though I'm also partial to oval-backed chairs (like the ghost chair). Both can be done in so many iterations – different materials, different colors, varying fabrics, studded details…the variations go on and on! Today I'm focusing on the square-backed variation. Here are some of the inspiration pictures I found that have made me fall further in love with this chair style…
Bright yellow chairs look perfect in this colorful but sophisticated space.
image source – I love the fabric here, both in terms of material and color.
image source – sunny yellow fabric is so perfect in this pared-down, neutral space.
Nailheads and contrasting fabrics on the back and seat cushions give a unique look to these chairs.
image source – I love the mix of weathered material juxtaposed with sleek leather on this version.
As you can see above, these chairs seem to fit perfectly into any decor style, be it feminine, masculine, modern, traditional, or whatever else. They come in a variety of price points, and if you don't like the fabric selection at a retailer, you can always have it upholstered in a fabric of your choosing, or re-upholster it yourself using the plethora of DIY tutorials available on the internet. Here are some great options I've come across:
This option from Cost Plus World Market is a perfect neutral and very well-priced at 399.98 for a set of two. Also comes in peacock blue, light blue, coral, and plum velvet.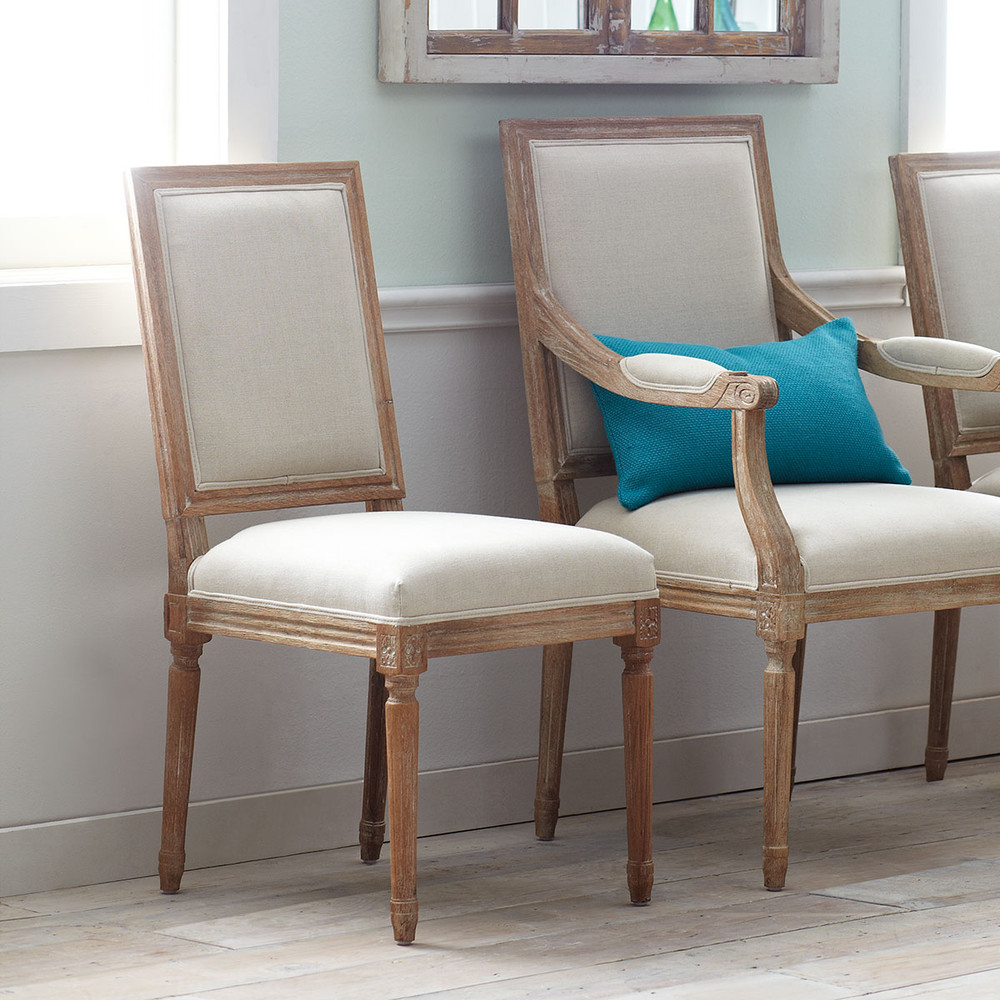 Another affordable version from Wisteria, at $199 per chair. Also available in aqua (kind of a nice Positano look), French blue, and lavender (but really, who would want a lavender dining chair? Anyone?).
Ballard Designs has a nice square back Louis XVI chair that comes in brown wood, white, black, or distressed gray over white. All of these versions are distressed except for the walnut brown. I happen to be a fan of lightly distressed furniture, since I'm also a fan of the Shabby Chic look (in small doses), so I think these chairs are great. You can choose from a seriously large variety of fabrics for the cushions, including a bunch of patterns. I happened to see on Instagram that Michelle Adams has the walnut wood round-backed versions in the black and white striped fabric, so that's a point in Ballard's favor! You can also send them your own fabric and they'll use that to upholster it, which is pretty awesome.
The Ballard chairs also come in a nailhead version and a lacquered finish.
On the more expensive side of the coin, you've got a Jonathan Adler navy upholstered nailhead version of this chair, for $995. I've seen it in person and can attest to it's gorgeousness. I find that with many of JA's items, the online pictures don't do them justice. This chair is upholstered in a linen/cotton blend.
Here's Restoration Hardware's version of the chair. It is available in five different wood finishes and there are so many options for the fabric, my mind was seriously blown (seriously). The price varies between $200 to almost $400 depending on the fabric you choose.
If you're more a modernist, you can always go for the Icon Chair or Hudson Chair, both from DWR. They don't look super comfy but they've definitely got the minimalist thing down!
One thing my Mom and I noticed…every version of this chair is weathered/distressed, except for the Jonathan Adler one. I wonder why that is…perhaps to give it a vintage type look to keep with it's classic origins? Just throwing it out there: I think someone should make a glossy, non-distressed version, for those who aren't a fan of the weathered look!
A few other things: these chairs often come with arms as well, and they don't have to be exclusively for dining rooms! You can use one or two as an accent chair, a side chair, or even a desk chair. Also, you could probably find vintage versions by searching flea markets or antique stores, which would be awesome.
What do you guys think about these straight backed chairs? Are they the best dining room chairs out there or do you have another style you prefer?