This ghost chair guide was updated March 2019
---
I love modern chairs – I think they're eye-catching, unusual, and add the perfect dose of personality and quirk to a space. The ghost chair is one of my favorites, which is why a version of it currently resides in my living room! I love everything about it – the classic shape rendered in a modern material, the fact that it takes up zero visual space, and the way it allows light to filter right through it. It's also comfortable and the perfect seat for when guests come over.
When I decided to buy one I bounced back and forth for a while between the idea of buying the genuine Phillippe Starck for Kartell Ghost Chair for $410, or a replica. The price difference quickly made that decision for me, but not before I did a little research to figure out exactly what the differences were.
---
History of the Ghost Chair:
The classic Louis XVI (sixteenth) armchair which the Ghost Chair is based upon is an example of Neoclassical French style. Louis XVI (husband of Marie Antoinette) ruled from 1774-1791, and during this period Neoclassicism reigned as well. Designs were plainer than in the past, featuring straight lines, symmetry, and simple shapes like rectangles and ovals (the straight, tapered legs of the chair are an indicator that it is in the Neoclassical style). This was in contrast to the previous period of Rococo style where the furniture would feature curved legs, ornate guilding, scrolls, and asymmetry.
Phillippe Starck Ghost Chair
In 2002, French interior and product designer Phillippe Starck took the classic upholstered, wooden Louis XVI armchair design and turned it on its head by creating the Ghost chair. Starck came up with the idea of taking the classic shape in a completely modern direction by rendering it in clear polycarbonate (also available in tints and colors), and Italian furniture company Kartell used cutting edge technology to bring his innovative idea to life.
Which to Buy: the Real or Replica Ghost Chair?
The main thing that I wanted to know when deciding whether to buy the genuine ghost chair or a replica was what the difference would be in quality and longevity – basically, would the replica look like a cheap piece of plastic junk, rendering it essential to spend $400 on the real one? I did a bit of investigating and discovered that the Kartell chair is made of polycarbonate, while the knockoffs are acrylic (lucite). Here are the big differences between the two materials:
Looking at that info was enough to convince me that I didn't need to pay $400 for the real thing, when the acrylic version sounded perfectly fine and even like it had some points in it's favor. I searched Amazon for the chair option with the best reviews, which is this one. I've been extremely happy with my ghost chair! It's lightweight, has great clarity, and so far it's held up well. Here it is in my apartment: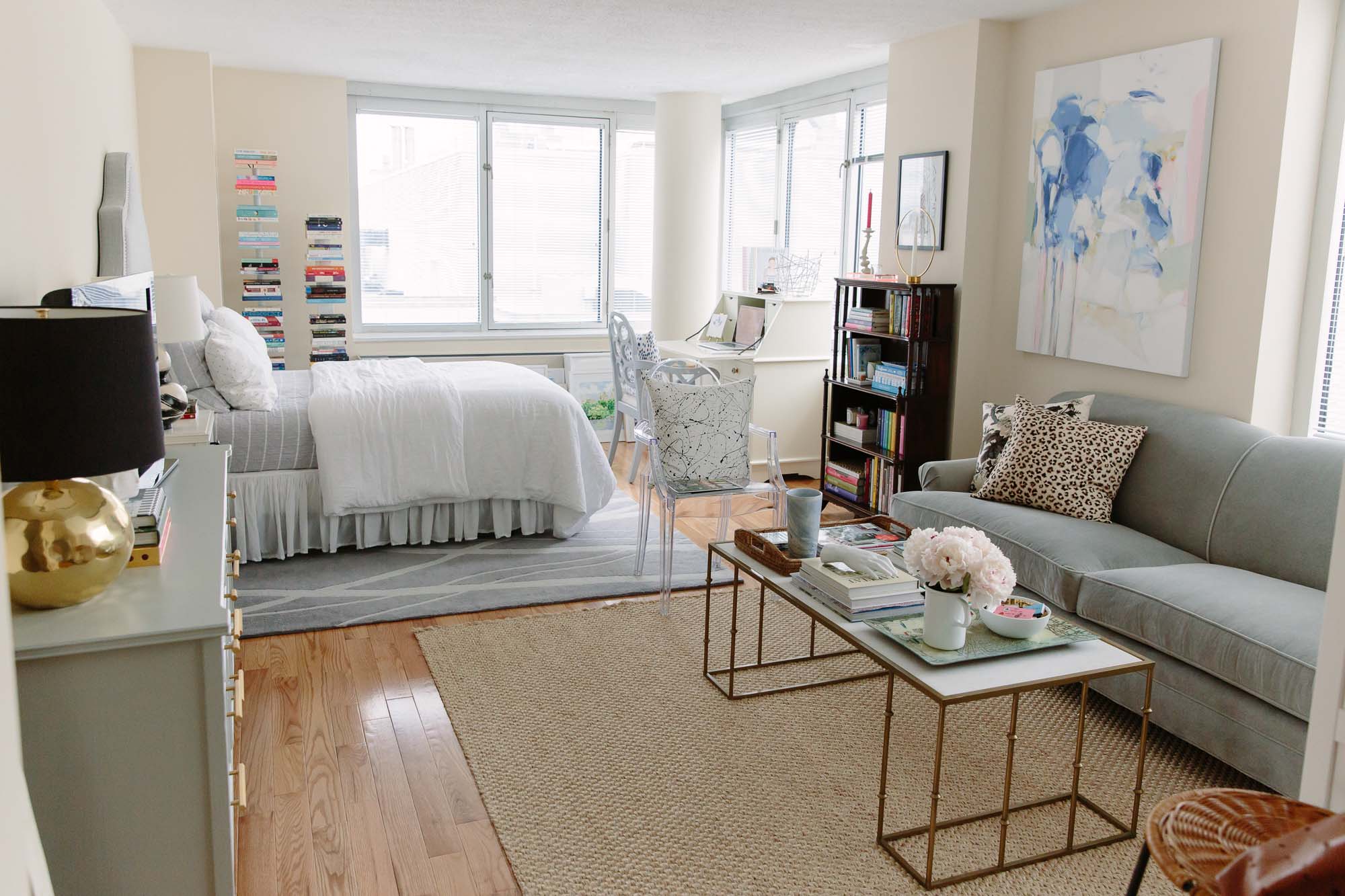 If you do decide to spring for the genuine article, here are a few sources:
Design Within Reach  |  Dwell (set of 2)  |  Kartell Store LA
---
Ghost Chair Variations
Kids version (Is that not the cutest thing you've ever seen?)
Victoria Ghost: armless version (like the regular version, it comes in clear or colors).
---
Ghost Chair Measurements and Extra Info
This chart of dimensions for the regular Ghost Chair will come in handy if you're trying to figure out whether or not the arms will fit under the table or desk that you plan to use it with.
via Design Within Reach
A 16×16 pillow with a 15×15 pillow cover (the cover should always be a bit smaller, so the pillow will be properly stuffed), is the perfect size for the Louis Ghost Chair. That's the size of my leopard pillow, as you can see in the first picture in this post.
What's great about the ghost chair? It's suitable for outdoor use, it's stackable, and though it's made of plastic, it's actually recyclable. It's stylish, modern, eye-catching, and unique. It is perfect for small spaces, which is why I absolutely love it and can't believe I ever hesitated to buy one! It's perfect as desk chair or an accent chair, as in my own apartment in the first picture. They're also great for dining chairs in spaces both large and small!
What do you guys think about the Louis Ghost Chair? Let me know in a comment below!
PS: Loving this ghost chair guide? Take a look at how I style mine in my apartment,
and my studio apartment home tour