Hope everyone's enjoying their day off! Today I'm excited to share a new coffee shop with you, which I hope is helpful because I get a lot of readers emailing me asking for coffee shop recs! So, we all know downtown NYC is known for its hip and trendy coffee shops, but I'm glad to say that the Upper East Side is starting to catch up in that regard (as I mentioned here). The newest welcome addition to the neighborhood? Irving Farm Coffee Roasters. After establishing thriving cafes in Gramercy, Grand Central, and down on Orchard Street (to name a few) Irving Farm has made their way uptown to open their seventh shop. I was invited in to see the space while it was still under construction, and wow – the transformation is incredible! They did such an amazing job with the space (which is huge, by the way) – whitewashed brick, gorgeous woodwork, chic lighting…it's a modern but warm space, and I can't wait to try everything on the extensive menu. 
Look at that woodwork – really beautiful texture and tones. Mixed with the white brick – perfection.
I love the industrial touches, like these great stools.
Irving Farm has great coffee, but you gotta try the hibiscus iced tea. So refreshing…and pretty!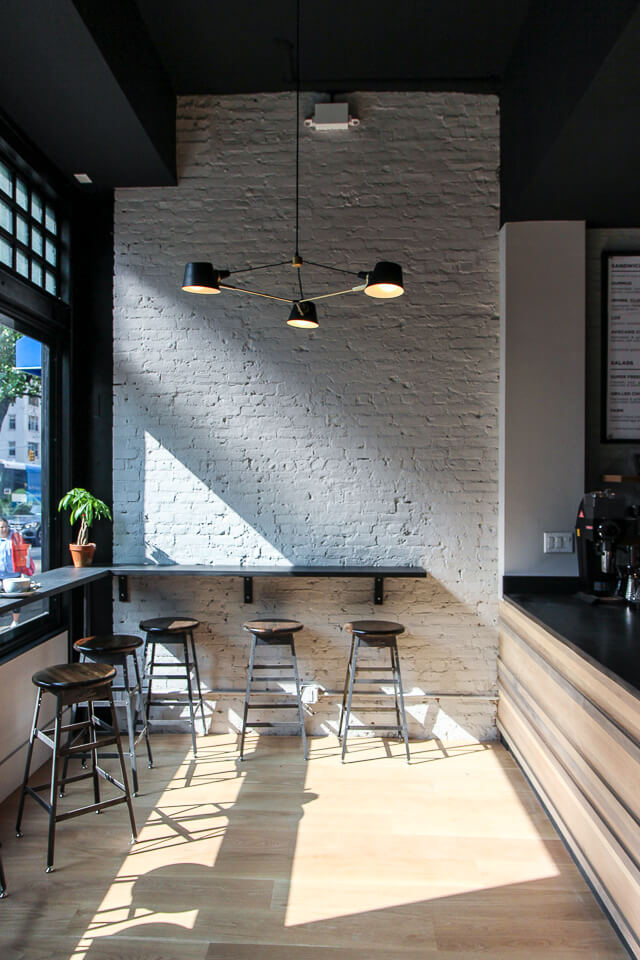 Lots of light – essential for coffee shop Instas :). Plus they have a ton of seating, which is just the best quality I could ask for in a coffee shop.
The full kitchen in the cafe is actually the largest Irving Farm has at any of their locations. They're serving sandwiches, hot breakfasts, granola and oatmeal bowls, fresh salads – they'll even be doing a happy hour with a cheese board, wine, and beer on tap!
1424 Third Avenue (between 80th and 81st)
Upper East Side
photos by me