The Upper East Side is home to a lot of great things (Central Park! Museums! Ladurée!), but even I have to admit that when it comes to coffee shops, downtown has us beat. There's a slight dearth of aesthetically and gastronomically pleasing cafés up here, while downtown there's seemingly one (or six) on every street (Toby's Estate, Happy Bones, Chalait…to name a few). Which is why when I realized that Bluestone Lane had opened a café on the Upper East Side, I nearly jumped for joy. Not only is it just great to have a branch of the Australian-influenced coffee company in the vicinity, but the location in which they've chosen to open is entirely unique and gorgeous. The café is adjacent to a historic 19th-century church and shares many of the its wonderful architectural features, most notably the stunning vaulted ceilings.
The sandstone walls, blond wood seating, and signature blue-green details create a laid-back and calming atmosphere.
The menu is filled with healthy but delicious options, like banana bread with ricotta and honey and the signature Bluestone Lane Avocado Smash. The coffee selection is stellar as well – in addition to the usual suspects like lattes and cappuccinos, you can get a flat white, hot mocha, a piccolo, and other great sounding drinks that you just don't see on your everyday average coffee menu.
The house made granola bowl intrigued me with its inclusion of cinnamon lemon curd – amazingly delicious. I forgot how good lemon curd is! I love that they add micro greens to the sweeter dishes as well – it adds a nice contrast and an extra dose of healthy goodness.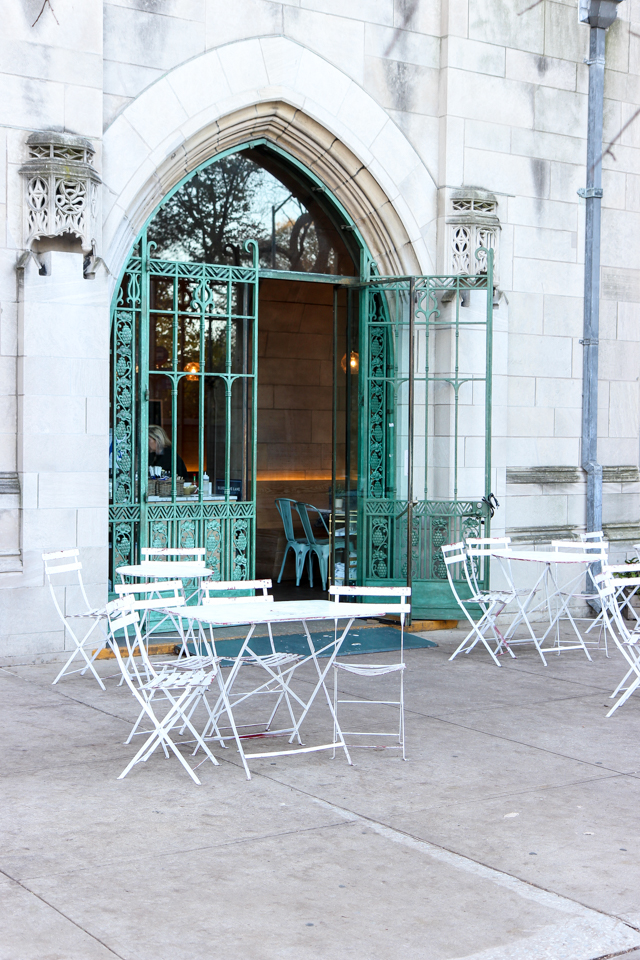 This café is in a primo location – step across the street and you're in Central Park, at the Jackie O Reservoir where you can catch an amazing view to the Upper West Side. Step to the left and you're at the Guggenheim, step to the right and you're at the Cooper Hewitt…and of course, a few blocks down is the Metropolitan Museum of Art. Whether you're spending the day visiting museums or not, Bluestone Lane is a perfect place to stop in for a delicious bite and a great cup of coffee – their food selection is healthy and energizing, not to mention pretty! All in all, I'm very pleased to welcome this gem to the neighborhood.
Bluestone Lane – Upper East Side
2 East 90th St. (on Fifth Avenue, next to The Church of the Heavenly Rest)
Open Monday-Sunday 8AM-6PM
photos by me