Ever since getting my DSLR I've been dying to do an updated post on Ladurée Madison Avenue (the first NYC spot that I ever blogged about!), and this turned out to be the perfect time. This Upper East Side boutique was the brand's very first US location, and just last week they added a chic and elegant seating area. It features petite café-style tables along with a gorgeous tufted banquette, where guests can sit and enjoy a pot of tea along with a delicious pastry or a few macarons (or both!). I was thrilled to check out the new addition to the boutique this past weekend (let's be real, I'm thrilled for any excuse to visit this place), and it was such a pleasure to sit and relax in this shop that I've always loved. There aren't too many coffee spots in the vicinity, so I imagine that this will be a very welcome addition to the neighborhood!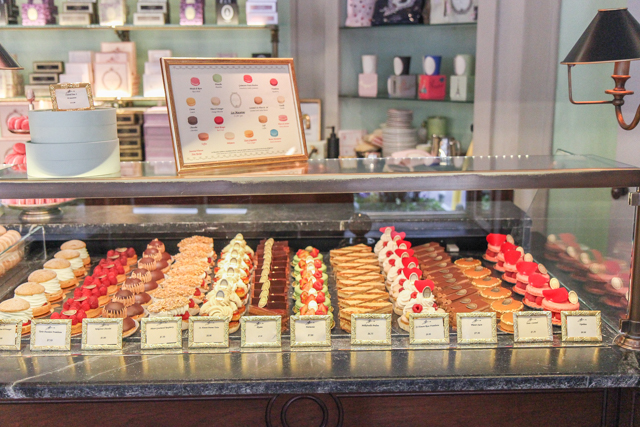 These tea canisters are as cute as the macaron boxes…maybe I need to start collecting these, too!
100% OBSESSED with this black-on-black candle.
Gorgeous room sprays.
I love the gorgeous blush pink menu.
I'm so predictable…couldn't help but order the same pastry I got last time. It's just so good…like a really, really fancy candy bar (in pastry form).
The current Ladurée window displays their collaboration with the Japanese jewelry brand Mikimoto.
864 Madison Avenue (between 70th and 71st St.)
Open Monday-Saturday 9AM-7PM, Sunday 10AM-6PM
PS-the pastry in the first picture is the St. Honore Rose Framboise, composed of puff pastry and choux pastry topped with rose petal cream, raspberry compote, fresh raspberries, and rosewater chantilly cream.
photos by me