Manus x Machina: Fashion in an Age of Technology is the 2016 Metropolitan Museum of Art Costume Exhibition, currently on view through August 14, 2016. Personally, this is one of my favorite Costume Exhibitions that I've seen – the subject matter was fascinating, and the clothing just. Amazing.
The exhibition explores the intersection between the handmade and the machine made in the worlds of haute couture and ready-to-wear, delving into technique, attitudes and opinions towards the two, and the ways in which both time-honored methods as well as technological advances are enabling designers to stretch their creativity in new and innovative ways. The pieces featured ran the gamut from hyper avant-garde, 3-D printed ensembles, to classic Yves Saint Laurent gowns, to modern Alexander McQueen pieces, and everything in between – all integrated together seamlessly. The exhibition was organized into sections that covered the traditional metiers (or trades) of haute couture – embroidery, pleating, lacework, embellishments (such as artificial flowers and featherwork), and more.
A wedding ensemble created by Karl Lagerfeld out of scuba knit, this piece epitomizes manus x machina – the intersection of the hand-made and machine-made. The dress itself is entirely machine sewn, while the 20 foot train is the result of 450 hours of both hand and machine workmanship. The piece was created for a model (pregnant at the time – as I heard one museum-goer observe of the mannequin: "That broad's knocked up!").
I loved that the exhibition was in the round, where you were basically circling around the Lagerfeld creation and getting to see it from all angles while also viewing the other pieces. After seeing The First Monday in May (all about the launching of the 2015 Costume Exhibition), I have a much deeper appreciation for the design of the exhibition – the lighting, the backdrops, the way it's all laid out. It takes a village to put these exhibits together and while those details "just" set the stage for the clothing, there's actually so incredibly much thought, time, and effort that goes into them.
The minute I caught a glimpse of this, I knew I was going to like this exhibition!
Something interesting I learned, and an important overarching theme of the exhibition, was the distinction between haute couture and prêt-a-porter (or ready-to-wear). Haute couture is made literally for one person, to their specific measurements, while prêt-a-porter is ready-made; multiples designed for the mass market. Which actually seemed really weird to me while viewing the exhibition, because some of their examples of "ready-to-wear" were absolutely intricate and unique…I was like, really? That was mass produced?! (I'll show you one particularly interesting example below). The exhibition made the point that handmade doesn't automatically imply haute couture, and nor does machine-made automatically imply ready-to-wear…designers are employing both to great effect.
These pieces are Alexander McQueen, from 2009, featuring pink-enameled metal flower petals which are hand-embroidered to machine-sewn silk duchesse satin and nude silk georgette. Totally reminded me of Emma Clegg.
This stunning cape is a Chanel Haute Couture piece. 1,300 pink silk satin flowers, each of which has three little pink-frosted crystals in the center…all hand done.
Click through to read the rest of the post…
A detail from a 1928 haute couture piece, partly hand-sewn and partly machine-sewn.
This Dior creation is just, stunning – a haute couture confection of tulle, chiffon, golden thread, hand-cut pink flower petals…I want to wear it.
Frothy pink pieces…these just make me so happy.
Guess how many white silk camellias adorn this Chanel wedding ensemble? Oh, just a casual 2,500. All hand-embroidered.
These amazing pieces were made for the Louis Vuitton ready-to-wear 2016 collection. Crafted through an amalgam of traditional hand techniques and modern, innovative machine techniques, these cocktail dresses serve as another epitomization of manus x machina.
This dress is Dior from 1950! It looks one hundred percent modern to me. Isn't it just the prettiest?
Look at the movement on the skirt…it looks like churning waves, doesn't it? So cool. It reminded me a lot of the Little Mermaid section from FIT's Fairy Tale Fashion exhibit.
Dior dresses from the 1950s…couldn't you totally picture some celeb wearing these today?
On the right, a 3-D printed piece by Iris Van Herpen. I'd never heard of her, but her avant-garde pieces were all over this exhibition and I loved them.
Another amazing 3-D printed piece.
Iris Van Herpen and McQueen pieces.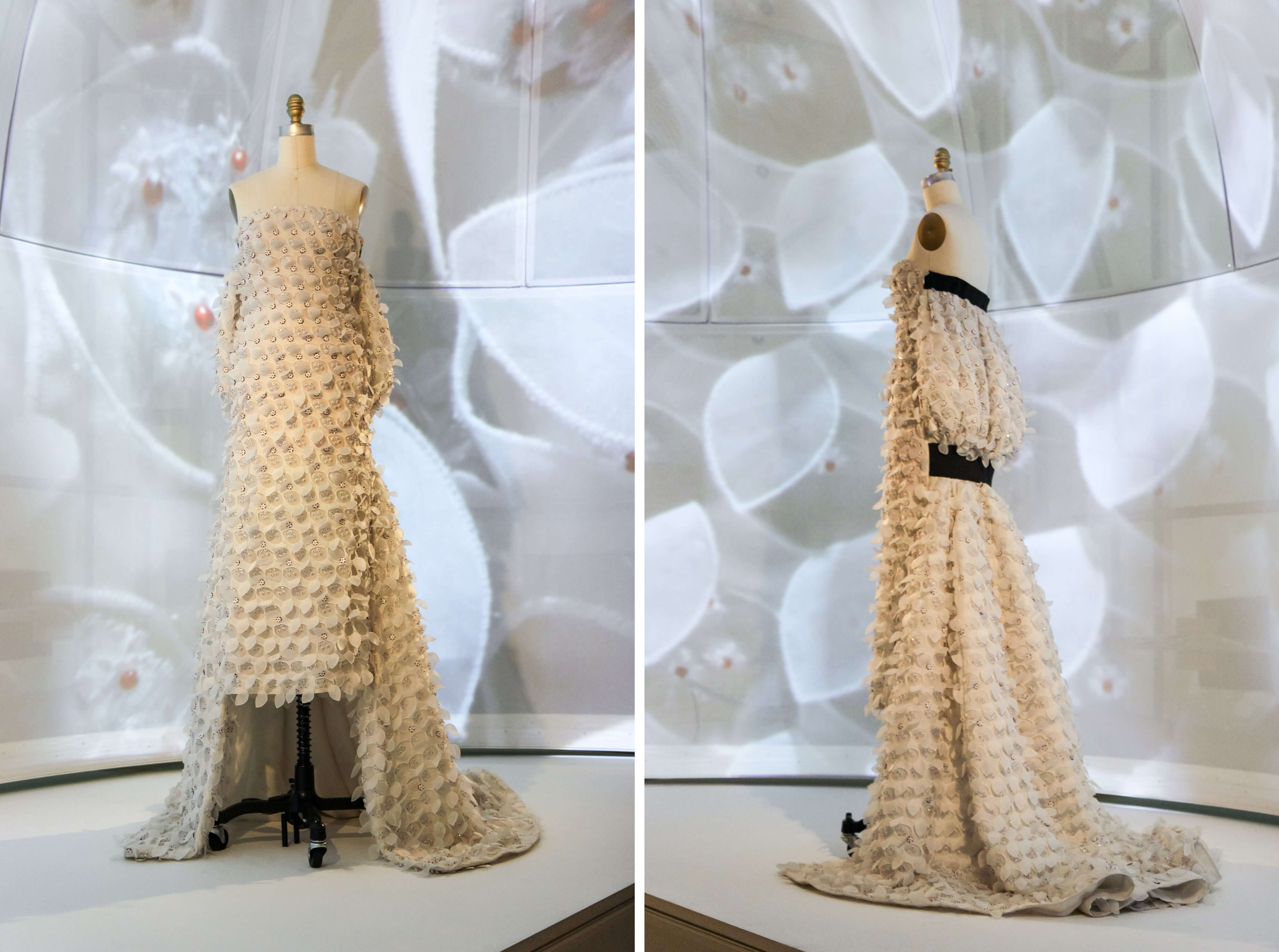 Look at this dress…the silhouette…I love it.
This dress is made of straws…each one cut by hand. This is NOT haute couture…this is ready-to-wear. Meaning more than one of these were made. Crazy, right?
More 3-D printing. I think I'm obsessed with the 3-D printed pieces…look at how sculptural and intricate that is. They placed this dress in the Lacework section, because it's like a modern, technologically advanced evocation of lace. See what I mean about how thoughtful the organization of the exhibition was? So impressive. Curator Andrew Bolton is a genius.
These were two of my favorites. I loved the silhouettes and the hardware.
Give me all the Chanel suits, please and thank you. The show featured original Coco Chanel suits (far left) as well as Lagerfeld versions (like the white one, second in from the right) that incorporate 3-D printing with hand-stitching.
I think one of the coolest points made in the exhibition was that in comparing handmade and machine-made in fashion, one isn't necessarily superior to the other. Nor is handmade associated exclusively with haute couture, or machine-made exclusively with ready-to-wear, as one might think. Today, both hand and machine techniques are being employed by designers for different purposes, and even in the same garments. Rather than being in opposition to one another, the hand and the machine actually work in harmony to enhance and enable the creative pursuits of designers – an idea that the incredible pieces in the exhibition readily displayed.
Pictures can't really do the show justice, but I hope if you're unable to visit that this post gave you a bit of a sense of being there! Aaaand thus concludes maybe my longest post ever? Congrats if you made it to the end 🙂
PS – my posts on previous Costume Exhibitions:
Jacqueline de Ribes: The Art of Style
China: Through the Looking Glass
all photos by me