Recently I visited the Jacqueline de Ribes Costume Exhibit at the Metropolitan Museum of Art. Each year the Met's Costume Institute holds a large Costume Exhibit in the spring (China: Through the Looking Glass was last year), and a smaller one in the winter. The current exhibition focuses on the extensive personal couture collection of French Countess Jacqueline de Ribes, an international fashion icon who was herself a designer, but also a friend and muse to many of the design greats of her day. She was more than just a habitual customer of couture – de Ribes often collaborated with the designers she purchased from (Saint Laurent, Emilio Pucci, Christian Dior) to alter the pieces to suit her own aesthetic. This led to her eventually becoming a designer in her own right.  After ordering so many changes to a Marc Bohan gown, the designer teasingly asked "Is it mine?" Her winking response: "Officially."
Living in a very affluent environment (she was born to a Count and Countess and married a Vicomte at 19) de Ribes was not only not expected to work, but working (on anything but philanthropic pursuits), was actually frowned upon. She broke that mold bit by bit – acting as a behind-the-scenes assistant to the likes of Saint Laurent and Emilio Pucci, writing an anonymous fashion column for Marie Claire, and managing a ballet company in Paris, before launching her own well-received couture line in 1983 at the age of 53.
Consistent themes of the exhibition were de Ribes' timeless elegance, creativity, subtlety of style, and unique design vision. She never wore a look straight off the runway – she was an early adopter (or I should say, originator) of the mix and match, high-low design ethos which is today extremely common. Not only did she request design changes to couture pieces that she bought, but she rarely wore a head-to-toe look from the runway (as many did in her day). She would take a jacket from here and mix it with a pair of trousers from there and combine various disparate items together to create her own unique take on (especially on daywear).
de Ribes was quoted in the exhibition as saying: "I am not a lady who lunches. My suits have to move. My clothes have to comfortable. I have to be able to work." While the Costume Institute was putting this together, the only item 86 year old de Ribes was nervous to part with for the duration was that bright pink puffer coat you can see in the background!
This Saint Laurent number was the first see-through dress in haute couture, and caused quite a splash in the press. de Ribes wore it to opening night at the ballet with a chinchilla wrap for modesty.
An example of de Ribes' penchant for requesting changes to couture pieces can be seen in this embroidered fish-scale jacket, which walked the runway as a cocktail dress. The house of Saint Laurent turned it into a jacket at de Ribes' request.
de Ribes was photographed wearing this dress many times before it was later worn by Jacqueline Kennedy. The designer altered the looping train into a simpler panel for Ms. Kennedy.
Town & Country called de Ribes the most stylish woman in the world – here you can see her on their cover, wearing a dress of her own design. Two common trademarks of de Ribes' design aesthetic are seen in this dress. She liked her gowns to frame the head and neck, and she desired her creations to make a woman interesting to behold from all angles, not just the front.
This is the Marc Bohan dress I mentioned above, to which de Ribes requested alterations – she removed a bow from the waist and had the bow on the shoulder enlarged. While it is common for customers of couture to request alterations to the runway design, it's typically more mundane and technical details such as shortening or lengthening a hem, or adding or removing sleeves. Changes to the actual decoration of a couture design were not common, but for de Ribes, it was the norm. The designers, with whom she was friends, and who perhaps saw her as a peer, seem to have been happy to indulge her requests and provide their drapers, cutters, and fitters to assist her in bringing her version of their vision to life.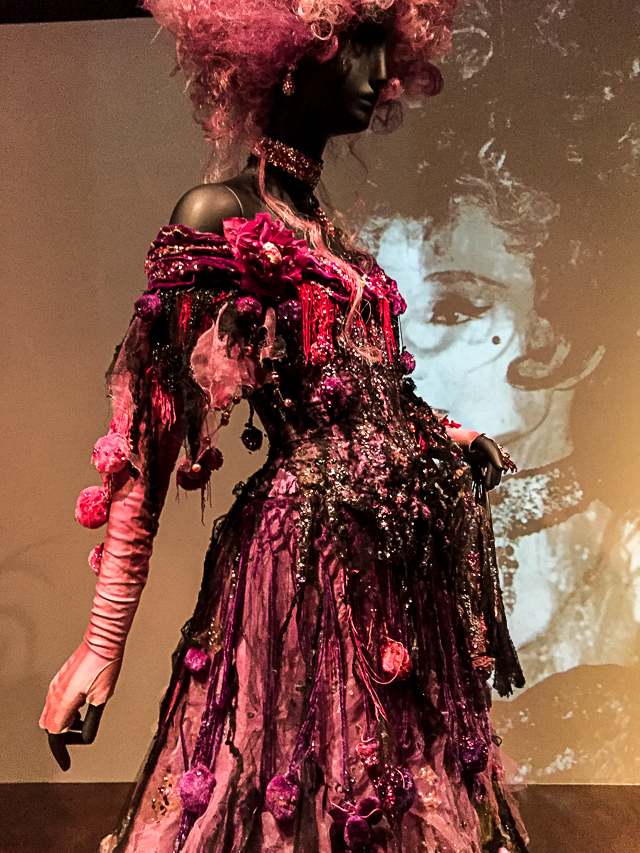 Above and below are costumes that de Ribes put together for masquerade balls. As the exhibition materials put it, de Ribes "cannibalized" several couture pieces for the costume below, combining a Guy Laroche evening coat with a tulle Dior gown, yards of silk, a vintage sable, and more to create this design.
Richard Avedon photographed de Ribes many times and said of her, "She has a perfect nose. I feel sorry for the near-beauties with small noses."
If you'd like to learn more about Jacqueline de Ribes, you can read this great profile in Vanity Fair. She really has lead quite a fascinating life (and continues to!), living through WWII, meeting Diana Vreeland, becoming friends with so many designers and becoming an icon in the fashion world, and eventually becoming a designer after a lifelong infatuation with clothing. Everyone who knows de Ribes seems to be completely taken with her and in awe of her great elegance and sophistication, and this exhibition was a really interesting showcase for learning about her. It's one thing to look at the pretty clothes, but it's really the story behind them that makes it all the more interesting.
Jacqueline de Ribes: The Art of Style
Running through February 21
iPhone photos by me