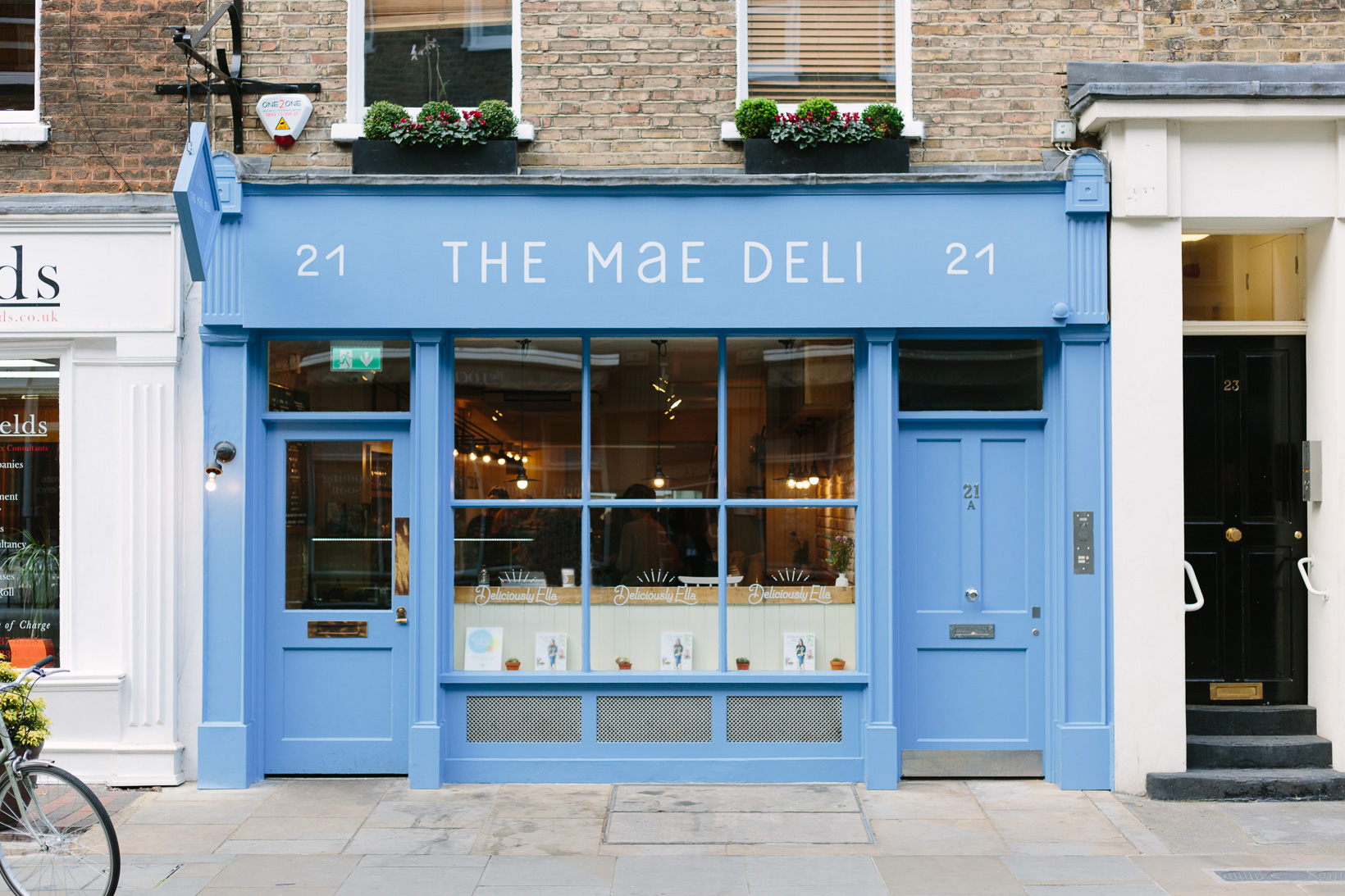 Today I want to share with you one of my favorite places that I popped in to while visiting London – The MaE Deli. Are you guys familiar with Ella Woodward? She writes the London-based blog Deliciously Ella, and she's gained a massive following with her healthy, easy, delicious recipes. She's written several cookbooks by now and recently opened this eatery with her husband (MaE stands for Matt and Ella). After followeing her for a while and watching her launch the deli through social media, it landed high on my to-visit list…and it was just as lovely as I expected! The inside is super cute and cozy, the staff warm and welcoming, and the food fresh, colorful, and delicious.
I ordered a berry smoothie along with porridge (porridge! So charming, why don't we have more "porridge" in America?). You can get a variety of toppings and I chose almond butter with coconut chips.
Ella and her husband recently opened their second deli location on Weighhouse Street, and if you're in London I highly recommend checking out one or the other location (or both). It's a great place to fuel up in a healthy way before a long day of walking, or a really cozy place to warm up during the cold days to come – plus the surrounding neighborhood seemed really cute (but sadly I didn't time to explore it much – must go back!).
Also, do you get the feeling that "deli" has a sort of different connotation in the UK than it does here? When I hear "deli" I think of a sort of grubby place where you grab sandwiches and cold salads, but this is more like what I consider a coffee shop/cafe (but with a pretty extensive food menu). One of those cultural differences I guess!
PS – I crossed Hyde Park to get to The MaE Deli from my hotel and it was lovely – you can see more of that here.
photography by Jacqueline Clair