My friends and I did a lot of fun things during our four days in London, but overall my favorite was the first day that we got there – I think it's the most memorable too, because London made such a great first impression on me. We arrived at our hotel after flying in on the red-eye, and I hit the ground running – I was just so excited to explore our neighborhood of South Kensington and the adjacent Chelsea. My friends headed off to Portobello Road Market (which I also would have loved to go to, but alas), and I set off to wander with my camera in tow.
I knew London would be charming and I knew I would love it, but I was not prepared for how immensely delightful I found Chelsea and South Kensington to be. I walked around for hours taking pictures, only stopping out of necessity when the sun went down, and I was just happy as a clam. Everything was SO pretty! I was texting with my mom and told her I couldn't even walk on a straight path, because every time I turned to look down a side street it was SO freakin' charming and cute and picturesque that I had to head down. I'm serious, EVERY side street looked like something out of a dream.
My first pink car spotting – I think I actually gasped out loud with delight. I feel like if this was in NYC there would be a crowd of people around Instagramming it or taking outfit photos in front of it 24/7 :). Another amazing thing – all of these charming side streets I wandered down, they were so incredibly peaceful. I was even thinking to myself, hmm, am I even allowed on these streets? They almost seemed like private property because they were so pretty but also so quiet and empty of people. I was like, how is everyone not here taking pictures?!
I absolutely loved the house numbers painted on the columns in this little square.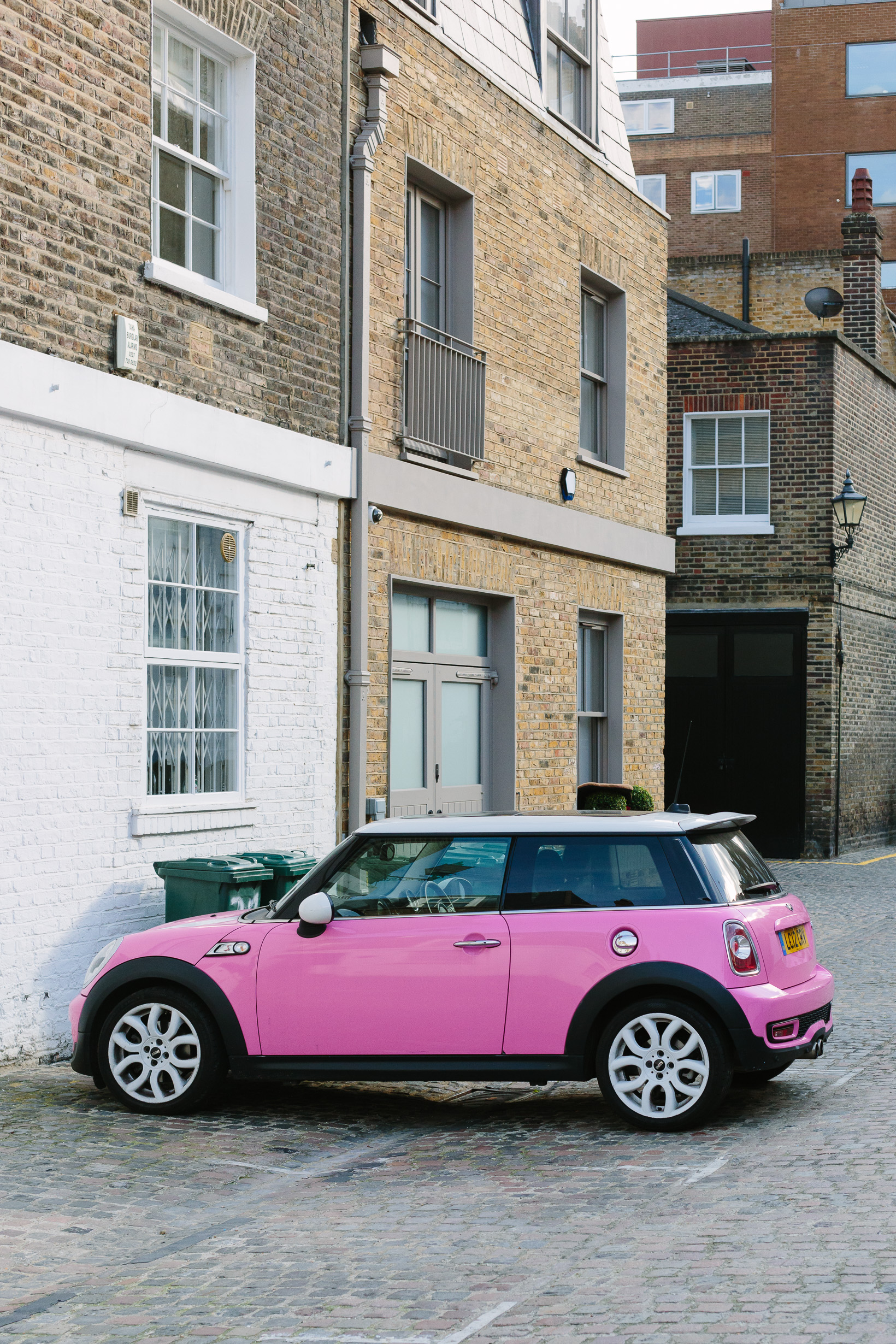 Second pink car spotting!
The architecture in London…oh, the architecture. I wish my pictures could do it justice! I just absolutely love it.
Third pink car spotting!
Here's one of those little side streets I was talking about, which are called "mews." It's basically a little row of houses that have been converted from stables. I am officially in love with London mews. I mean, can you imagine looking down a side street and seeing this? And being able to walk down it, and photograph it? How is that real? It looks like a little village from Shakespeare's time, as my mom said.
London, I love you.
More from Chelsea and South Kensington tomorrow! I also have a full post coming with more of the colorful houses like those in the first picture – there were so many in both neighborhoods and also in Notting Hill. And if you'd like to see some more candid photos of my friends and me from the trip, check out the blog's Facebook page – I shared a few over there! I'm not so good about remembering to get group shots but luckily my friends had their trusty selfie sticks in tow :).
PS – I've added a few favorites from this post to the Travel section of my Etsy shop 🙂
photography by Jacqueline Clair