When you live in a tiny space, it's not super easy to change the decor up – something that's frustrating to a design lover such as myself! As a kid I was constantly changing my room's furniture arrangement around (with or without my parents' permission – much to their chagrin), because there's nothing like switching things up to get you to see your space anew when things are feeling stale. As a tiny apartment dweller, I'm only able to make little changes here and there – a new pillow or decorative accessory, a rearrangement of a vignette that's feeling stale, or the removal of items when things are feeling too cluttered. Here are some tiny updates I've made lately that have things feeling a bit freshened up – hopefully some of you find these ideas helpful if you're also in a situation where furniture rearrangement just isn't in the cards. 
First off, there's nothing like a vase of fresh flowers to get you through those gloomy February days. Fresh flowers are an easy and inexpensive way bring a welcome burst of life and color to any space.
I restyled my coffee table and removed two stacks of books. A small change, but it feels so much more spacious and airy to me now. Here's how it looked before. When I find my space feeling blah, it often helps to declutter and remove things – sometimes that stale feeling is just a result of being overwhelmed with stuff.
I removed a black-framed piece that I had in this spot and hung my 42 Pressed NYC map print. The light colors in the print and the airy white frame made a surprisingly big difference. If you want to lighten and brighten your space, adding fresh white pieces is always a good option (or white flowers!). Plus I love how the blush pink in the print coordinates with the pink of my Kitchenaid mixer.
Loving my Inslee desk calendar – especially the gorgeous pink roses for February. A pretty desk calendar that changes monthly provides a nice little piece of "new" each month.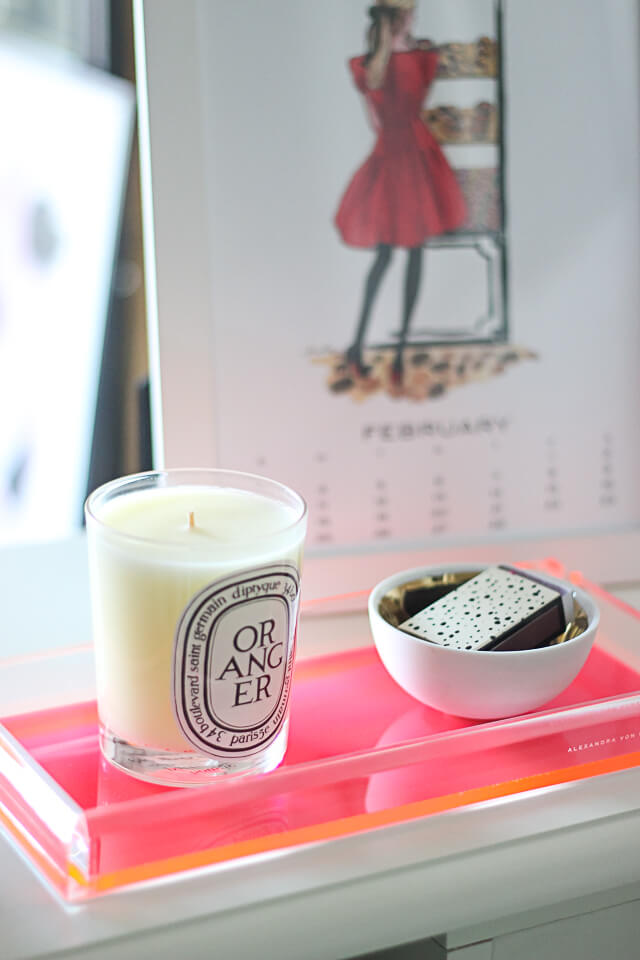 A while back I had a store credit to AVF Home and used it to purchase this little neon lucite tray – I absolutely love it! So modern, bright, and chic.
Did some re-styling on my Expedit. Re-styling your existing stuff, (while also taking that opportunity to weed out things you no longer want/need) is a great way to see your things, and your space, with fresh eyes.
I never blogged about it, but a while ago (like, years ago), I bought the Alessi Blow-Up citrus basket you can see above. Isn't it amazing? I had that thing on my Amazon wish list forever…then one day my Mom and I found ourselves in the Alessi store in Soho, and I went for it. My only tip here: buy what you love!
One more piece I got which I'm absolutely obsessed with – this hand from Jayson Home. I've said it before and I'll just go ahead and say it again. I love hands! I think this is a particularly great one…kind of graceful and delicate looking.
Finally got around to redoing my gallery wall (I'll share more pics soon) – I had four or so pieces sitting on my floor waiting to be hung, which was super annoying. Two lessons here: switching your art around can be very refreshing, and also, cleaning up and dealing with nagging stuff that's been on your to-do list for far too long will make a world of difference!
photos by me