As per our yearly tradition, my Mom and I visited the Holiday House NYC this year and it did not disappoint! It was definitely different from previous years in that there weren't any Christmas decorations, but as always, there was a whole lot of gorgeous design. The Holiday House NYC is a design show house that takes place each year in the Academy Mansion on the Upper East Side. The event is presented by Traditional Home, with proceeds going toward breast cancer research. Each room is designed around a different "holiday," but the holidays are very creative – Arbor Day, Boxing Day, and Snow Day are a few examples from this year. The Holiday House 2015 seemed to pass by super quick this time, so unfortunately it's closed at this point, but I figured it might still be fun for people to see the great work that all of this year's designers did. Take a peek!
James Rixner's St. Andrew's Day room was designed around a Scottish textile, which I happened to love.
The sitting room was designed by Robert Passal Interior Design, and I loved the way they used light fabrics and colors to contrast with the heavy, dark wood bones of the space.
This room was designed for Boxing Day, which is why the designer filled the fireplace with gift boxes – love that.
This piece of art is by Dutch photographer Hendrik Kerstens. He photographs his daughter Paula with objects on her head (here, a towel), and creates these surreal sort of images in the style of the Dutch Masters. I found it very intriguing and it definitely looks like a modern version of Girl With a Pearl Earring.
Click through to see the rest of the house! 
Bjorn Bjornsson Interior Design is behind this Snow Day room.
I was really struck by this unique piece above, which was crafted out of wood. Isn't it cool how they got that curved effect for the door handle?
The hallway, entitled "Constellation Celebration," was designed by Ally Coulter Designs.
Stacy Garcia designed this Arbor Day room, with a cool neon sign and absolutely gorgeous floral wallpaper.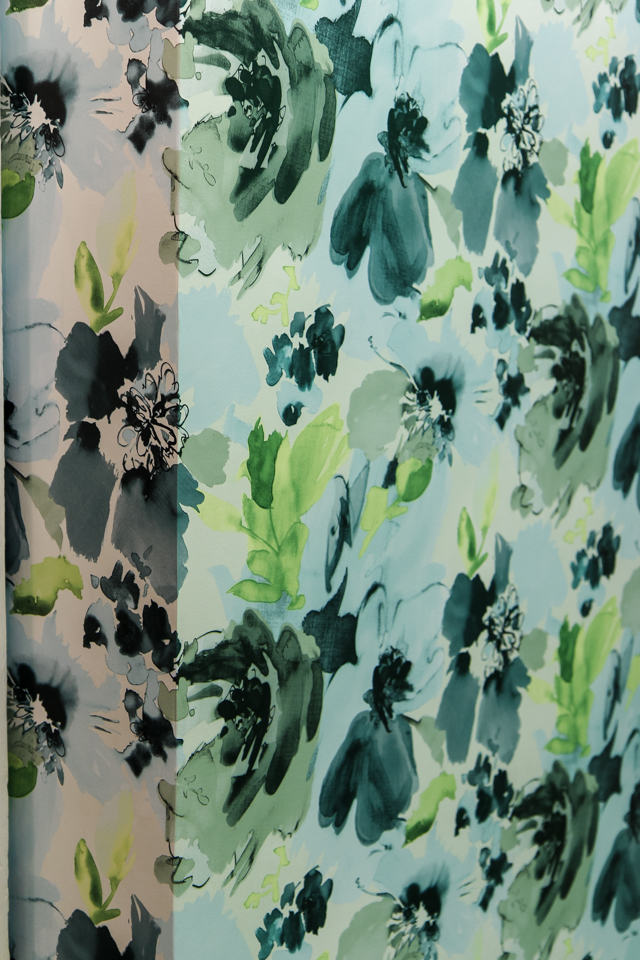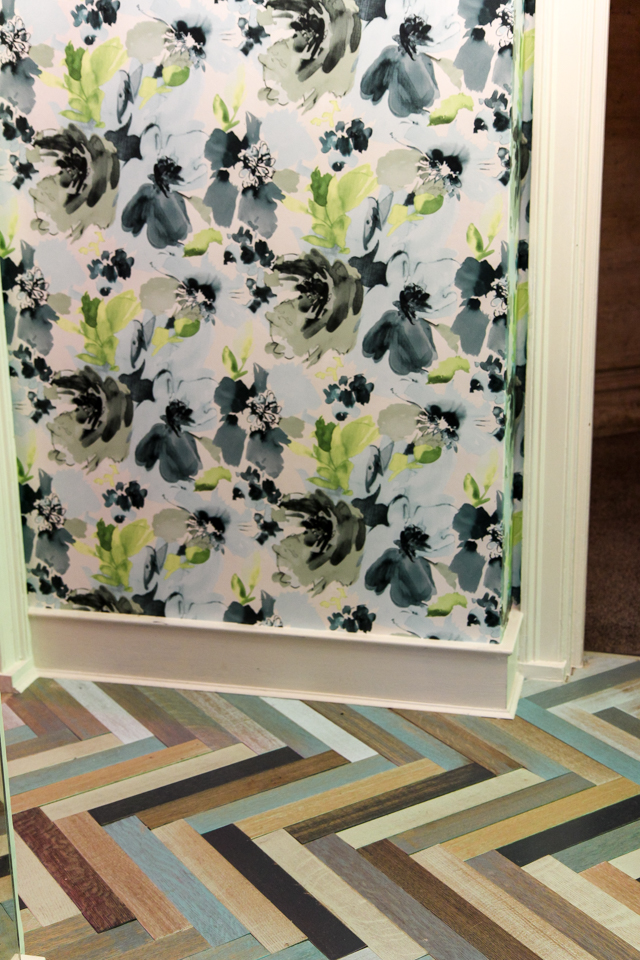 The Mother's Day room, by Antonino Buzzetta, was bathed in the pinkish-purple glow from a custom neon XOXO sign on the wall.
Paris Forino Design put together this Home from the Holidays room. I really love the graphic floor (reminds me of Mary McDonald), and the curtains are gorgeous.
Julia Buckingham from Buckingham Interiors and Design created this room around Holi, a holiday celebrated primarily in India and Nepal. Holi is a celebration of the beginning of spring and end of winter, and this room certainly reflected that colorful and hopeful feeling. The art above the fireplace is custom made by Chicago based artist Gian Garofalo.
This room by Calder Design Group was appropriately titled "After the Ball Drops."
The hanging pieces on this light fixture are actually not attached to the bars…they're just draped over. Equal parts gorgeous and terrifying!
Kathleen Walsh Interiors designed an upstairs room that has a little nook built into one of the walls. They put a bed in the nook and created a studio apartment of sorts in the room, complete with kitchen and sitting area. I think that hammered sink is so cool…also love that wine bottle label.
You know I love me a hand!
Last but not least, Vincente Wolf created a Glam Glamping experience on the top floor.
Sorry to be posting this when the Holiday House NYC is already over for the year, but I'm hoping you enjoyed this look into the designs and that it will inspire some of you to put on your calendars for next year!
PS – you can see my posts from last year's Holiday House here, here, here, and here and the 2013 House here and here.
photos by me