If there's anything that makes me love a space at first sight, it's color and pattern – something that I didn't even quite realize until after I had (slowly) put my apartment together. I moved in six years ago, and at the time I didn't go about decorating my apartment with much of a plan in mind. Rather, I just bought and mixed together things that I loved. After living here for a few years, I looked around and realized it was a colorful, pattern-filled space…and then I noticed that most of the home tours I bookmarked and wanted to feature on the blog were similarly colorful and patterned. I learned in my design course that these are known as "energetic" spaces – and apparently that's just what I'm drawn to!
I think a lot of people don't incorporate color into their space because they're afraid, which is totally understandable – it's not super easy to do and even a lot of designers don't do it. I'm not saying I'm an expert, but I wanted to share some ways in which I incorporated color and pattern into my own space. Hopefully it will be helpful if you're looking to do the same!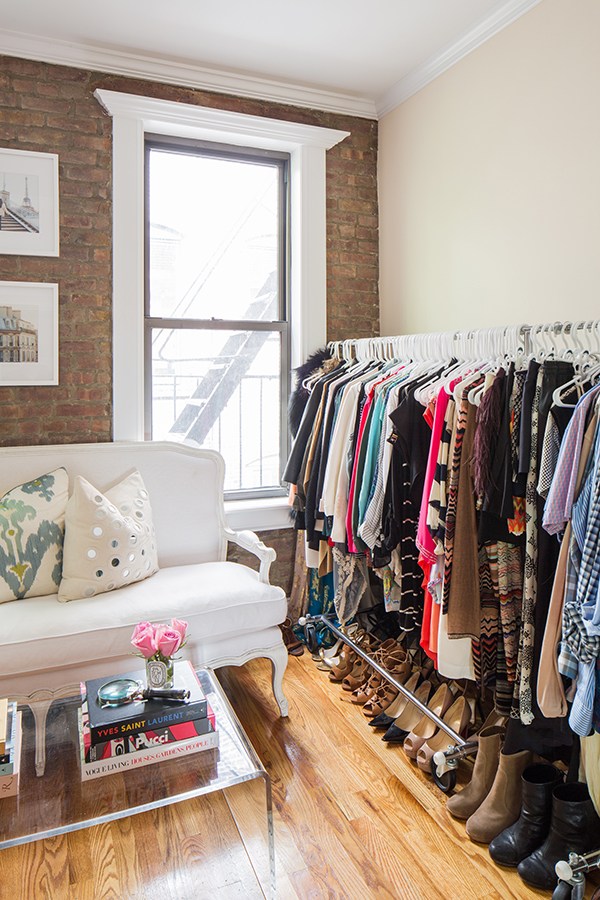 Look to your closet.
Sometimes you can get confused looking at other spaces on Pinterest and blogs and lose sight of what your style really is. This happened to me at a certain point with the whole neutral, earthy look – I love it, but it's just not me. So I think when looking to get color into your home, it can help to look to your closet – what colors and patterns are you drawn to? See if you can pull out any recurring themes that could translate to your space. Funnily enough, I actually need to do this the opposite way – my closet is strangely devoid of color and pattern and I'd really like to add some in! I think it's just harder to find patterned clothes that I love than it is to find patterned decor that I love. (above closet from Kat Tanita's home tour).
Color code your books.
I know, I know. A lot of people hate this and think it means you don't read, blah blah blah. We all have different opinions. I love the look of color coded books and it's a fun, and easy way to create a rainbow in your space, which immediately adds a more colorful look. I did this on my Ikea Expedit bookshelf/room divider as you can see above, and the colors just make me happy.
Keep some neutrals.
One great way of ensuring that your space won't look crazy when you start to add in color and pattern is to keep the big pieces neutral. It's an easy and winning formula: neutral furniture mixed with colorful textiles. Neutral couch – patterned throw pillows. Neutral headboard – patterned bedding. Neutral dresser – colorful rug. So easy, and way less commitment than a patterned couch (though kudos to you if you spring for a patterned couch!).
Different patterns of black and white.
Mixing black and white patterns is a really great way to bring pattern and an energetic look to your space, but with basically zero effort. I've done this on my couch by mixing one floral pillow with two differently patterned black and white pillows (above). I actually have two other black and white patterned pillows too – there are so many good ones out there!
Pick a color palette and stick loosely to it.
When I decorated I didn't have much of a plan, but looking now, my color palette is mostly pink, white, gray, black. Aside from books and touches in the art, there's really no blue, orange, red, or purple in my space at all (I remember once buying a blue throw pillow because someone encouraged me to and I couldn't wait to get rid of it – it just never felt right). Because I have a lot of colorful books and art, to me the apartment reads more just as "colorful" than "pink," but others may not agree! Either way, it's a great idea to pick one or two main accent colors, and then a supporting color – say, pink and green. They look fab together, as discussed below. Or you can do…
Shades of one color.
If you want to stick to one accent color, mixing shades is a super smart way to bring color into your space but keep it looking layered, dimensional, and textured (rather than one-note). You can bring in different tones (from pure to muddier) of the color, different textural elements in that color, and different shades of the color (lighter and darker). Tobi Fairley executed this perfectly in her 2012 Holiday House room. She mixed shades of pink in varying textures, played it off black and white in different patterns, and created a room that I've never forgotten. And I just have to throw in one other picture too:
THOSE GREEN LAMPS. Just stop. Green and pink is so good. And that couch…dead.
Start with one colorful item.
If you're not sure where to start, try picking a patterned textile that you absolutely love and can't get enough of. Then pull colors from that. This is something that designers often do – start with a rug and then pull the color palette for the room from that. You don't even have to have that piece in your space if it's too expensive or something – you can just create a color palette based on it. Emily Henderson did this to great effect in this nursery she designed. At first glance the wallpaper reads mainly pink, but as you can see she pulled green from it, incorporating a green patterned pillow and a solid green pillow, and also pulled yellow from it to make the bench cushion.
Then she put the green and yellow together to come up with these glamorous chartreuse curtains! They certainly add a dose of sheen and life.
Keep the style similar.
One other tip when mixing colors is to keep the styles similar. You can have muddy colors, muted colors, brights, pastels – but mixing them all at once could make the space look haphazard. Take this London home featured on Cup of Jo. At first glance (because of the two patterns), it reads as pretty eclectic and colorful, but if you really look at it, it's basically just shades of green and pink, and everything has a sort of muddy, toned down look to it. It feels like you're in an old English country house. Picture a bright neon pink accent in there – it would look so wrong.
Just use accessories (or whatever else you have on hand).
I love this little vignette from Lindsay Coral Harper. The wallpaper takes it to another level, but even if the walls were white, just adding colorful art and arranging her gorgeous jewelry collection on the nightstand adds great pops of color, shine, and pattern, injecting a lively spirit into the space. So if you have a colorful jewelry collection, or matchbook collection, or colorful things to add to an inspiration board, that can do the trick right there.
Have you used any of these tips, or do you have any others that I didn't think of? Or do you hate colorful spaces? I'd love to hear your thoughts!
image sources noted in text