One of the drawbacks of living in a little space is that sometimes you start to feel overwhelmed with "stuff." I love having a small space (less to clean! cozy!), but I find so many decor items that I love through mediums such as blogging, magazines, Pinterest, etc-and unfortunately there just isn't space for all of the items I discover and want! Sometimes I have to force myself to stop decorating, because ultimately, less is more-and it's better to have space to b-r-e-a-t-h-e. It doesn't seem like much, but here are a few very small subtractions I've made recently that have made a BIG difference to the way my apartment feels. It's just like a breath of fresh air.
I happened to read somewhere that the more of a space's floor you can see, the bigger it feels, so I decided to do away with a few area rugs.
Bye-bye, rug. But I'll NEVER do away with my striped
Dwell runner
! Never!
I had another one of these rugs by my vanity (sometimes I go crazy over things and it's like, I must get it in multiple colors!):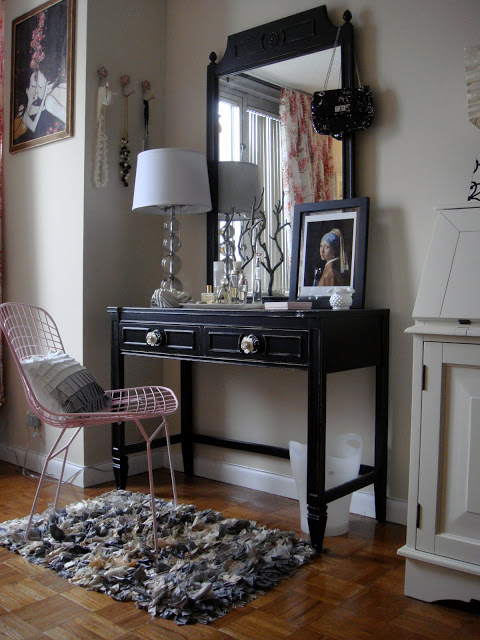 I removed the rug, the garbage pail which I never used, and the wall hooks with the necklaces.
Every time I glance over there now, it just feels so much more light and spacious.
Next I subtracted a few pillows:
Bye-bye, Euro shams:
Much better! It was ridiculous having 6 pillows (four is much more reasonable, right? Even though I only actually use one…) This looks simpler, lighter, cleaner. Sometimes it's the littlest changes that make the biggest impact.
Have you made any subtractions recently? (Or any fabulous additions?)