JLM Couture (which is an umbrella brand under which several designers fall) was a memorable show during my time shooting at Bridal Fashion Week. It was at very end of Day Two and I was running on about three hours of fitful sleep, due to some technical difficulties the night before (let's just say I learned the necessity of having an actual reliable external hard drive when dealing with thousands of RAW files – and the wisdom of not deleting pictures from your camera card while you're half asleep). Anyway, I was super exhausted to say the least, and while setting up for this show I got a fun surprise – it was actually six shows in one! Ha. Ha. I wasn't so thrilled at the time, but looking back through these pictures makes me wish I could do it again!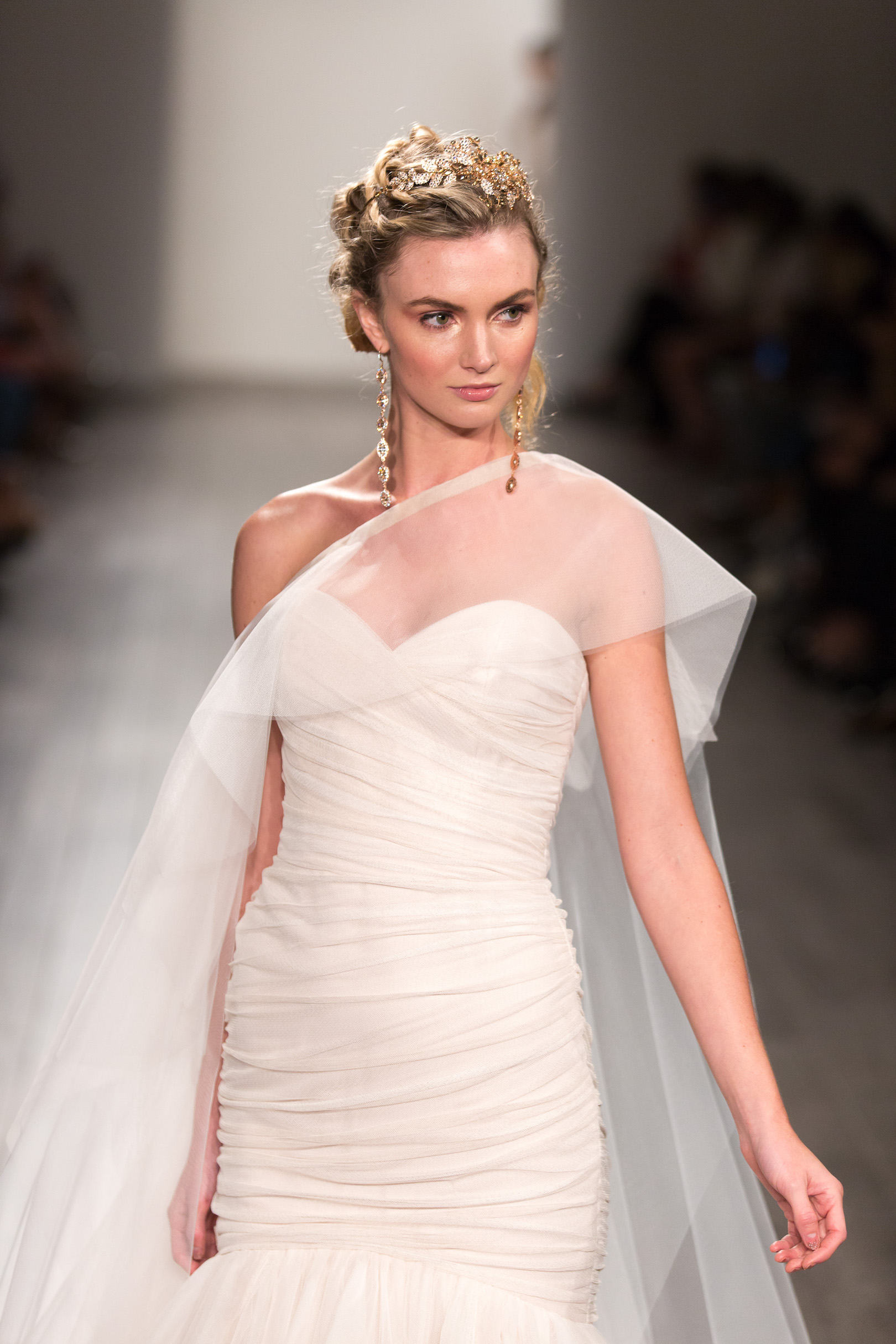 Next up, a few from Naeem Khan:
Naeem Khan was probably the most well-known (to me) designer whose show I shot, and also the most difficult. The lighting was wacky – dark in the back of the runway, and super bright in the front. That's where I learned that you have "pick your spot," thanks to the nice photographer sitting next to me. Instead of trying to get shots of the models as they walk from the back of the runway to the front, and frantically trying to change your settings during that time (which is impossible, given the fast pace), what you do is set your settings for one of the spots that they'll hit, and get them when they're in that spot. Pick your spot! Duh. Seems obvious now but that's where the whole learning experience comes in…and again just really heartened by how nice a lot of the other photographers were.
Looove the movement on that fringe. 
Another interesting aspect of this experience, from a consumer standpoint, was seeing the range of price points. I think the JLM dresses were mid-range, and obviously Naeem Khan is probably way expensive…the one I'll show you in my next post is a very high price point. I also saw some (not naming names!) at very low price points (well, I mean low for wedding dresses). I started off the experience with the mindset of "who would pay 10 grand or whatever for a dress that you wear once?", but after seeing the wide range of dresses, from low-end to high, my mind definitely changed. You can really see the difference in quality, design, craftsmanship, and artistry.
Only one more post on my photography from Bridal Fashion Week coming, for anyone who's been super bored by this series 🙂
photography by Jacqueline Clair