I'm so excited to finally be sharing my latest home tour! As many of you may know if you follow me on Instagram, I recently moved to a new apartment, and this is my previous place where I lived for about a year and a half. I loved it here and was sad to have to head out, but it was for a good reason and I'm having fun decorating the new place! Anyway, this was a super fun project designed in collaboration with Jennifer Hunter Design. We worked together to bring to life a vision which included a kind of lived-in, slightly moody, English countryside vibe with chintz, brown furniture, and vintage pieces. Over the last few years I've been so inspired by English designers like Louise Roe, Salvensen Graham, and Carlos Garcia, among others, and that influenced a lot of my choices here. Frances Bailey styled this shoot for me and the place has never looked better, that's for sure! She is a genius.
Bedroom BEFORE:
Bedroom AFTER:
Jen described the vision for the bedroom as "English garden," and that was music to my ears. I always have to have some pink in any apartment of mine, so I used Farrow and Ball Pink Ground on the walls (back to my tried-and-true fav after a slight misstep with Middleton Pink, which was way too cool for the space). It's the perfect beigey-pink that's not too sugary sweet and has a vintage feel to it. We decided to reupholster my old Serena and Lily headboard in the classic Colefax and Fowler Bowood, and then did matching curtains as well. I love the shape of the headboard and the fabric brought it to life in a totally new way. The bedroom was absolutely massive by NYC standards, so we used my Stevie Swivel from Society Social to make a little reading nook in the corner, after reupholstering it in a light brown Les Touches (never would I have imagined I'd have a bedroom in NYC with space for a freakin reading nook…life is wild sometimes!).
My duvet cover and shams are from Sarah K. Designs London, a brand I discovered through Louise Roe. I absolutely love the Ditsy floral pattern and it's super comfortable to sleep under the duvet. The lamps, which I absolutely love, are from Ballard, and I bought them to go with the vintage silk sari shades I found at KRB here in New York City. A splurge, yes, but they make me so happy. For my Pottery Barn nightstands (brought from my previous apartment), I just switched out the hardware for something a little more classic-feeling. The bedsheets are from Hill House Home and I love how it all mixes and matches together, including the throw quilt from Nine and Sixteen (it's SO good and really cozy). Frances did an amazing job styling the bedding and creating the beautiful floral arrangement.
The aforementioned reading nook! This was the perfect spot for my beloved Christina Baker painting (found at the Hampton Designer Showhouse years ago), and the Betty stool from Society Social in their Tally Leaf velvet (scroll down for a better view). I love the Stevie swivel in the lighter colored Les Touches (I had the black Les Touches on it before). It feels much more soft and less graphic now, and mixes really well with all of my other furniture. I'm just so into brown lately!
Across from the bed, my old vintage dresser which has seen me through many apartments. I cleaned and added back the original brass hardware, and used two textural Serena and Lily lamps to go with my custom Cruel Mountain scalloped raffia lampshades. These lampshades were something I'd been wanting for so long and I love the natural element they add, as well as the touch of whimsy from the scallops. One of my favorite Caitlin McGauley original paintings fit perfectly above the dresser, and a few of my favorite accessories coordinate perfectly…the Ben Pentreath column candlesticks ordered from his UK shop, and the Parvum Opus obelisk which is covered in the most gorgeous marbled paper. The little painting is an Alexis Walter original on a Jayson Home adjustable easel.
We popped my desk chair into this little vignette. This is the loop chair that I found years ago at Housing Works..the luckiest thrift find! Jen helped me get it restored and reupholstered in the happiest Schumacher floral that I absolutely love, and her upholsterer also made a cute little matching bolster. I love it so much!
I had to make a little gallery wall here since I have so much art! My old secretary desk from Pottery Barn fit perfectly into this corner next to the window and Frances made it look the best it's ever looked with her gorgeous styling and floral arrangements.
Here's another view of the reading nook where you can see the Society Social Betty stool in all its glory. I LOVE this piece! The bullion fringe is just too fun and charming and it's really comfortable for a foot rest, as well as being useful for holding your book or a cup of coffee (or even sitting on). It's one of my favorite pieces. The Stevie swivel is also just so incredibly comfy and the swivel aspect is very useful! It's a truly fantastic chair that I feel like could fit into many different schemes, and since they do COM you can use any fabric your heart desires. I love my little Bowood bolster too…the chintz mixes so well with the geometric of the Les Touches (inspired fully by Alisa Bovino's gorgeous bedroom!).
Bathroom BEFORE:
Bathroom AFTER:
Next up: the bathroom! I was so excited to finally have an opportunity to use this Caitlin McGauley New York City wallpaper, which I'd been dying to use for ages. So fun!
In the little vestibule, I was able to use the Society Social faux grasscloth peel and stick wallpaper which you can read all about here. I absolutely loved this removable wallpaper. It never budged but when I was moving, it came off like a dream…total piece of cake. It really looked like grasscloth and I loved the texture it added. The semi flush mount is from Anthropologie and I just love it so much. It's the prettiest and provided a perfect introduction to the English garden vibes of the bedroom.
Living Room BEFORE:
Living Room AFTER:
Moving on to the living room, and the star of the whole show – my "built-in" bookshelves. Check this post for the whole saga!
One of the most exciting things Jen and I did in the apartment was have this custom ruffled armchair made and upholstered in Lee Jofa's Althea in Blush. It's the most gorgeous chintz…a total classic. The bolster pillow is in Sister Parish Dolly, another classic that pairs perfectly with Althea. The rug is the Canyon Sisal from Williams Sonoma Home in the Limestone color, and it was just the perfect foundation for the room. The tole floor lamp is from a vintage shop on Long Island and I had another Cruel Mountain raffia scalloped shade made for it…I just love it so much. The little bench is a vintage piece that's actually a part of the furniture set my mom found a million years ago that includes my dresser and my old vanity. Jen helped me get it painted and reupholstered using a fabric I'm OBSESSED with – Cabanon Stripe from Schumacher…so obsessed I used it for the curtains as well.
Always a gallery wall! This time I incorporated this incredible "looking glass" which I found at a vintage store in the Hamptons (an appraiser told me that it's called a looking glass when it's oval like that). It's a serious stunner. The walls are painted in Farrow and Ball Lichen, the perfect mossy green which I discovered through Louise Roe. I would use it again in a heartbeat, it's so gorgeous and moody. The coffee table is old from Ballard and my sofa is from Maiden Home. The pillows are a few fabrics I was dying to use – Soane Britain's Scrolling Fern, a matching Althea pillow to the chair, and Penny Morrison's Ashok in pink (I just love that one).
The nesting tables on the left are vintage that my parents have had forever (and I used in my previous apartment), and the one on the right is another vintage find from a Long Island thrift shop. I had it restored by Jane Henry Studios and she did an INCREDIBLE job. It was very beat up and she really brought it back to life. The lamp is from Pottery Barn, topped with another vintage silk sari shade from KRB. The other lamp is an oldie from West Elm that I've had forever.
A better look at the gorgeous lampshade and vintage table..such special pieces.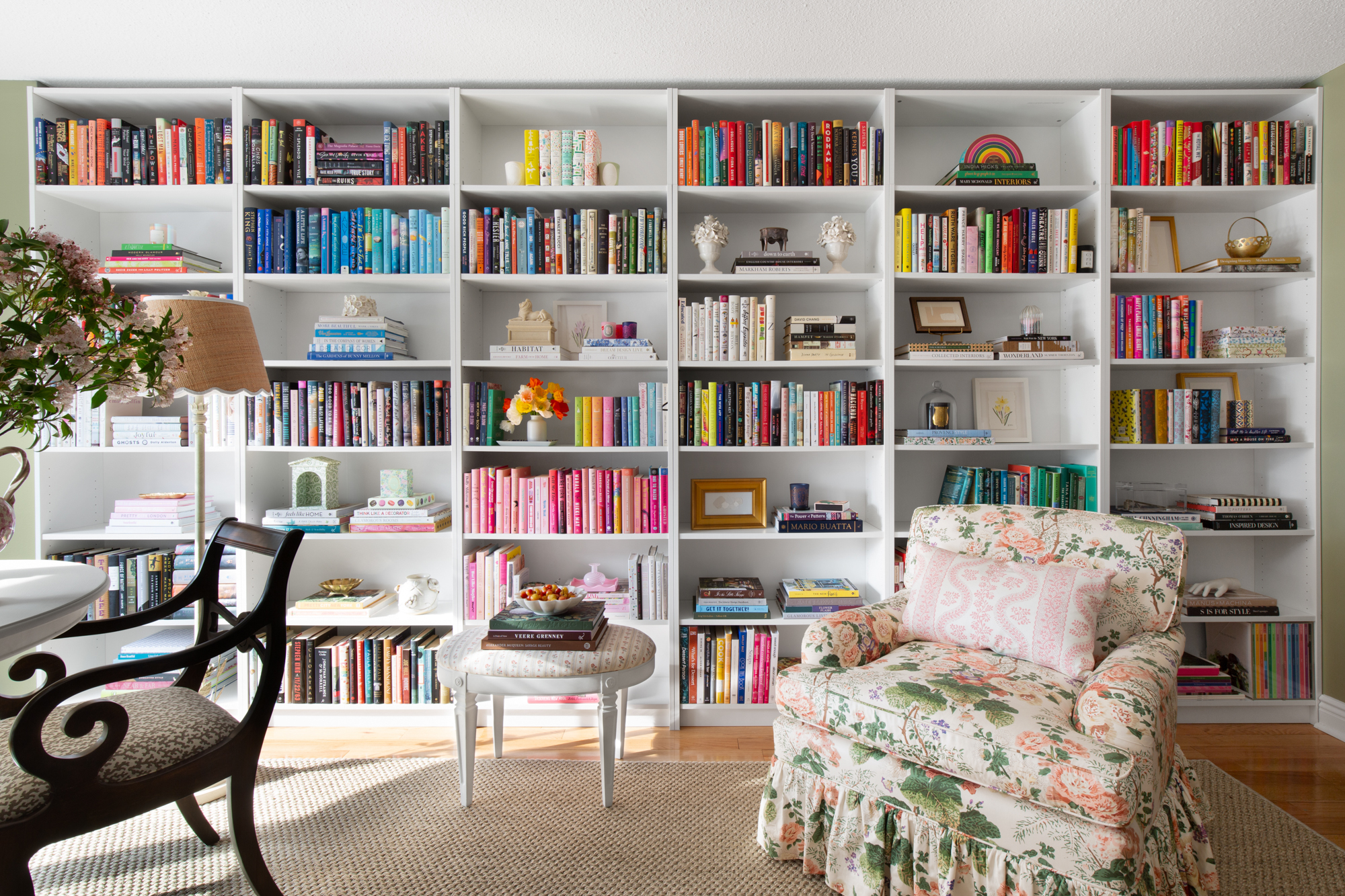 The whole bookshelf!
Jen and I decided to do a dining table in the corner by the window, and she picked the prettiest table for me from Ballard. I never would have picked it because for some silly reason I just know I wouldn't have realized that something so substantial could fit, but it did and perfectly. You can also see the dining chairs here, another lucky Housing Works find that I scored for about five bucks each!! Can you even? I was slightly unsure about them (and had some new dining chairs on order at the time!), and luckily Jen encouraged me to get them (and we were able to cancel the other ones). We had them refinished and I chose a Veere Greeney for Schumacher fabric for the seats…I LOVE this fabric! Seriously wish I could use it in every color. And I love the scrolly arms on the chairs, which someone pointed out to me are very reminiscent of those at the Rose Reading Room in the main branch of the NYPL. The Flora candle holders are from Violet Rose Living and the twist candlesticks are from Candle Flair.
This etagere was another great vintage find at Privet on Long Island, and it fit so perfectly into this little space by the window. You can also see a little more of a closeup of the curtains here…love that fabric. Also – the Papier Fleurs paper geranium just added the perfect bit of height to this spot…so lovely and the only plant I can keep alive!
See how perfectly the Papier Fleurs paper geranium looks there? And another little view of the vintage chairs. Plus some genius shelf styling by Frances. The little lion statue was found at a vintage store too but it's actually from the NYPL gift store!
Kitchen BEFORE:
Kitchen AFTER:
Last but not least, my entryway! This little vintage bench has lived in my parent's house forever, and Jen and I had it restored and reupholstered in another colorway of Lee Jofa Althea. I think it looks so good with the wall color and the large scale Kacey Hughes paper original. I've always loved her scrolly pieces on kraft paper and I was excited to finally have space for a giant version of it. The cerused wood frame it came in is gorgeous too. The kitchen is pretty standard issue but Frances made it look pretty!
Overall I love how the apartment turned out and I'm so glad I was able to use almost everything again in my current place. I don't think I'll ever live somewhere so big in NYC again! I had so much fun designing this project with Jen. She and her team were absolutely amazing to work with and they helped me so much with everything from the floor plan to fabric and furniture sourcing and all of the reupholstering you saw, as well as getting the curtains made with Shade Store and all sorts of other things. Together I think we created a space that really captured the vibe I was going for – moody English library/English countryside garden…while still feeling totally true to me and my taste.