Today I'm excited to finally be sharing a review of the Maiden Home Carmine sofa. It came when I moved in April and I wanted to live with it for a while before giving you all the scoop! As you may have seen on my Instagram, I'm hoping to get back into blogging more regularly this fall and when I asked what you guys wanted to see, the majority of responses were "apartment updates!" (among a few other things – NYC tips and book recs being two of the most popular). So I'm glad to have a peek into my apartment today along with everything you need to know if you're considering buying a Maiden Home sofa!
As you may remember, I'd been looking to get a new sofa for a while and had my heart set on an English roll arm style. After comparing a few styles and brands, I landed on my original favorite – the Maiden Home Carmine in dove gray velvet. (*2021 update* – I'm not sure if they still have this fabric and color combo, so I would email the company to ask and reference this post! 
In terms of style, the Carmine is like an updated version of an English roll-arm. The lines are sleeker and the silhouette a bit more modern, but it retains the signature details of that classic sofa style. One of my favorite features: the arms. The classic English roll-arm has, well..rolled arms! Maiden Home updated that by creating these fan-pleated arms, which I love. They're a great design detail that gives the arms a little something special, while maintaining a clean and tailored look.
As you can see, the Maiden Home Carmine sofa has the classic tight back of an English roll-arm, and the little dip in the middle is another lovely detail which I think adds a subtle femininity to the piece. One of the things I went back and forth on while looking for a new sofa was whether I wanted a tight back or a cushioned back. I love a cushioned back for the comfort and that cozy, casual, sink-in feeling, while a tight-back lends a more formal, tailored look. Ultimately I decided to go with the tight back look–it's a characteristic of the traditional English roll-arm, and looks neat and clean (versus my old couch, where the back cushions were usually smooshed and wrinkled). I honestly like both and was just ready for something different this time around.
Here you can get a look at the legs of the Carmine. I chose Washed Oak for a natural, casual look that I felt would contrast well with the formality of the sofa.
As far as quality goes, I'm very pleased. Maiden Home's furniture is made in the North Carolina region (which is like, the holy grail place for furniture manufacturing) by highly skilled craftsmen. The sofa frames are hardwood, the springs are 8-way hand-tied, the fabrics are luxurious and free of weird chemicals…basically everything you're looking for in a quality investment piece. The seat cushions are very comfortable and soft – you kind of sink into them, but then they bounce right back which is great for maintaining a clean look (again, unlike my old sofa which literally had like, a butt print from where I always sat in it…sorry that might be TMI but the point is a lot of sofa cushions sag after a while!). They have hidden cushion tie-downs so the seat cushions never shift around. The pitch of the sofa is relatively upright, and the back cushions are more firm than the seat cushions, but still very comfortable to lean on. Overall the Carmine is a relatively firm sofa but still very comfy!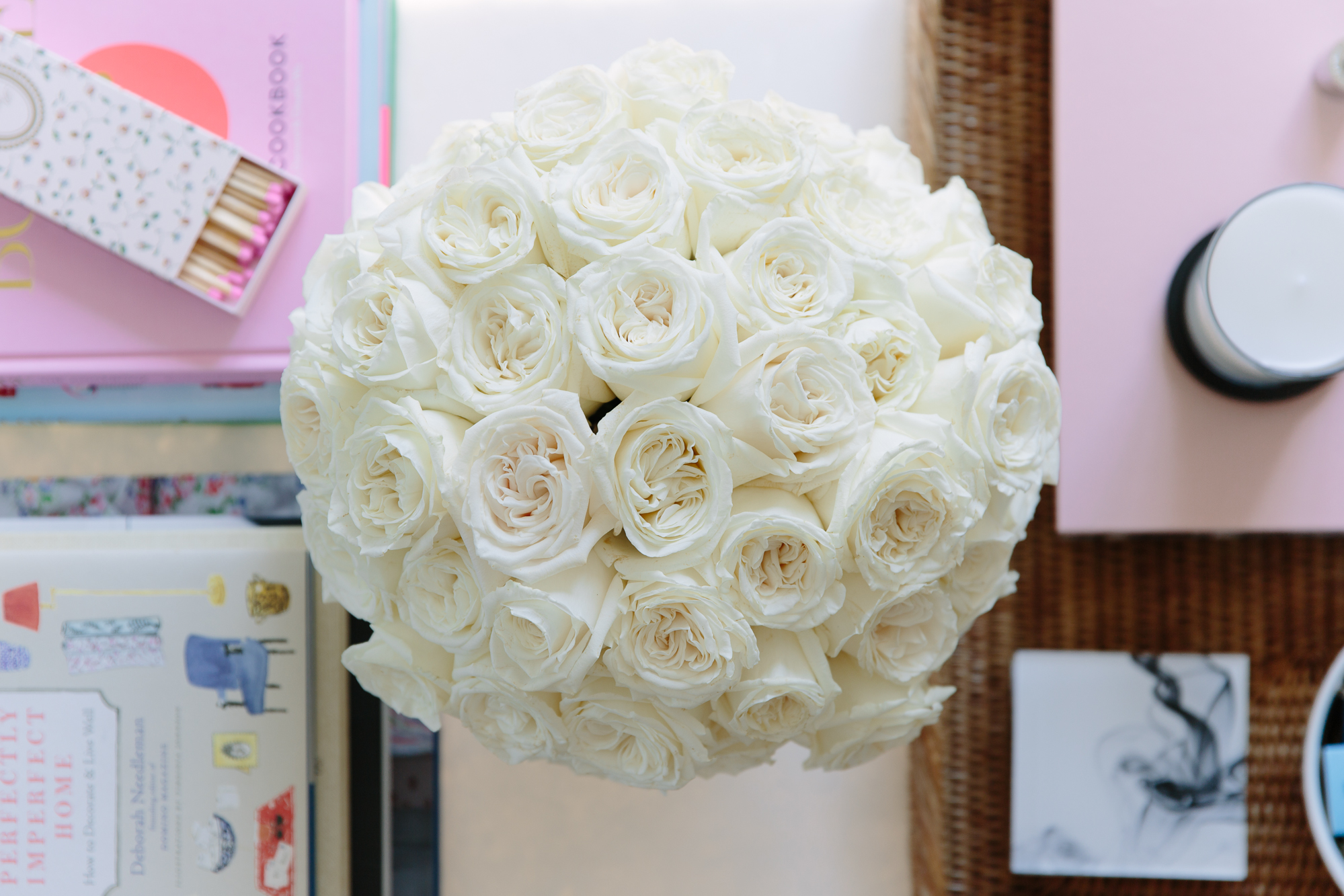 These gorgeous roses are courtesy of B. Floral – love them!
One of the biggest challenges I faced on my whole sofa-buying undertaking was picking a fabric. Maiden Home has a tightly curated selection of fabrics, which in a way is good because it avoids the whole choice overload thing. Nidhi Kapur, the founder of Maiden Home, is super nice and had me in to the showroom to view the fabrics in person, which was really helpful. Sidenote – this may be obvious but I highly recommend ordering swatches if you're not able to visit a showroom or store to see the fabric options in person. It's so important to feel them and see them in different light and at different times of day!
Anyway, I thought I knew exactly what I wanted for my sofa – light gray linen. Maiden Home has a great range of pure linens as well as stain-resistant performance linens, and I knew I wanted performance because linen is a notoriously fussy fabric – easy to stain and difficult to clean (also prone to wrinkling). I looked at Maiden Home's light gray performance linen (called Sand) in person and it's actually a very taupe-y shade – really pretty but not what I was looking for (hence the importance of seeing fabrics in real life, not just on the computer screen). I should note that since then Maiden Home has added a Performance Weave which they have in a color called Silver – had they had that when I was shopping that's probably what I would have gone for, as it's stain-resistant, fade-resistant and all that good stuff.
I also absolutely LOVE the Carmine in the dark gray that they show on the website, but I had just gotten finished having a charcoal gray sofa for the last six or so years and I was pretty determinedly set on light gray. I was kind of at a loss for what to do and then luckily my brilliant mother swooped in and said what about velvet? I almost can't describe to you how much I thought I didn't want a velvet couch (wasn't even considering velvet when I ordered swatches) and how now I am SO HAPPY I have a velvet couch. I had some kind of weird aversion to the fabric, but as it turns out Maiden Home's velvet is to die for. It is gorgeous, both texture-wise and color-wise, in the Dove Gray that I chose. I really wanted that casual, laidback vibe that linen gives and was a bit afraid that velvet would feel too formal, but it doesn't. It just feels clean, classic, and upscale.
Interesting sidebar: did you know that actually "velvet" isn't really a fiber in itself? There are cotton velvets, silk velvets, synthetic velvets, etc…so when choosing one it's important to know the fabric content. Maiden Home sourced these really lovely, high-quality ones. The "hand" of a fabric refers to the way the fabric feels on your skin, and this velvet has a smooth, soft hand. Also key: it doesn't do that annoying shading thing that some velvets do (where it's one color when you brush it one way and another color when you brush it the opposite way). It's very sophisticated and doesn't feel at all fussy – I couldn't be happier with it! It also adds some nice texture to the room. I added the blush pink linen pillow in there for contrast and to get some linen texture in as well!
Overall, I put a lot of time and effort into researching what for me was a big investment purchase, and I definitely made the right decision. I'm really happy with the look and the quality of the Carmine and it feels like I got a very high-quality piece at an affordable price point. Maiden Home has a really unique, modern, and sophisticated collection of pieces and I'm excited to watch as they continue to grow!