Hi! Wow it's been a while, hasn't it? I'm excited to be back today with a post about the 2021 Hampton Designer Showhouse. This is a designer Showhouse that benefits Stony Brook Southampton Hospital, and my mom and I go every year. Last year it of course did not really happen due to Covid, so we were extra happy to be back this summer!
One of my favorite rooms this time around was the bedroom by Kerri Pilchik Design, a new-to-me designer that I'm glad to have discovered through the Showhouse. She created a lovely, welcoming bedroom that utilized purple and green to great effect, and I love that she used tons of pattern as well. In my humble opinion, a huge part of what makes this room successful is the way that, despite using primarily only two colors, she used varying shades of each. When you just use two colors and they're all the same shade, it can feel very flat and one note – but by varying and mixing different versions of the two colors, Kerri made it feel really interesting and dynamic. She also brought in a third accent color (blue) which is another key when doing a room that's mainly two colors only. Kerri said she was inspired by English design and I think that's why I loved it so much! That and the stunning floral arrangement by Mary Stuart Flowers – how pretty is that?! Here are a few shots I was able to capture – hope you enjoy this peek!
This pretty wallpaper is Thistle by Schumacher designed by Neisha Crosland. Like I mentioned, I love that Kerri brought in a third color (blue) to mix up the primarily purple and green color palette. I think that makes such a huge difference! I also think it's great that she brought in black chairs – a touch of black is important to ground any space, even if it's just one piece. And the rattan seats are key, because something natural like jute or rattan is always a welcome addition to any space. I know you can only see a peek of it, but I love the large-scale art by Maura Segal via Amy Simon Fine Art. The lovely tablecloth is Tanzania from Peter Fasano – how perfect is that with the wallpaper?
I love the wallpapered ceiling, which is Grande Luma from Peter Fasano. One of my favorite things designers do is utilize the ceiling – whether it's lacquer or wallpaper or some interesting architectural work, it just always delights me to see that. The vintage bench was reupholstered in Arcadia/Marsh from Schuyler Samperson textiles. The centerpiece of the room, that epic bed, is a custom Chatham bed from Highland House Furniture with a Quadrille fabric.
How lovely is that lamp that looks like tortoiseshell? And of course I'm very obsessed with patterned, pleated lampshades nowadays so I just love that. Both are from Vaughan Designs. You can see more here of how Kerri incorporated blue, which is really refreshing amidst the purple and green. Also I love nightstands that have that little pull-out platform thing above the drawers, so useful. This is the Gabriel Chest from Highland House. Those sweet little bowls (with feet!!) are an awesome Etsy find according to Kerri's Instagram! The block print quilt is Les Indiennes.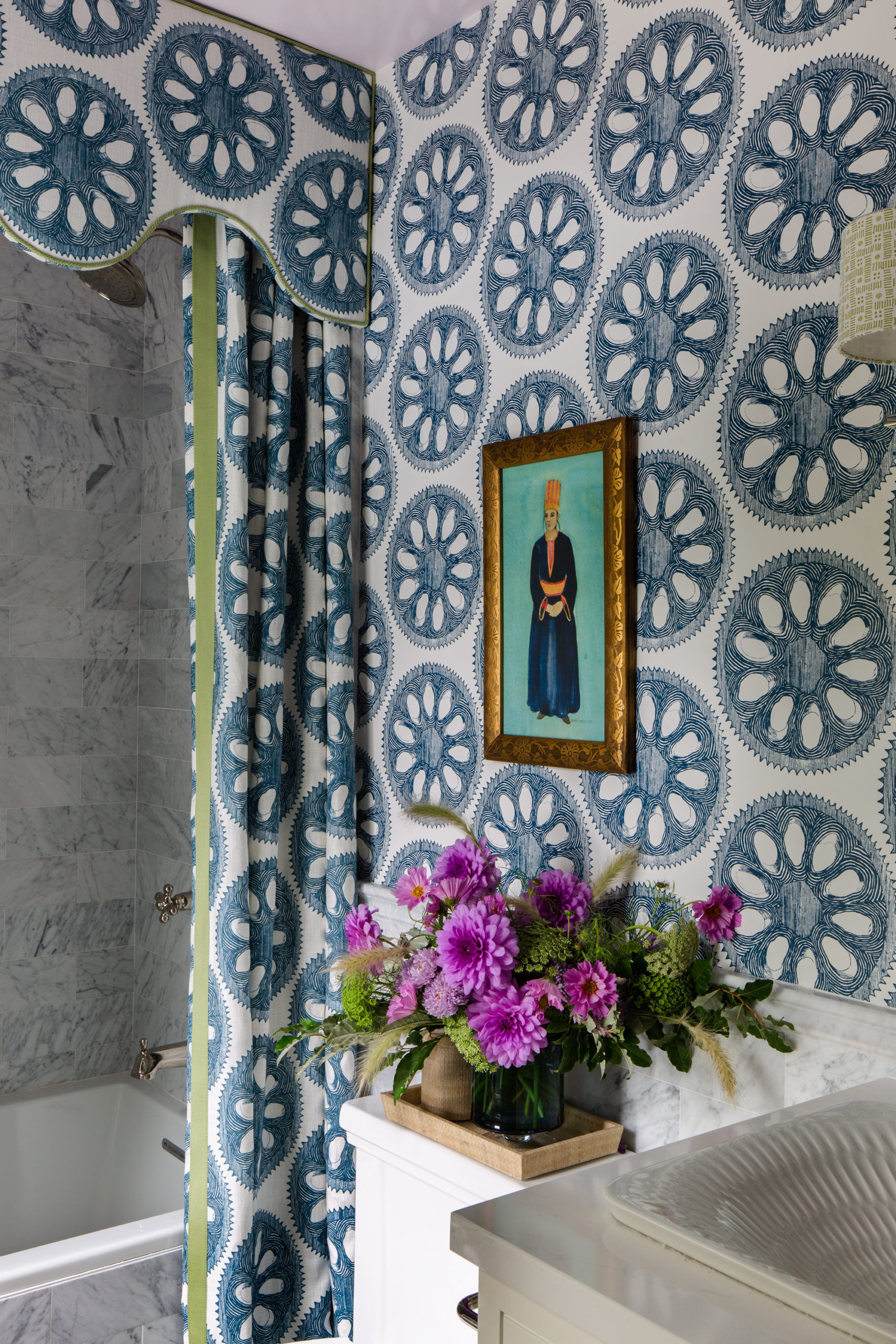 Here's a little glimpse of the adjoining bathroom that Kerri designed – more blue and the most amazing cornice that continues the pattern of the Wheel of Fortune wallpaper from Abnormals Anonymous via Temple Studio in New York. And you can see only the teensiest glimpse but the ceiling is high gloss lavender!
I hope if you're in the area or want to make a day of it you'll consider checking out the Hampton Designer Showhouse! There are so many other gorgeous rooms that I wasn't able to photograph but I'm glad I could highlight this one in particular. The Showhouse benefits Stony Brook Southampton Hospital and runs through October 31 – tickets available here!