I'm changing my apartment around a bit (more on that in an upcoming post), and one thing that that means is that I might be able to finally have an inspiration board! Not to be dramatic, but I've wanted one ever since I moved into my own apartment (as I wrote about here), and I'm super psyched to maybe finally have a spot to hang one. Ever since I moved to the city I've always collected restaurant postcards (they usually give them with the check), inspiring business cards, and other little paper items that I've come across, and I have two drawers bursting with things that are just meant to be hung. Every time I would open one of the drawers to look for something I would think what a shame it was that this stuff was just sitting in a drawer…so yay! And it will be so fun to switch around. So! That means it's time to pick a pinboard – here are a few of my favorite options:
Classic Tack Linen Memory Board – this one is very classic and sophisticated. I love linen, but I'm not sure the nailheads really feel like "me"…maybe a little too preppy?
Vintage Hand-Carved Pinboard – this one I'm considering because I have a lot of modern furniture in my space, and I love mixing in a touch of something baroque like this. It reminds me of this image below that I've always been obsessed with:
How good does that look? By the way, I'm also seriously considering a loop chair…feeling more and more obsessed with it, and it's a forever piece.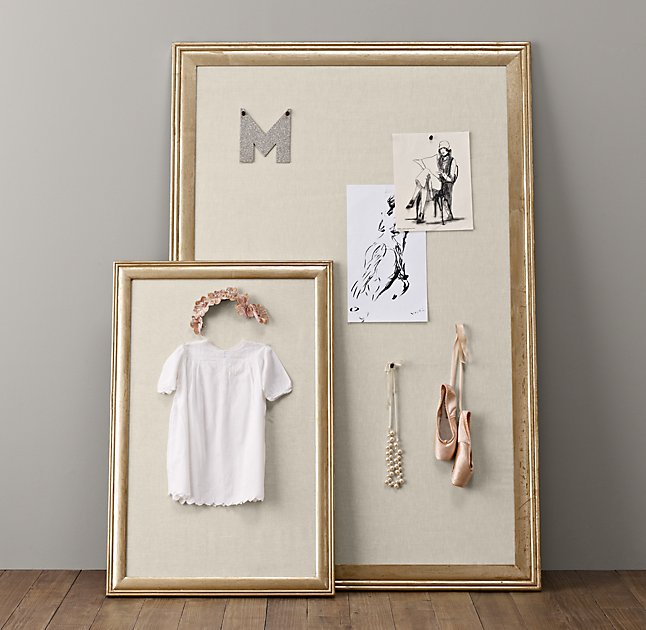 Antiqued Gilt Wood Pinboard – next option…this one is gilded but much more simple. I like that it still has that vintage-y feel, but it's a little more low-key. A touch of metallic never hurts either!
Linen Pinboard – here's one that's linen but minus the nailheads, which feels more like me. I feel like the nailheads might just seem really busy along with all the other stuff that's going to be hung on it. But, there's also size and shape to consider – need to whip out my measuring tape! Also really like the color of this one though.
Burlap Message Board – I like that the nailheads are more spread out on this one, but not sure if the shape is right (too narrow perhaps).
Little peek of what I'll be hanging :).
Anyway, another option might be to get four small ones and put them together in a grid, to make a particular size. Have any of you guys done that? Which is your favorite? Or have you seen any better ones out there? Let me know in the comments!