New York City is packed with flea markets, and they are so fun to dig through! All you need is a little Purell and a bit of patience, and you can find a unique treasure-maybe even with a cool back story. My favorites are
The Antiques Garage
(located inside a giant old parking garage) and
Hell's Kitchen Flea Market
. Here are some of the cool items I spotted on my most recent trips: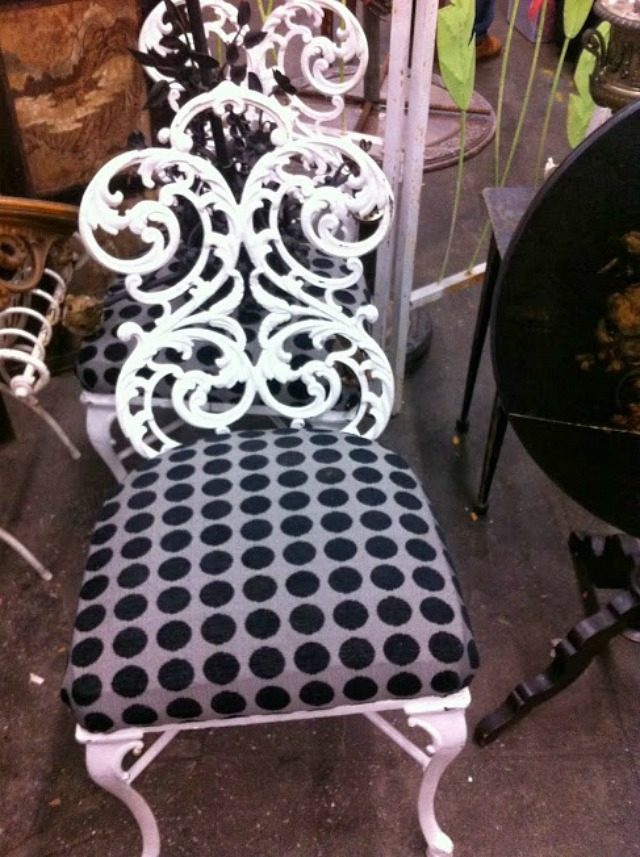 I love the scrolly back on these chairs. The fabric on the cushions isn't half bad, but you could always change that out for something more colorful. I'm assuming they're outdoor chairs, but I would like them inside.
I fell in love with the shape and height of these lamps. They seemed kind of 60's to me, and I think they'd look great on opposite ends of a console table.
I love furniture with these sort of library-card-catalog type compartments, so I thought this piece was awesome (although come to think of it, it looks more like they're little lockers). Not quite sure what it is or what one would do with it, but still. I'm a fan.
I'm a total sucker for fancy candle sconces like these. They feel right out of Versailles to me. I would have loved them for my entryway but they easily weighed 20 pounds each, and I just imagined hanging them up and then half the plaster ripping off my wall as they fell-so sadly, they could not come live with me and my weak walls.
I. LOVE. HANDS. My enthusiasm for
hands
as an interior design object cannot be overstated. And I thought these were fantastic (minus the unfortunate dirt smudges).
I thought this vintage looking painting was rather cool and Jane Austen-ish. I would love it mixed into a gallery wall with more modern pieces.
How about you guys? Any great flea market finds lately?
photos by me