As I'm sure we all know, the difference between store-bought and homemade is substantial when it comes to any baked good. However, when it comes to the traditional yellow birthday cake, the difference between the stuff you bake from the Betty Crocker box and the made from scratch variety really cannot be overstated! My mom is awesome and bakes yellow cake with chocolate frosting, all from scratch, for all of our birthdays (with just a little insistence from us kids). It always comes out different-(that's the fun of homemade!) but it never fails to be magically delicious. And I never fail to eat way too much of it!
We use the recipe from our old Williams Sonoma Dessert cookbook.
We do a double layer cake with my Mom's vintage heart shaped cake tins.
Chocolate frosting, which is basically just butter, melted chocolate, corn syrup, powdered sugar, and vanilla-the ratio of easiness to deliciousness is juuuust right!
Homemade frosting is seriously amazing and surprisingly easy/quick-even if you didn't have time to make a cake from scratch, but you just put homemade frosting on box-made cake, it would seriously take it up a notch.


Happy birthday to me!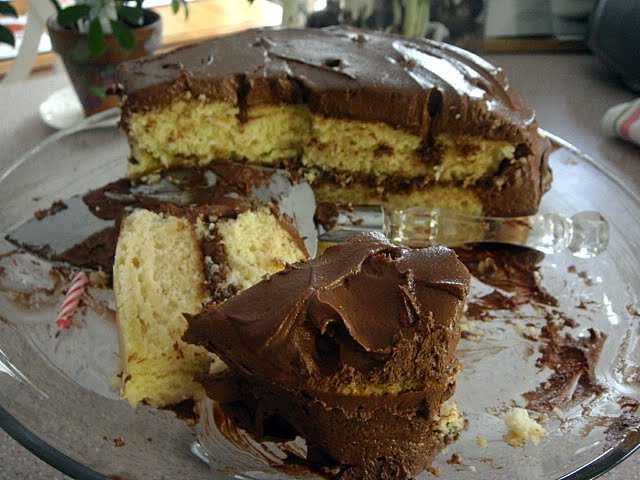 When birthday girls attack.