Some of you said you wanted to hear more about my experience shooting at Bridal Fashion Week, and that made me really happy! So, the way I got the job is that my friend Kate (wedding photographer extraordinaire) who has worked with mywedding.com before, recommended me for it – which was the nicest thing ever and a huge surprise. My reaction was a mix of joy and panic, and of course I immediately said yes (after a freaked-out call to my parents, who were psyched for me and so encouraging) even though I had never before shot runway, or come to think of it, moving objects at all! Once I said yes I had about a week to prepare, so I started researching about shooting runway, and then rented (from lensrentals.com) the lens that seemed, from my reading, to be the best for runway. It arrived a few days before the assignment, so I had a little bit of time to go around the city and 1. get used to the lens, and 2. try to figure out how to shoot moving objects (i.e., runway models). I researched that online too, practiced for a few days, and ultimately hoped for the best.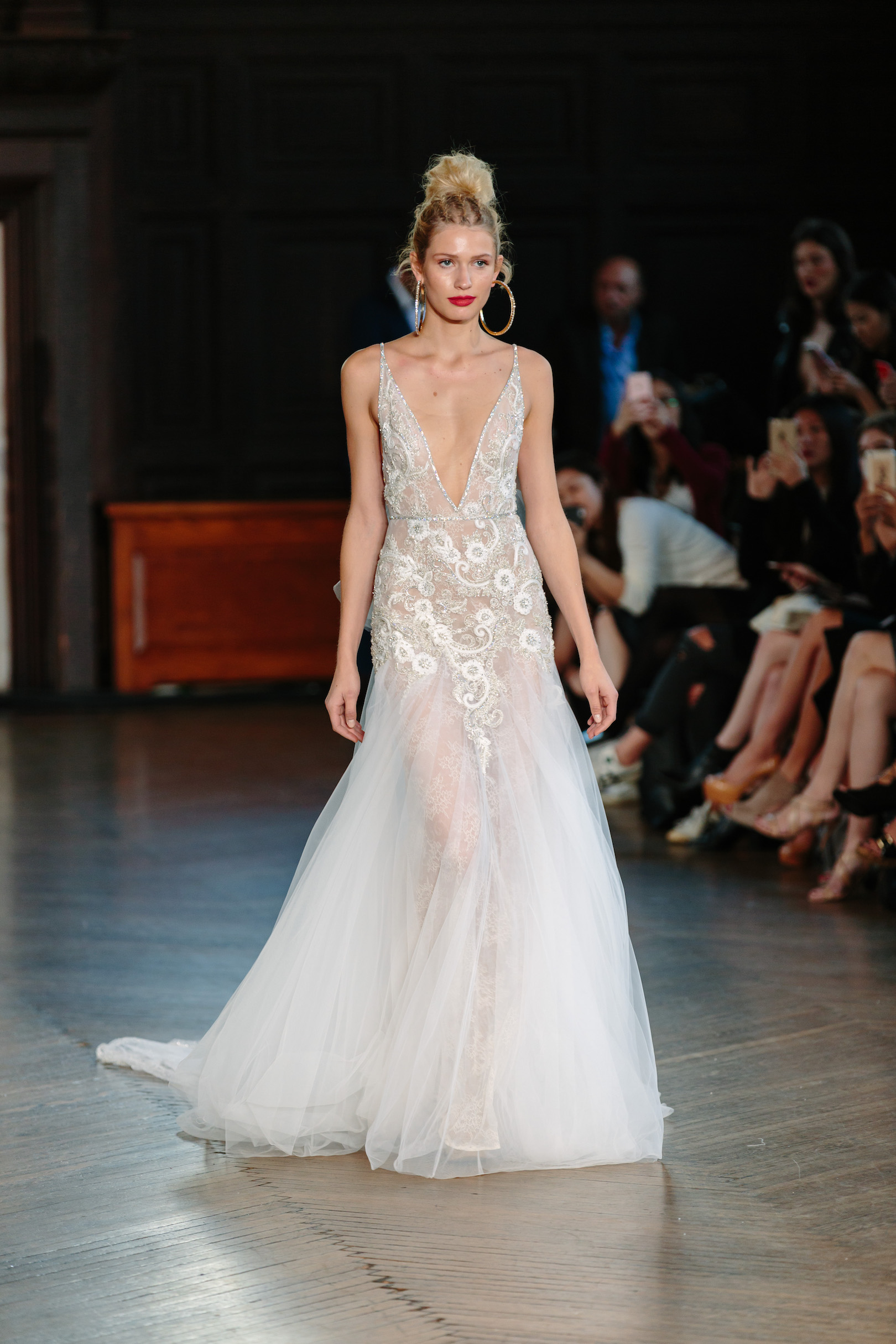 For people who are into photography – a few words on what I learned about shooting moving objects or people. Shoot in AI Servo or AI Continuous, which both track moving objects (meaning they keep your moving object in focus without you having to re-focus). Shoot in high speed continuous (which means you press the shutter and your camera takes picture after picture after picture at high speed, without you needing to stop and re-focus). The other thing I figured out that was key – set your focus point to be on the model's eyes. When shooting people, everything can be perfectly in focus but if a face is blurry, your shot's not usable. The focus points on my camera are sort of in a diamond shape, and I set my focus point to be the one on the top of the diamond. It worked out well. Also, highly recommend lensrentals.com – easy, convenient, and a great way to try out a new piece of equipment.
Throughout this post are a few from the first show I shot – Berta. I'll never forget the experience. The show took place in the High Line Hotel, a gorgeous venue, and I was so excited, and so nervous. We walked in and the editor who I was going to the shows with sat in her seat in the front row, and I headed to the photographer's pit. The photographer's pit, guys! It was crazy.
(Here's a picture I did not take, and it is not from any of the shows I was at, but I just wanted to show you a photography pit at a runway show in case you have no idea what I'm talking about. And PS, I did NOT have a chair! I wish). 
There were a bunch of photographers there with tons of fancy equipment, tripods, video equipment…slightly intimidating as I was there with just me and my camera (and huge lens). You might think it would be a little cutthroat, with everyone jostling for the best spots, but pleasant surprise – most everyone was friendly and nice, and went out of their way to make space for everyone. It was cool. A lot of the people were wedding photographers, and the majority were men.
As we waited for the show to start, I was equal parts nervous and excited. It was a do-or-die moment – time to put everything I'd crammed into my head over the past week into motion, and I just wasn't sure how it was going to pan out. Honestly, when I was practicing around the city using AI Servo or Continuous and shooting at high speed, some of the shots were coming out blurry, and some were clear. I kept practicing over a few days but I wasn't totally confident that I was getting it right. And if it went terribly and every picture was blurry, I'd be in big trouble (of course, that sounds histrionic, but at the time it was like, ya know these people are paying me, they need these pictures, they're trusting me with this, I don't want to let Kate down, etc. It felt like a big scary deal). But then, the lights came up, the music kicked in, and the first model rounded the corner – and I just started clicking away.
It was incredible. The models came fast (though not as fast as I'd been expecting), and silly as this sounds, it was such a rush! Since it was my first show, and I didn't know if I was capturing sharp shots, I was shooting continuously, basically the whole time that the models were walking, and I wound up with over 1000 photos just from that first show! Hah, rookie move. Luckily once I got the hang of it as the shows went on, I found out that that wasn't necessary, and I could drastically cut down on the amount of shots that I took of each look.
One of the fun things about shooting Berta was how much movement these dresses had (and how glam the whole aesthetic was). The shot above is one of my favorites – the movement in that skirt! These dresses swung and floated and glittered and sparkled – such fun to photograph. Also, exhausting to be honest. The lens I rented, while perfect for runway shooting, was heavy. I mean HEAVY, with a capital OUCH. By the end of the three days, my wrist was super sore from holding it up. I quickly learned that there was one key component to runway shooting that I'd neglected – a monopod. Live and learn!
And by the way, I know these pictures aren't perfect and I'm not purporting to say that they are or that I'm an expert in runway photography and ready to shoot shows for the NY Times. It's more like, I thought at the time that these might come out blurry and unusable, and I rejoiced that they came out the way they did. I think the photos got better and better as the days went on, but as I said I'll never forget this first show and so I wanted to share!
There was another runway show on my last day where the dresses also had amazing movement, and I can't wait to share those with you – they're some of my very favorites. If anyone has any questions about runway shooting, please let me know! Looking back through these is making me wish I could do it all again 🙂
photography by Jacqueline Clair, except for photography pit photo from here