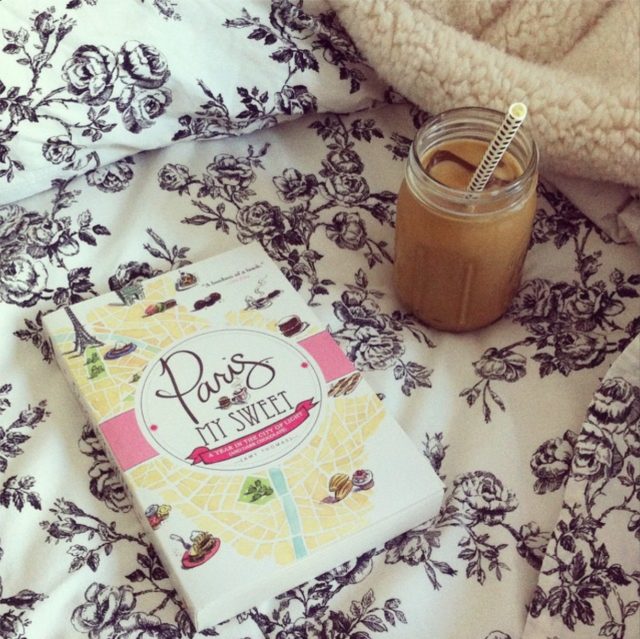 In case it's not abundantly clear from my blog and Instagram, I love sweets. And it's not as if I just like to eat sweets. I like to look at them, talk about them, think about them, learn about them, make them, discover and find new ones, peruse the shops that sell them…you could say I'm a bit obsessed with sweets. Which is why it's a mystery to me as to why it took me so long to read Paris, My Sweet, which is not only named after sweets, but features a charming array of illustrated desserts on its cover. What prompted me to finally go ahead and read it was another book that I read recently about food and France, and the fact that while I was reading it one thought kept echoing through my head…"I would like this a lot more if it were just about French sweets." Et voila!
Truth be told, I've read a lot of foodie memoirs so I wasn't expecting this to be anything ground-breaking. So I was pleasantly surprised to find that I loved it! It is well-written, entertaining, and above all, relatable. It's not just about food, but rather about Amy and her experience being a 36 year old single woman, toggling between France and New York. Obviously there's much discussion of Parisian sweets (and, I was surprised to discover, NYC sweets…including many treat shops that I've blogged about!), but there's also more of a personal story in it. I really liked that Amy kept it real and discussed the difficulties she encountered. It wasn't all sunshine and macarons, and I truly loved her honesty in telling her story. Also, with other food-based memoirs that I've read, it sometimes feels like the author is trying so hard to show the connection between the food and their story/learning experience that it starts to feel forced, or like a stretch. Not the case here at all. Amy seamlessly weaves the sweets in with her story and it feels perfectly natural.
Don't make the same mistake I did and let this book languish on your Amazon wish list! If you love memoirs, sweets, New York City, Paris, or just a good easy read, you're in for a treat with Paris, My Sweet. You can also read Amy's blog here.
photo by me via Instagram