I'm the biggest fan of Jen Ramos of
Made by Girl
fame. She has a gorgeously decorated house and creates amazing paintings which she sells on
Cocoa+Hearts
, her art website. I was looking forward to the launch of the site with great anticipation, so the day these babies went on sale I was quick to snap up my favorite, "Lipstick Dots 1":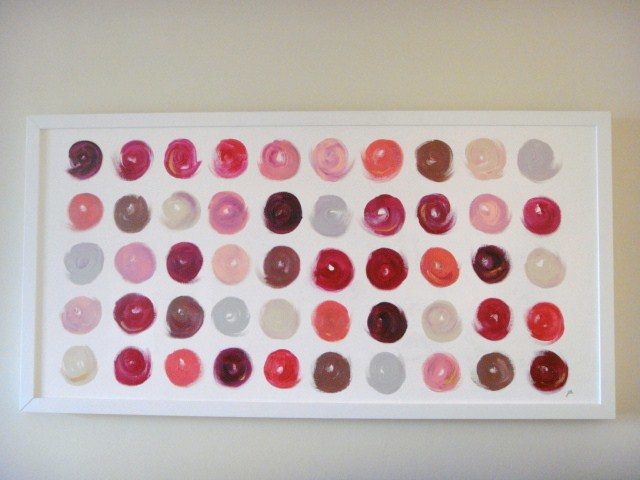 The thing that struck me about it is how cool it is to own an actual one of a kind, original painting, as opposed to a print. I've never had real paint-on-canvas before, and just seeing the actual texture of the brushstrokes is pretty amazing. Plus I'm just absolutely obsessed with the colors. Here it is in my living room:

It's lucky that I moved fast because the big paintings sold out in a matter of hours! I was so happy I got the one I wanted. I loved my purchase so much that when Jen put smaller paintings on the website I bought one for my sister's birthday:
My sister loved it and so do I! The different shades of blue with the swath of metallic gold in the middle are just gorgeous. Look at how the gold shimmers. And the blues are so beachy and fresh. Jen offers several framing options as well, which was just super convenient (especially for my giant one!).
Jen also sells great typography prints on her Made by Girl website. Here's the "Hello" print that I bought:
I think it's great! I hung it on my little gallery wall in the hallway. Be sure to check out both of Jen's websites and see all of her gorgeous artwork!
Photos 1, 2, 3, 4, 7 by me, photos 5 and 6 by my lovely and talented sister Ali