While at the airport last week I happened to pick up a copy of Traditional Home, and fell head over heels when I found Ballyfin within its pages. Ballyfin is a 5 star, luxury country house hotel in Ireland, and it's just about the most perfect and amazing thing I've ever seen in my life. Picture spending a week in a Jane Austen novel or at Downton Abbey, and you've got a pretty accurate picture forming.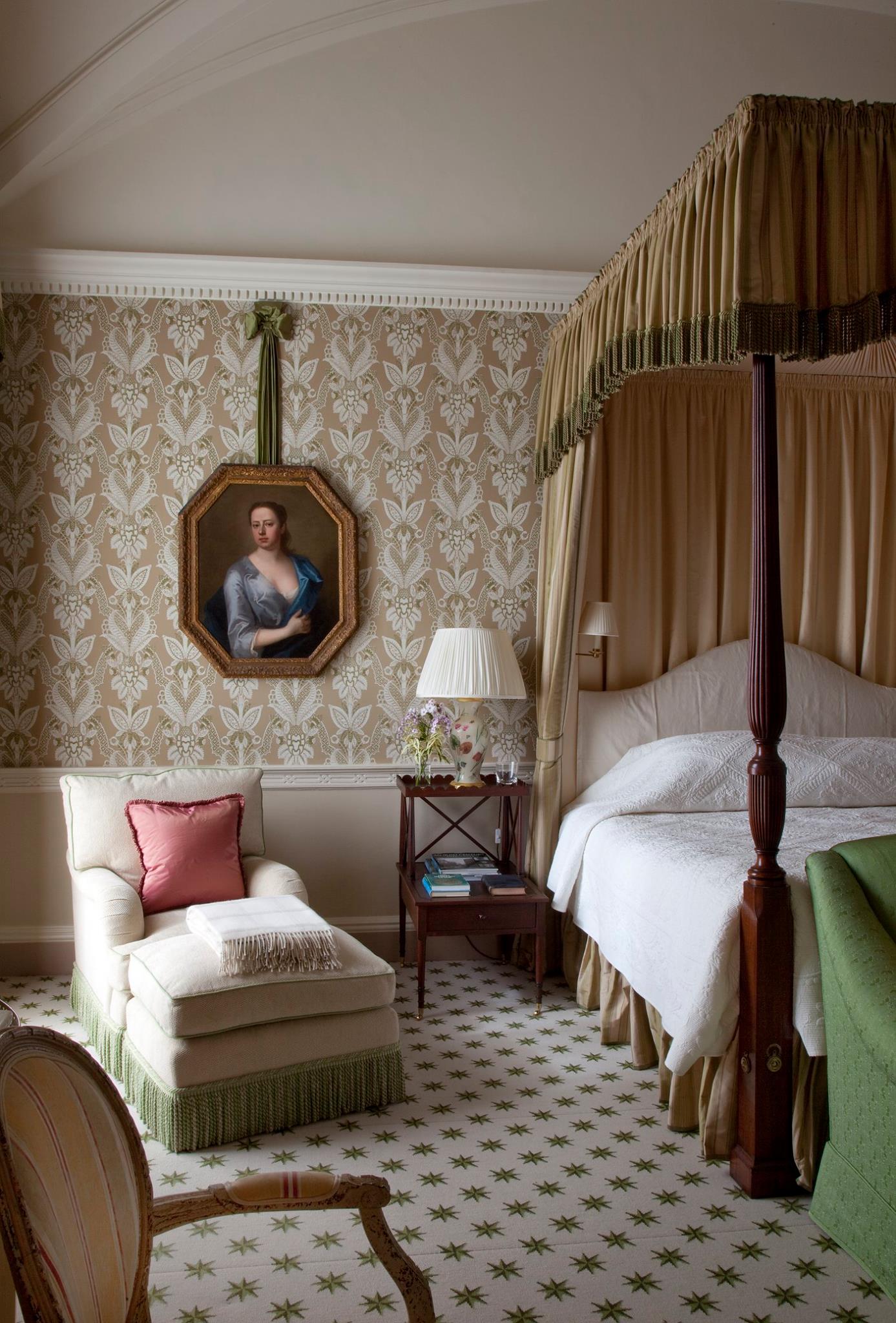 Built in the 1820s for a noble family, the Ballyfin estate is comprised of a stately Regency mansion resting on over 600 acres of gardens and grounds, including a lake, grottoes, and a Walled Garden. There are twenty guest rooms available, each decorated individually in a way that nods to the mansion's history – Irish antiques and art, marble bathrooms, canopied beds, portraits in gilded frames…basically everything my Irish countryside dreams are made of (reminds me of Westbury). Read on to see…
The Trellis Room features custom wall paintings that evoke a feeling of relaxing in a summer garden. The room has a balcony that overlooks a small private garden and fountain.
After serving as home for the noble Coote family for 100 years, Ballyfin was sold to the Patrician Brothers who turned it into a school. The school was in operation for much of the twentieth century, but eventually fell into disrepair. In 2011, after nine years of extensive restoration, Ballyfin was reopened in its current iteration (as heaven on Earth).
The food at Ballyfin is focused on fresh, local, and seasonal ingredients, many of which are sourced from their own gardens. Hens on the estate lay fresh eggs that are used for breakfast – guests are even welcome to collect their own! Honey is produced by bees on the estate, whose hives are near the grotto. They have organic chicken, free-range duck, and local, free-range sausage and beef. You can take a picnic with you on a walk or hike, dine al fresco on your terrace, or have a meal served to you in the Library or the Conservatory. Dinner is served in the elegant State Dining Room, and wine and cheese tastings are available in the rustic and cozy Wine Cellar. The bar is tucked away in the former servants' quarters, where you can enjoy an after-dinner drink or partake in a whiskey tasting.
The rooms are blissfully and beautifully historical in decor, but modern in terms of amenities. Italian linens, organic bath and body products, flat screen TVs, iPod docking stations, Wi-Fi, and a complimentary mini-bar are available in every room.
The grounds and garden are only open to guests, creating a serene and peaceful atmosphere to wander through at your leisure. To keep you entertained, the hotel has a beautiful pool, a spa and fitness room, and an 80 foot library. They offer tennis, golf, archery, fishing, and hiking in the Slieve Bloom Mountains, among other outdoor activities. You can also take a guided tour of the mansion, where you can learn more about the families that have lived at Ballyfin, the estate's history, and the decor and restoration process.
If you really want to pretend you're at Downton Abbey, Ballyfin even has a Costume Department full of period costumes from the famed Lyric Opera Company. They have trained dressers who will deliver your costume to your door, and you can then enjoy a pre-dinner drink and such while you pretend to be Lady Mary. They also have a photographer who will photograph the group and do individual portraits as well (obviously this is best suited for a group rather than individual guests!).
As you can imagine, a place this amazing doesn't come super cheap, but as far as I'm concerned, it's 100% worth it. Clearly this is way more than just a hotel – it's a whole experience in itself. Depending on when you go and what room you stay in, prices range anywhere from 500 euros to 1700 euros/night – you can find all of the information in their brochure. How perfect would it be to stay here and then do a day trip or two to Dublin? I'm determined to make it happen!
traditional home image from here, all other images via the ballyfin Facebook page