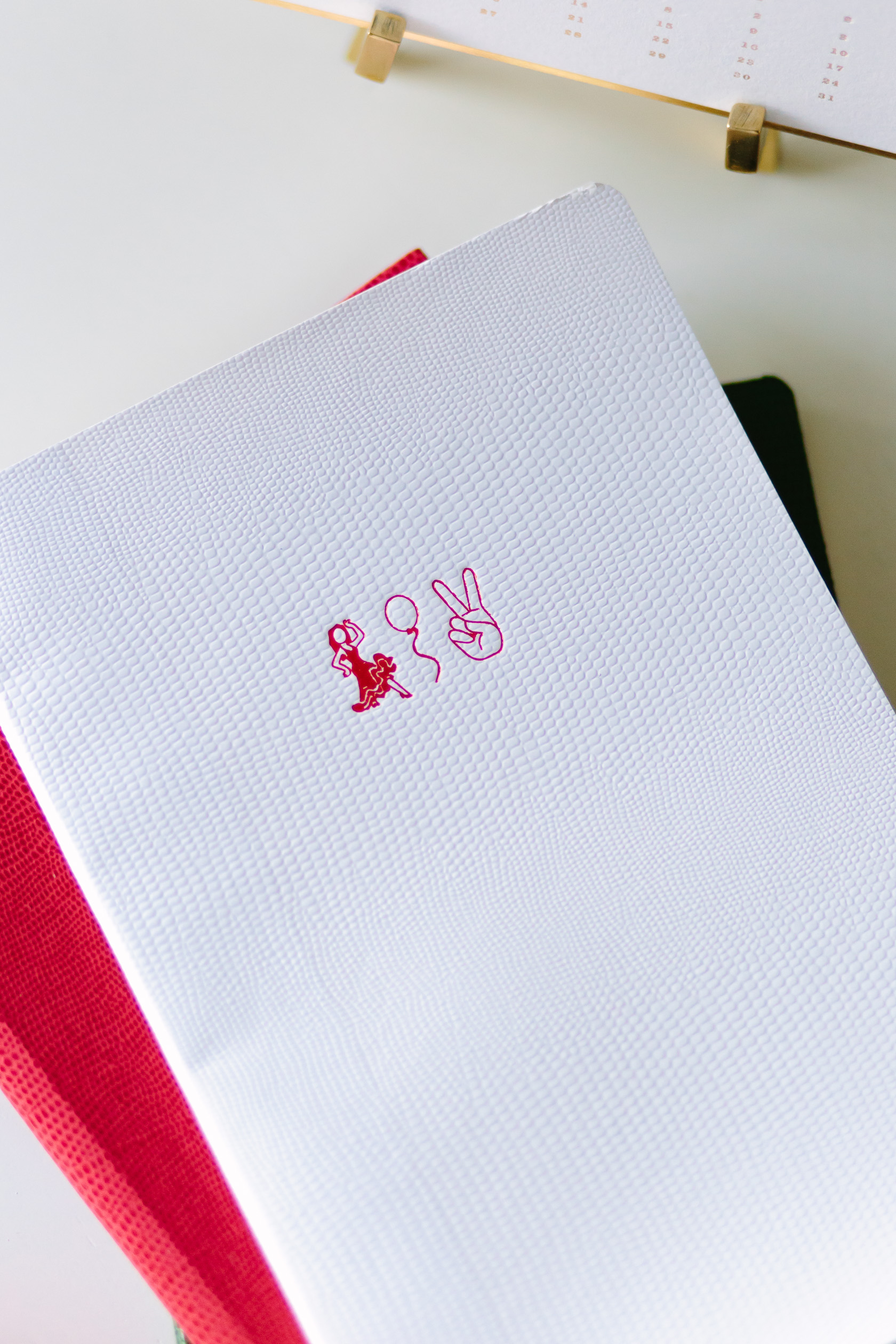 As I'm sure many of you know, bloggers get sent free stuff from brands from time to time – full-time bloggers, lots of stuff (kind of like magazine editors). I get things sent to me sporadically (to quote Clueless), which is super nice and always appreciated – and today I want to share a few great things I received recently from some wonderful brands (and I hope you know that I would never share something I didn't like, just because it was sent to me). I'm also excited to be sharing a giveaway of the cute emoji notebooks you see above from the London-based Sloane Stationery – scroll to the end to learn more and enter!
First up – Outdoor Voices recently opened a store on the Upper East Side, and as a little neighborly gesture they sent over a pair of their Running Woman Sweats and matching Catch-Me-If-You-Can Hoodie. Guys, these pants are so good. Of course for me they're less of a "running woman" pant and more of a "doing laundry and laying on the couch reading" pant, but regardless, they're super comfy and even flattering. They're made of "mossed jersey," a sort of stretchy fabric that feels cozy and lightweight at the same time, and they're a lot cuter than your typical sweatpants – almost like a legging/sweatpant hybrid. Fit-wise I'd say they're TTS – I'm tall and the medium are actually long enough, which is a rare and pleasant surprise.
Garnet Hill sent over a pair of their Cashmere Cabled Gloves – so soft and really well-priced for cashmere. By the way, Garnet Hill is running a "Merry Mittens" project with St. Jude Children's Hospital that you can get involved in – now through December 24 if you snap a pic of your gloves or mittens or any cozy winter gear, and post it to Instagram with the hashtag #StJudeMerryMittens, it will trigger a $10 donation from Garnet Hill to St. Jude. They're trying to raise $15,000, so let's all help! You can track the project's progress on the campaign page here.
Garnet Hill also gifted me a pair of their Classic Flannel Pajamas – these I'm really obsessed with. So cute, so comfy, and I was actually in the market for a new pair of pjs so super grateful to Garnet Hill for these! They fit perfectly and they're also long enough shockingly. (I'm 5'9 and pj's are usually not long enough unless they specifically come in "tall"). They didn't even shrink in the wash which is amazing (it's the little things, people).
Cora is an amazing brand that I really admire (and by the way, this isn't something I ever thought I would be writing about, but this is such a cool company that I'm excited to share). They make organic tampons, which also come in really nice packaging. I feel like there's definitely a lack in the market for "feminine products" that aren't embarrassing to keep on your bathroom shelf, and Cora has solved that. But more importantly, they're making a healthier product. As I've written about before, I'm consistently disturbed by the various industries (food, beauty, etc.) and the chemicals and synthetics that are ubiquitous in SO many products we use everyday (from makeup to freakin' shower curtains). I've written before about my admiration for brands that create natural and synthetic-free products (Credo, Honest Company, Common Good), and Cora is the latest. Really, if we're eating organic food and using organic soap and stuff, why are putting tampons into our bodies that are loaded with synthetics and made of non-organic cotton that was grown with pesticides? Also did you know (I didn't), that tampon companies are not required to disclose ingredients or conduct testing to determine the effect of their product's "ingredients" on women's bodies long-term? Arghh!! That makes so angry.
Ahem, sorry. Back to Cora.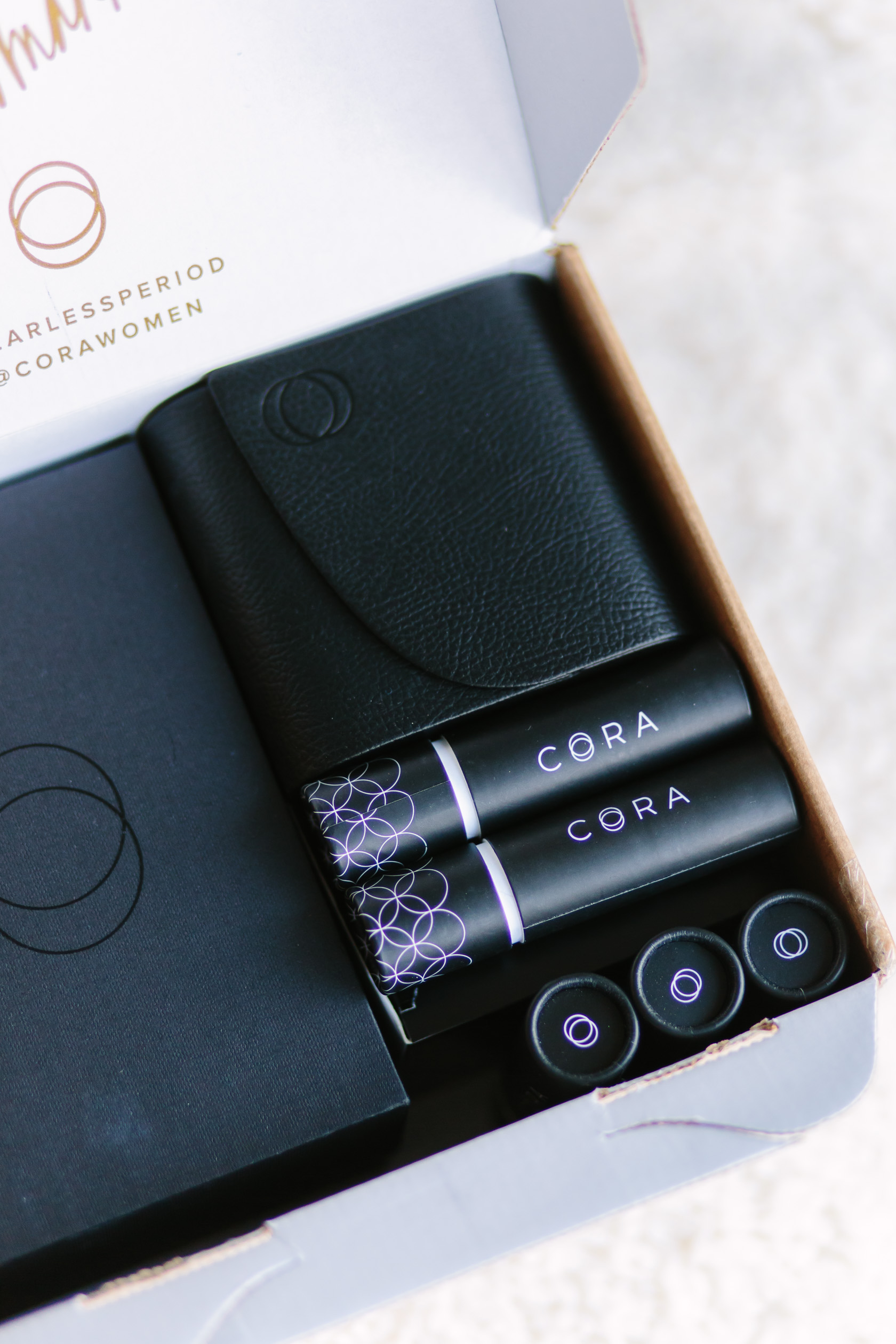 So anyway, besides everything I just said, I'm a total sucker for great packaging and Cora's is on point. It's minimal, subtle, and chic (chic tampons, who would've thought?). For portability, they provide lipstick-sized tubes, as well as that little black carrying case to slip in your purse. Then for home use, there's the sleek bigger box you see above. So no worries if someone snoops through your medicine cabinet! Just kidding but seriously, love this packaging.
In addition, for every month's supply of Cora you order, they will provide a month's supply of sustainable pads to a girl in a developing country. Many girls in these countries don't have access to supplies for their menstrual cycles and are forced to miss school during this time, which then can lead to dropping out…this is a really simple way to help. If you'd like to place an order, you can get 20% off your first subscription order with code JacquelineTWENTY4116 through January 5th!
Lastly, I was sent these chic and lovely notebooks from London-based stationer Sloane Stationery.The notebooks and diaries are at once elegant. with their embossed covering, gilded-edged pages, and sophisticated colors, but also witty and clever with fun gold-embossed phrases on the covers. They're not too cutesy, not too minimal – sleek, elegant, with a dash of whimsy.
These would make such a nice gift, especially for the emoji-lover in your life – or yourself, which is why I'm excited to be offering a giveaway for a set of three of their charming soft cover emoji notebooks – Queen Bee, Rule the World, and Hear No Evil, Speak No Evil, See No Evil. Enter to win below!
a Rafflecopter giveaway

Good luck! xoxo
photography by Jacqueline Clair