As promised, I'm back with Part II of my pictures from the 2015 Kips Bay Decorator Show House (check out Part I here). This is always an amazing design event and something that I look forward to seeing every spring. This year marks the 100th anniversary of the Kips Bay Boys and Girls Club, the non-profit organization that the Show House benefits. Kips Bay Show House (which began in the 1970's), has raised over 18 million dollars for the organization, which is dedicated to providing educational programs, guidance, and support to disadvantaged youth in New York City. So not only is the Show House an amazing and wonderful treat for design lovers, it's also a fantastic way to support a worthy organization. 
This bedroom designed by Cathy Kincaid was entitled Princess and the Pea.
This was so cool…in the room, they had a sketch of the room. I love that!
Totally ready to jump in.
Don't you just want to sink into that cooshy chair with a cup of tea? This feels so English country to me – love that!
Every room in the house seemed to feature these cozy reading corners, and I can definitely understand why!
Yummy smelling French soap.
In the little bar area off one of the hallways there was this adorable cocktail shaker. In case you can't really tell, it looks like a fire extinguisher, and on the side it says "THIRST EXTINGUISHER. Dispense freely for best results. To refill call your host. Keep available for emergency." So charming! Also: wicker ice bucket.
Can you tell what that large scale piece is made out of…? Masking tape!
Love love love this scribbly piece in the gallery wall staircase by Philip Mitchell Design.
I just. Love. This wallpaper.
See how the mats on these pieces are framed in gold? That is such a cool detail and one that I haven't seen before.
Thom Filicia's "Study in Style" was elegant and masculine, full of interesting touches and playful details. Though the room is done in neutrals, Thom expertly included a mix of different textures and materials to keep the room feeling layered, warm, and inviting. My style is so feminine so it's always interesting for me to see masculine spaces done really well.
Gorgeous candlesticks and I love that he used black candles to up the masculine vibe.
This piece in the corner by artist Robert Greene was both cool and creepy (in a good way)…totally felt like he was going to turn around and start talking to me. The sculpture, called "Frenetic Composure," is composed entirely of sticks. It was inspired by Greene's father's battle with ALS, and proceeds from the sale of the sculpture go to ALS research. I love how the title really aptly captures the spirit of the piece – the sticks and the way they're put together is completely frenetic, and yet the way the man is standing = composure. Very human…very interesting.
Such an interesting lamp.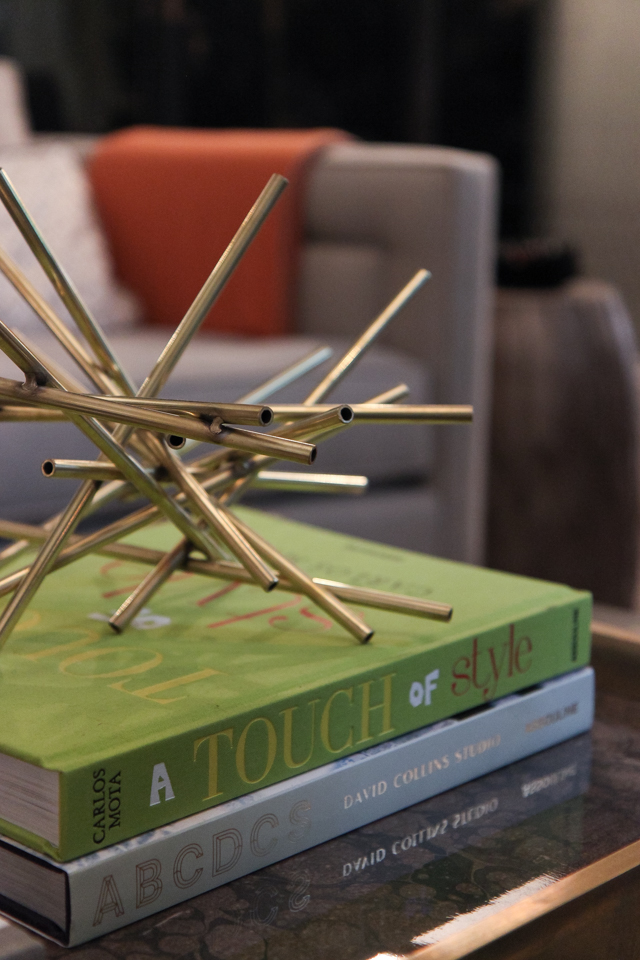 I love this sculpture on it's own, but I especially love that it echoes the straight lines of the person-shaped sculpture I talked about above.
This lamp is amazing…and notice the finial on top! Such a fantastic detail.
So funny that he put a door knocker on the door…I guess so if someone is hard at work in the study, people know to knock! I also love that he used circles all over the room…there was this one and several more scattered in different incarnations throughout the space.
More circles on the bottom of this console and on the candlesticks.
I never thought I'd think a toilet paper holder was so cool! This bathroom was by Peter J. Sinnott IV.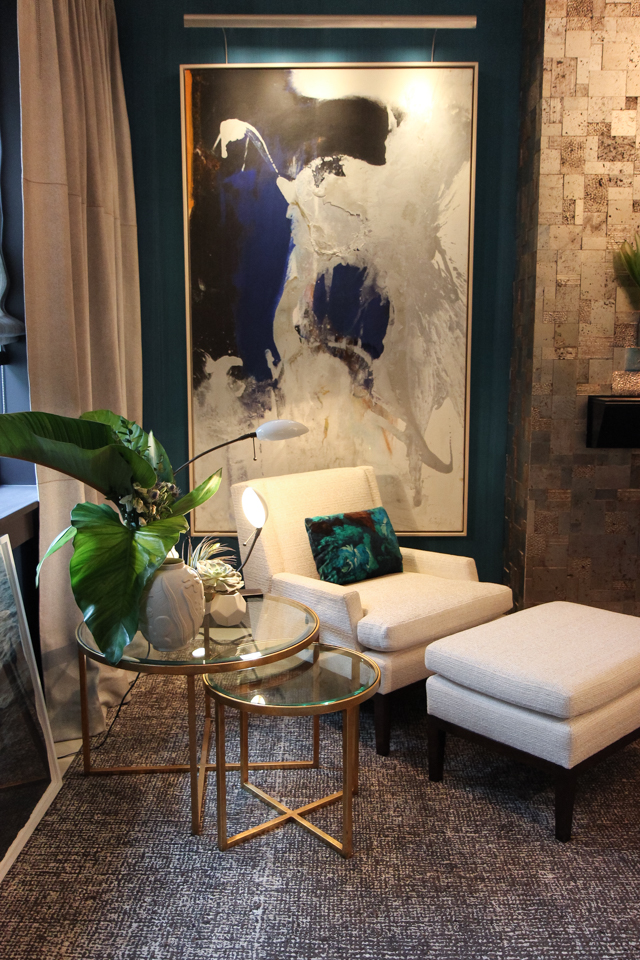 This lounge by Charles Pavarini III was very sixties and a little glam.
The twisted wood on this table was so unusual!
The top floor landing was designed by Paula Caravelli.
Another outdoor space, designed by Richard Greener…complete with bathtub (!).
The exterior of the Arthur Sachs mansion, which by the way, is on the market for a cool 35 million.
The 2015 Kips Bay Decorator Show House is only running until June 11th, so hop on over if you'd like to see it! If you're unable to check it out, you can still donate to this worthy organization by buying the book 40 Years of Fabulous: The Kips Bay Decorator Show House, a retrospective on the first 40 years of the Show House – which also happens to be the best looking coffee table/design book I've ever laid eyes on. I'll be posting more on that soon…it would make a seriously amazing gift for any design lover!
Hope you all enjoyed this tour, and don't forget to check out Part I.
photos by me