One of my favorite, favorite spaces in the 2016 Hampton Designer Showhouse was this living room, designed by Melanie Turner Interiors. It just hit all the right notes. A few things I loved: the boho, 70's vibe, the white and camel color scheme, the cooshy, overstuffed upholstery, the amazing mix of textures, her use of white linen, the artwork, the incredible light fixture, and overall just how inviting it was. This is the room I would want to hang out in – every piece of seating was begging to be curled up in.
So many good things. The shag rug gave the room this sort of 60's vibe and of course added amazing texture and interest. And that sectional from Lee Industries…we took a quick seat on it (oops, not sure if you're supposed to do that) and OMG. So cooshy and cozy, like nothing I've ever felt before. And of course, that vibrant artwork up there by Sally King Benedict provides a great splash of color – I really like the blue in it.
That light fixture (from Mecox Gardens) is so. Damn. Good. And look at the detail on the ceiling. This is the cool thing about the Hamptons Showhouse every year – these incredible architectural details and finishes. You just don't see those everyday, and look how much character it adds.
One great boho, 70's aspect of the room was that white-on-white artwork. I am NOT typically a fan of macrame or woven wall hangings (at all), but I am a HUGE fan of the way Melanie Turner incorporated that type of art into this room. They're textural, they're beautiful, and they look lovely atop the gray wood-grain wallpaper. Also that rug is so thick and chunky – I love the texture and color. It's actually four Braided Abaca rugs from Serena and Lily put together to make one – more affordable than custom!
Look at that thick, chunky blanket on the daybed. The white stump table has great grainy texture as well. And I just love that chair, the leather is gorgeous.
This fantastic daybed is from Serena and Lily, and I just really wanted to flop down in it with one of those books.
If you like this look, a similar chunky-knit pillow cover can be found here.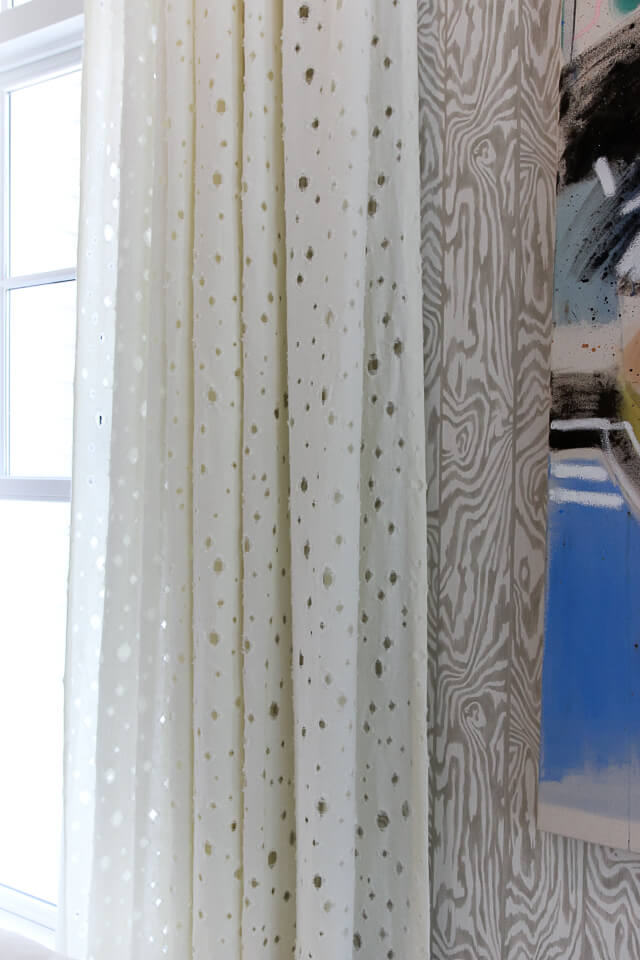 Two other amazing features. These Lee Jofa drapes, which looked like eyelet from afar, actually had holes that were more like those on ripped jeans – so good. And then that Cole and Sons wood grain wallpaper is great, reminiscent of the wood paneling in old-school rec rooms. It kind of added to the '70's vibe of the room, but in a modern way.
PS – more from the 2016 Hampton Designer Showhouse here and here.
Hampton Designer Showhouse 2016
1597 Noyac Path, Sag Harbor
Open daily, 11AM-5PM, through September 5, 2016 – proceeds benefit Southampton Hospital.
photos by me