On Friday, I attended an event with my sister that I'd been determined to experience ever since hearing about it more than a year ago – U.P., an eight course, after-hours dessert tasting at Dominique Ansel Kitchen. U.P. stand for Unlimited Possibilities, and the tasting certainly lived up to its ambitious moniker. The theme of the meal was "Firsts," and each dish was based on a momentous first that most all of us can relate to – First Word, First Kiss, First Job, and more. We were served the most creative and incredible desserts, full of flavors and textures the likes of which I have never experienced before – vanilla-infused sweet pea rice milk, shiso and lime sorbet, a Baked Alaska that we were invited to actually light on fire (!)…and so, so much more. This was a truly unique and wonderful experience which I'm dying to share!
This was our little appetizer…because you can't eat dessert without having your vegetables first!
First course: "First Words". A play on baby peas and carrots, this personalized Île Flottante consisted of a vanilla-infused sweet pea rice milk anglaise with little chunks of carrot cake and each guests' first word in vanilla meringue (or in my case, question marks because I forgot to e-mail them my first word :). This was one of my favorite dishes of the night.
"First Kiss" was our second course – raspberry roasted peanut water with cream soda pearls and mint panna cotta inside that beautiful white vessel, created by Christina Liu Ceramics. Since it was a course about kisses, some of the bowls were smooth, like a lady's cheek, while others were textured and rough, like a gentlemen's scruffy beard. How great is that?
Each course was served with an equally creative drink, and for "First Kiss" it was a popcorn infused rum and coke. The peanut elements were meant to evoke the whole surreptitious-kissing-at-the-movies-as-an-adolescent scenario.
Next came "First Time Living on Your Own," which of course equals first time cooking on your own. The first meal Chef Ansel cooked for himself was a pasta carbonara, so here, we were served a play on that delicious Italian dish – brown butter sautéed crepes with smoked toffee bits and a sphere of sweet corn puree in an adorable little mini skillet.
The most exciting course was "First Heartbreak" – that chocolate sphere houses a bergamot rocky road ice cream center with cocoa nibs, and rests atop a rich chocolate pain de genes. We were given matches (and permission) to set the meringue petals aflame, melting the ice cream and reminding everyone of the burn of first love gone awry.
Here are the scorched remains and the yummy cake and ice cream in the center. Heartbreak never tasted so good!
A dessert palate cleanser came next: shiso lime sorbet, served inside an actual fresh orchid. This was really fresh, light, and delicately flavored, not to mention beautiful…another favorite of mine.
I knew U.P. was going to be a feast for my sweet tooth, but what really impressed me was how they made it a 360 degree experience, involving all of your senses in the meal. No dinner party is complete without a good soundtrack, and partway through our tasting I realized what great music they had in the background – a little Kenny Loggins, a little Fleetwood Mac…just music that felt so right and that makes you feel good. The song also changed with each course, but in such a subtle way that I kept forgetting to notice the transition. Each dish was simply beautiful, arranged in amazing and creative ways on really interesting dishware that I'm sure it took them months to source and decide upon. In fact, the menu took Chef Ansel and his team seven months to conceptualize and finalize! The pastry chefs plating and presenting the dishes to us were also amazing – the presentation was elegant but totally fun and relaxed, with a lot of charming and quirky touches. It was like a really, really good dinner party that moved at a perfect pace.
Uh-oh…"First Job!" Your boss has a very important assignment for you…
Eat this delicious bar graph. These little cakes were each different – one coffee, one malt, one nougat, and one cardamom, resting on a little bar of praline feuilletine. Each represents life when you start working: red for caffeine, yellow for "beer money," green for taxes, and the little blue one representing sleep (or the lack thereof).
Chef Ansel's first meal at a fine dining restaurant was beef wellington, so for the "First Fining Dining Experience" course, they recreated that dish in dessert form. Puff pastry surrounds a dark chocolate and black currant mousse topped with creme fraîche and resting on a puddle of red wine butter sauce.
Next course was "First Dance," a strawberry and elderflower infused mascarpone lollipop of sorts, dipped in liquid nitrogen and piped with fresh whipped cream before our eyes. Unfortunately I wasn't able to get a great pic of that one before devouring it, but you can check out Dominque Ansel's Instagram to see it.
The last course was "The Last First" – a celebration of the many great firsts yet to come in life. This beautiful dessert was a  lychee granita and frozen sake lees panna cotta topped with a sugar plum. In case you don't know (I certainly didn't), sake lees are what's left over after making sake. Such an interesting ingredient – one of the many that night that I was experiencing for the first time :). This was one of my favorite dishes of the night, and a great way to end an incredible meal.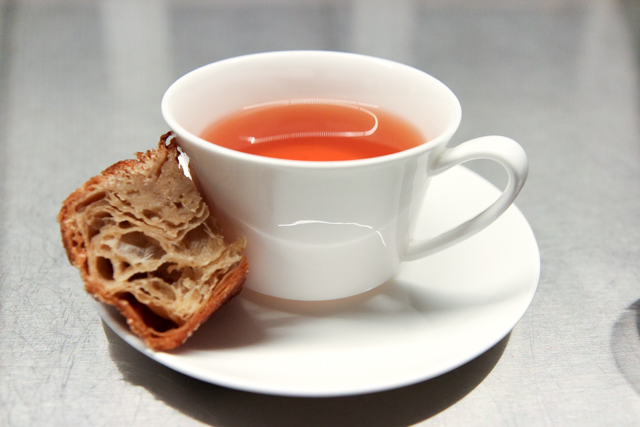 Last but not least – a cup of chamomile tea and a piece of the amazing brown sugar DKA, a popular item at Dominique Ansel Kitchen (and his Spring Street bakery, though there it's made with white sugar, not brown).
U.P. featured so many little surprises and details. The meal took place in the production kitchen of the bakery, where the table we were to eat at actually descended from the ceiling on pulleys! That was super cool, but I was even more psyched to get a behind-the-scenes look at the inner workings of the bakery's kitchen. At the end they sent us home with a balloon and a savory treat (much needed after all of that dessert!), and when I popped my balloon the next day a little pastry-centric quote came out! I was so surprised. There were so many little details like that that made the whole experience feel really special and unique – you could tell how much thought had gone into every single aspect.
Currently they do two seatings each on Friday, Saturday, and Sunday nights (7:30 PM and 9:30 PM), but that will be expanding to seatings Wednesdays – Sundays come next year. Tickets go up every Monday at 12PM EST for seven weeks in advance and since the seatings are so small (eight people), you need to be lightning fast to get one! Believe me, it's worth it. The theme will be changing after Valentines Day, and I'm super excited to see what they come up with next!
PS – Currently tickets are on sale for the last round of seatings featuring the "Firsts" menu, and I'm actually shocked to see that some tickets are still on sale as of my writing this. Click here to purchase!
photos by me