Today for the last of my Charleston posts, I wanted to share a few more places that we went, things we did, and things we ate that I didn't get around to mentioning in the other posts. Hopefully this will be helpful for anyone planning or considering planning a trip!
Historical Walking Tour
We went on the "Charleston Stroll: A Walk with History" tour through Bulldog Tours, and it was great. We met up with our guide at Mills House Hotel, which you can see in the first picture. The hotel is unusual for Charleston, in that it is one of the few structures that is not original – rather, it has been restored to look exactly as it did in the past. The cast-iron balconies however, are actually original to the building.
Our tour guide was great and knew so much about the city. She took us to all of the sites like Rainbow Row, The Battery, The Old Exchange building, and more, while sharing tons of interesting information and history.
Above, a French Huguenot church. Charleston is full of churches, and interestingly, the city was actually given to the first settlers by the King of England with the promise that it would be a place where they could have full religious freedom. The settlers liked the sound of that, and it provided enough of an incentive to convince them to settle in the unknown territory. Still today, there is an impressive variety of religions thriving in Charleston, which was kind of surprising to learn.
Charleston is full of history (obviously) – everywhere you turned there was a historically significant building. What I loved about our tour guide was that she took us to a lot of places that demonstrated Charleston's role in the Revolutionary War, which was super interesting because you just never really think of the South when you think about the Revolutionary War (at least I never did). But the South, and Charleston especially, played a huge role.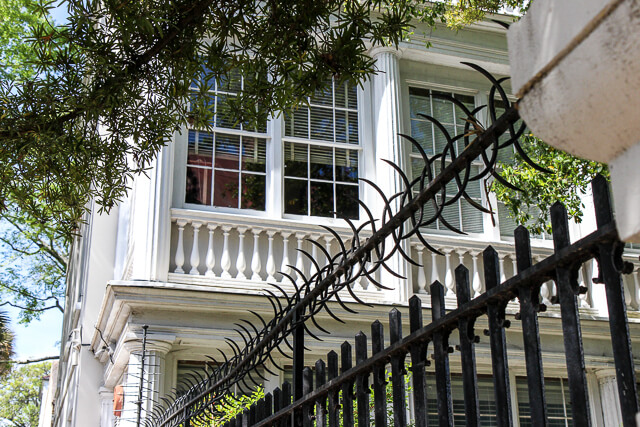 Of course, a lot of Charleston's history has to do with the Civil War. Above, you can see an old version of barbed wire which was used to keep slaves from escaping. Back before and during the Civil War, the ratio of slave to free in the city was 70:1. Unbelievable.
Our walking tour took us to the middle of The Battery (which is the waterfront), but I definitely recommend walking all the way to the end of The Battery if you go to Charleston. Their are amazing candy-colored mansions and terrific examples of antebellum architecture which you won't want to miss!
Shopping
One of my favorite shops we ventured into was Candlefish, a charming shop full of great candles, prints, stationery, you name it…plus you can actually make your own candles! They have a "library" of fragrances, and each candle is a combination of various scents (they have over 100!). I smelled a few and they were really lovely. If I wasn't totally full to capacity on candles, I would have definitely bought one.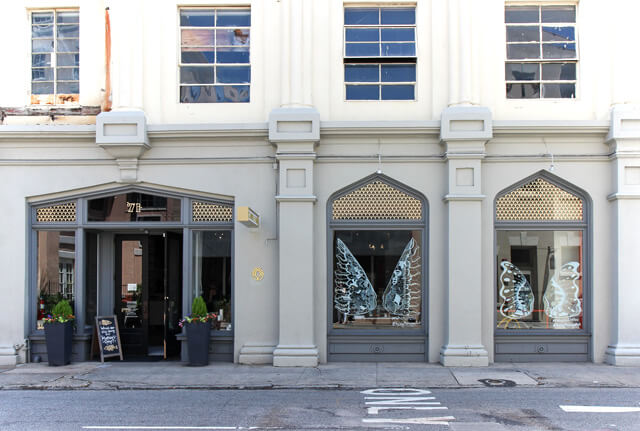 Candy Shop Vintage is a super cute shop which sells vintage jewelry as well as the owner's own vintage-inspired jewelry collection. Such a charming little boutique!
I also visited Hampden Clothing on Grace's recommendation and spent way too much money. #oops
Nathaniel Russell House
There are, I think, five museum houses in Charleston, and we decided to take the guided tour of the Nathaniel Russell House. To be honest, I don't recommend it. The house itself was cool, but the tour left a lot to be desired. There was a lot of talk about the architecture of the house, the wallpaper, the crown molding (I mean a LOT), and very little about the Russells themselves, or more importantly, the slaves they kept. There was some really interesting information on display in the front room that talked about items belonging to the house slaves that were excavated by archeologists on site, but there was no mention of anything of the sort during the tour. Disappointing to say the least.
All. The. Food! 
FIG was one of our favorites – it reminded us all of ABC Kitchen, my very favorite favorite restaurant in NYC. The menu was full of fresh, seasonal dishes and the ambiance was laid-back elegance.
Hanks Seafood Restaurant was another favorite of mine. Everything here was a cut above. I had the lobster and my sister and dad had the shrimp and grits. The desserts were also excellent. It was very crowded so you could tell it was a popular spot – definitely make a reservation! The vibe was upscale casual I would say.
We also ate at Peninsula Grill, which is the restaurant attached to Planters Inn. The food was good and of course we had to get their famous Ultimate Coconut Cake, which totally lived up to the hype. Omg guys. I can't even. Twelve delicious layers of coconut frosting and cake, but word to the wise: split it! One slice is absolutely gigantic and fed four of us just fine. The vibe here seemed pretty fancy to me – definitely the time to pull out your most charming and Southern dress.
Sugar Bakeshop – full post here.
I had no idea there was a Jenis in Charleston! We made it a point to visit and it was sooooo good. I had bramble berry crisp and sweet cream on a housemade waffle cone. YUM.
Callie's Hot Little Biscuit was obviously another favorite – full post here.
More Charleston:
Zero George Street | Photo Essays: Charleston | Middleton Place