Did everyone catch the premiere of "It's a Brad, Brad World" last night, on Bravo? I LOVE THIS SHOW! Brad Goreski was the best part of the Rachel Zoe Project as far as I'm concerned, so I've been excitedly anticipating the premiere of his solo show-and it did NOT disappoint. I'm going to have to blog about it every week, I'm pretty sure. I can't help but compare it to Rachel Zoe (since that's where we all know him from), and I think this show takes the best parts of Rachel's (the fashion, the celebrity styling), and by making Brad the star creates a fun, fabulous hour of television. His infectious, laidback enthusiasm, killer style, and obvious talent make for an entertaining and glam peak into the fashion world.
I found it very refreshing to see the field of celeb styling from the perspective of a newcomer-I liked how they showed the reality of him waiting for jobs to come through, while sometimes just sittin' around with nothing to do! I LOVED the photo shoot he did with all the model Brads-and the fact that he could rock a tip-to-toe leopard suit (which I thought looked ridiculous on the hanger), and totally pull it off and make it look good, just shows me how much style and charisma this guy is packing. And I ADORED the sparkly Dolce & Gabbana jacket that he wore to the US Weekly party (with matching sparkly loafers!)-OMG. LOVED.
It actually looks good on him!
via
Another point in the young stylist's favor: as we saw last night, he's taking the high road while discussing his depature from Rachel's company (he speaks about it a little more here)-even though Rachel and her husband seriously kind of trashed him on her show. He's choosing to be mature and adult about the situation, something his mentor couldn't manage (no offense to her, but it's true)-and he's coming out looking like a class act.
Even more exciting is the news that he's joined the team of one of my favorite companies in the world, Kate Spade, as their new brand stylist! I think Brad's dapper, exuberant style makes him a perfect fit for the Kate Spade aesthetic, and I cannot wait to see the fruits of this fabulous partnership!
What a cutie-in his signature bowtie!
via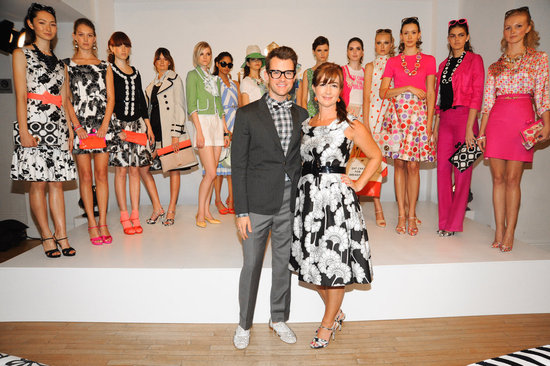 Brad with Kate Spade's Deborah Lloyd and the S/S 2012 collection he styled for the brand.
via
Some of Brad's signature style:

Yes, that is a Chanel briefcase. Boy's got taste!
via
Guys, take a page outta this fella's book!
And a PS, to people who watched Brad on Rachel Zoe-how much is Taylor DYING right now? Yikes.