This is a sponsored post written by me on behalf of Tazo® Tea. All opinions are 100% mine.
Despite the fact that my dad and my sister are super into tea, I've never been much of a tea drinker myself. I have enjoyed the occasional cup or two at Ladurée or Alice's Tea Cup, but I'd never made a habit of it, despite kind of wanting to. So when Tazo® Tea approached me about partnering up for a post, I jumped at the chance to adopt a new healthy habit and expand my tea-drinking horizons. Read on to learn about how I've incorporated tea into a new afternoon routine that I've developed to make the most of my changing work schedule…
As I've probably mentioned before, my normal shift at work is 11AM-7:30PM, which is great for a night owl such as myself. Lately though, I've been working a lot of day shifts (7:30AM-3:30PM) – also great, because it leaves the whole afternoon available for working on blog stuff, but tough due to the aforementioned night owl tendencies. I really want to take advantage of those afternoons that I have free, but when I get home my strongest inclination is to have a snack, then lay down on the couch and take a big fat nap. Unfortunately, when I do that, I wake up hours later feeling groggy and terrible, then can't fall asleep that night, which leads to staying up late…then it's like a vicious cycle that just repeats itself.
Solution: Change something. So lately, instead of taking a nap, I've been sitting down with a cup of tea and working on the blog. Tea is the perfect afternoon pick-me-up – I don't want to have anything with caffeine at that time because I'm paranoid that it will keep me awake, and I don't want to eat anything because it's a weird time between lunch and dinner. Enter: tea. It's perfect to sip while editing photos, working on blog posts, and completing other tasks at my desk. Tazo's Passion® blend (available at grocery stores) is a refreshing choice for that time of day when I'm trying to harness some energy without drinking caffeine. The blend is a mix of hibiscus, passion fruit flavors, orange peel, and rose hips – really fruity and unlike teas I've had before. Even though it's a caffeine-free tea, the enlivening scent and taste still gives me that little boost of energy I'm looking for.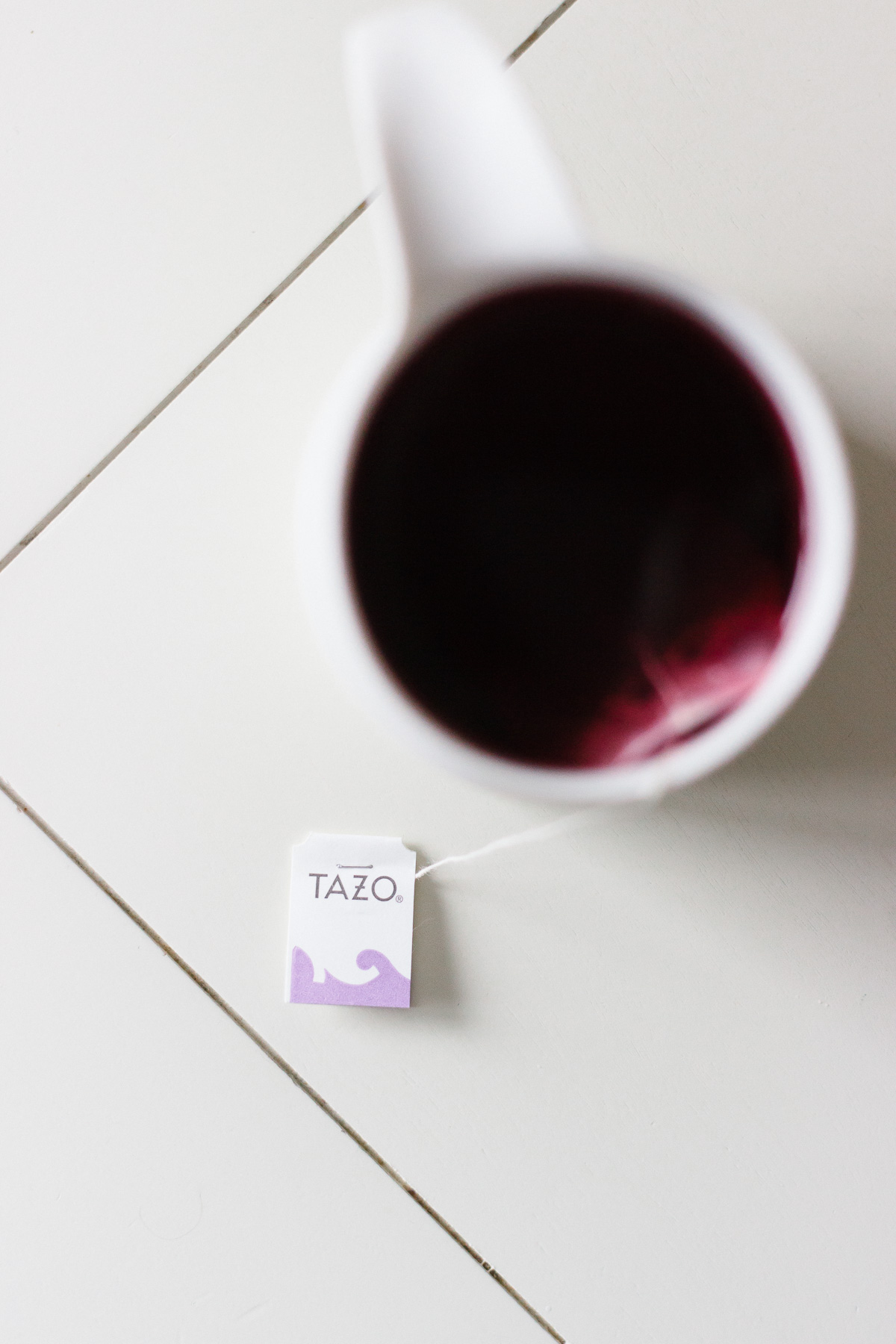 Tazo teas are made with some of the highest-quality tea leaves, spices, and botanicals, with a focus on creating unique and unexpected flavor blends. Plus the box is super cute and it's pink which let's be honest, is definitely half the reason I picked it:
Blogging is something that brings me so much happiness and enjoyment, and it's great to have a little something to keep me energized and motivated while I work on it in my spare time. If you are looking for a caffeinated tea, you can try Tazo's Awake™ English Breakfast (my sister's fav), or their Zen™ Green tea blend. Visit tazo.com to check out their full selection of teas, and let me know which is your favorite in the comments!
photography by Jacqueline Clair