Today I'm back with Part II of the Hampton Designer Showhouse, held this year in a "modern barn"-style home located on a winding, woodsy road in Bridgehampton. The house features a great room, master bedroom with terrace overlooking a pool, two walk-in closets, and so much more. Here are my favorites from the second floor and the outside space, and don't miss Part I right here. 
An upstairs bedroom (aka, the pink room), by Flynnside Out.
Graphic plate display and an interesting coral wallpaper in the powder room.
The master bedroom by Dyfari Interiors was by far my favorite room in the house. Pictures don't do it justice! The seafoam green and cream color scheme mixed with touches of gold was just perfect for a summer house. The room struck the perfect balance of being soothing without feeling too sweet or soft – and there were so many good details.
If you described that starfish-on-the-wall idea to me, I probably would have been like, "hell no!" But it just worked here.
Look at the white nailheads on the headboard – such a lovely detail.
This seating area was perfection – look at the amazing, angular chairs. These were among several wood pieces in the room which I think helped to ground the space and keep it from feeling too soft, and all of the wood tones used were literally amazing – not too dark, not too light, just right. Also, I have to draw your attention to those stunning curtains – all of the little details you see are actually three-dimensional (probably hand-sewn) – there are little embroidered flowers and actual shells. Amazing!
See? Shells!
One chair plaid, one chair stripe- both in that gorgeous shade of seafoam. Love!
That chair! Isn't it so good? Also love that desk – it basically looked exactly like a Parson's desk but with those doubled legs, which added some architectural interest.
Desk details.
What a mirror, huh? Such an interesting piece.
That's the fireplace – isn't it beautiful? All those shades of grey. And then that piece of art adds even more texture.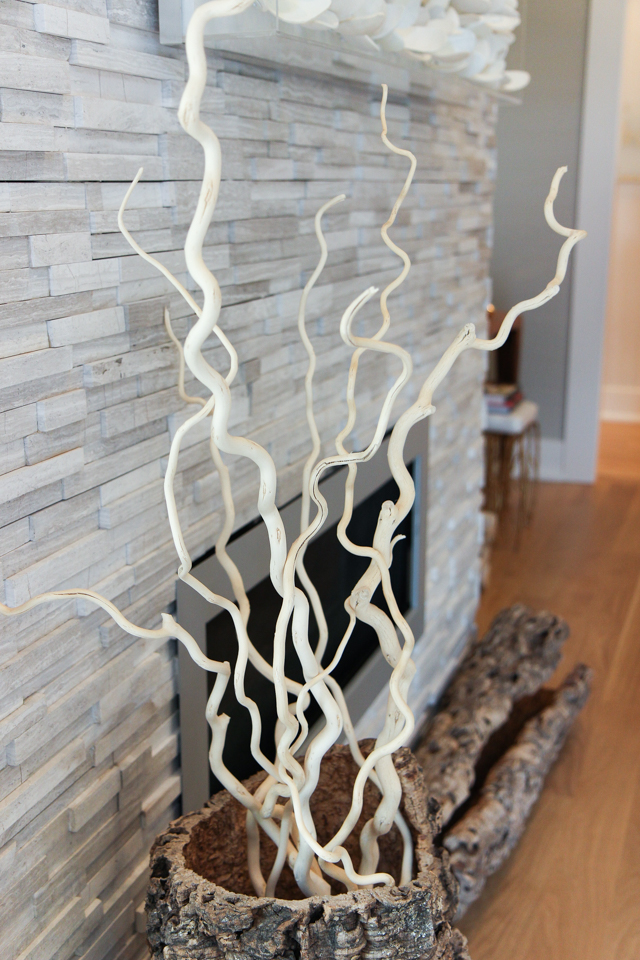 More texture. There were so many natural elements in this room – part of what made it so successful, in my humble opinion.
Look at what they did here – they used the same piece twice (beside each other under a console table), but flipped it upside down to make it act as two different pieces! How great is that? I love that cushion too.
Another absolutely gorgeous wooden piece (the console table), with glamorous gold accents atop it. Perfect mix – something natural and earthy with something metallic and shiny.
Moving on to the master bathroom, designed by Baltimore Design Group. Wouldn't turn up my nose at that shower!
Ever wonder what a $675 tissue box holder looks like? Now you know!
Bathtub with a perfect view of the backyard.
Of course, you can't take a bath without your chilled bottle of Veuve at the ready. #onlyinthehamptons
Here's the backyard, looking from the patio to the poolhouse.
Busts in the poolhouse bathroom, designed by Tyler Pankratz.
I thought this porcelain bouquet of flowers was cute and then I noticed the feet sticking out of it – see them? Someone fell in! Very Alice in Wonderland. Also, that roman shade in the background is made of a terry cloth towel.
Necessary pool house supplies.
Nice pool! Hot tub included, of course.
The Hampton Designer Showhouse is running through September 7th, so if you'll be in the vicinity of Eastern Long Island before then I definitely recommend checking it out. Admission is $35 and proceeds benefit Southampton Hospital.