A few weekends ago I had a one-day photography job in the Berkshires, and I decided it might be fun to make a weekend of it. I googled around looking for bed and breakfasts, expecting to find a ton of super cute and charming places…but was surprised that nothing was really knocking my socks off. I took to Instagram to ask if anyone had any recs, and as luck would have it, it turned out that Heather had just written about a charming new bed and breakfast in the Berkshires – The Inn at Kenmore Hall. I'm so, so happy she pointed it out to me because I was immediately smitten. This was the charming, quaint New England inn that I had been picturing in my mind! I quickly booked it for my boyfriend and me, and we had the most lovely stay.
Kenmore Hall was built in the late 18th century for a wealthy merchant, and after remaining in the family for several generations, it became by turns a boarding school, a summer arts school, a parsonage, and a guest cottage for musicians who played at nearby Tanglewood.
The property was recently bought and renovated by Frank Muytjens and Scott Edward Cole, and they now run it alongside their adorable dog Dutch. They were the loveliest hosts, going out of their way to make us feel welcome and giving us a fantastic stay. Frank was head of menswear design for J. Crew for many years, and Scott is a baker, chef, and artist. You can see the duos' talents for art and design in the sophisticated, yet homey way that the house has been decorated – and they really were involved every step of the way, from the design to the decor to getting their own hands dirty with the painting and renovations! The Inn feels comfortable and lived-in – not at all "styled" or overdone, but just effortlessly chic – like the country home of your coolest city friend.
The house has the great bones that you only seem to get with a historic property, and Scott and Frank have done a wonderful job of bringing it into the current century while maintaining its signature details and character. The Inn feels current, and yet everything has a wonderful lived-in patina to it. You need to follow the Inn's Instagram where Frank and Scott shared amazing in-progress before and after shots of the renovation – it's so fun to see how they've transformed and updated the space.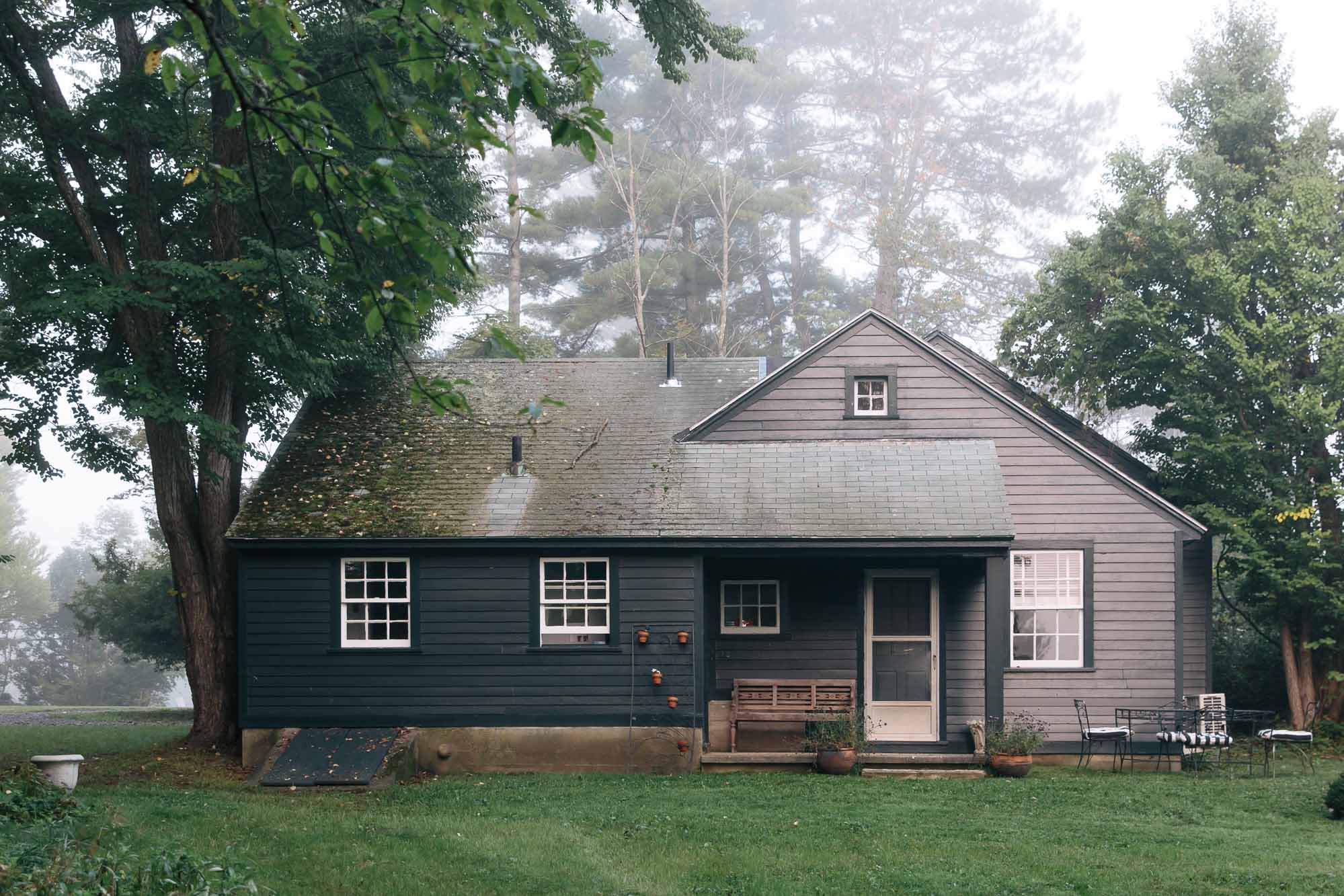 We stayed in the Carriage House Cottage, which is set apart from the main house and has a bedroom, sitting area, and little kitchen. It was so nice to have that privacy but also be able to just walk across the driveway to the main house for breakfast. Leonard Bernstein spent many a summer in this Guest Cottage when Kenmore Hall was a summer retreat for musicians.
Crisp white bed linens and cozy blankets made for a heavenly respite in the Cottage House bedroom.
Frank and Scott installed the cutest little reading nook into the bedroom.
The kitchen and sitting area of the Cottage.
Our bathroom was super chic, with gorgeous green tile and Aesop toiletries (my absolute favorite!).
Some more pics from the main house….
The Inn is decorated with an incredible assortment of mid-century pieces, antiques from local dealers, and Frank and Scott's incredible collection of books and art.
The kitchen is the stuff that country home dreams are made of!
The dining room where we had lovely breakfasts.
This is the upstairs landing and seating area.
One of the chic upstairs guest rooms.
The little sunroom where we sat one morning and read the Sunday Times…so lovely.
The mudroom was one of my favorite spots! So so cute with the little baskets of apples from their own orchard. One morning they made us scones with fresh apple jam…delicious!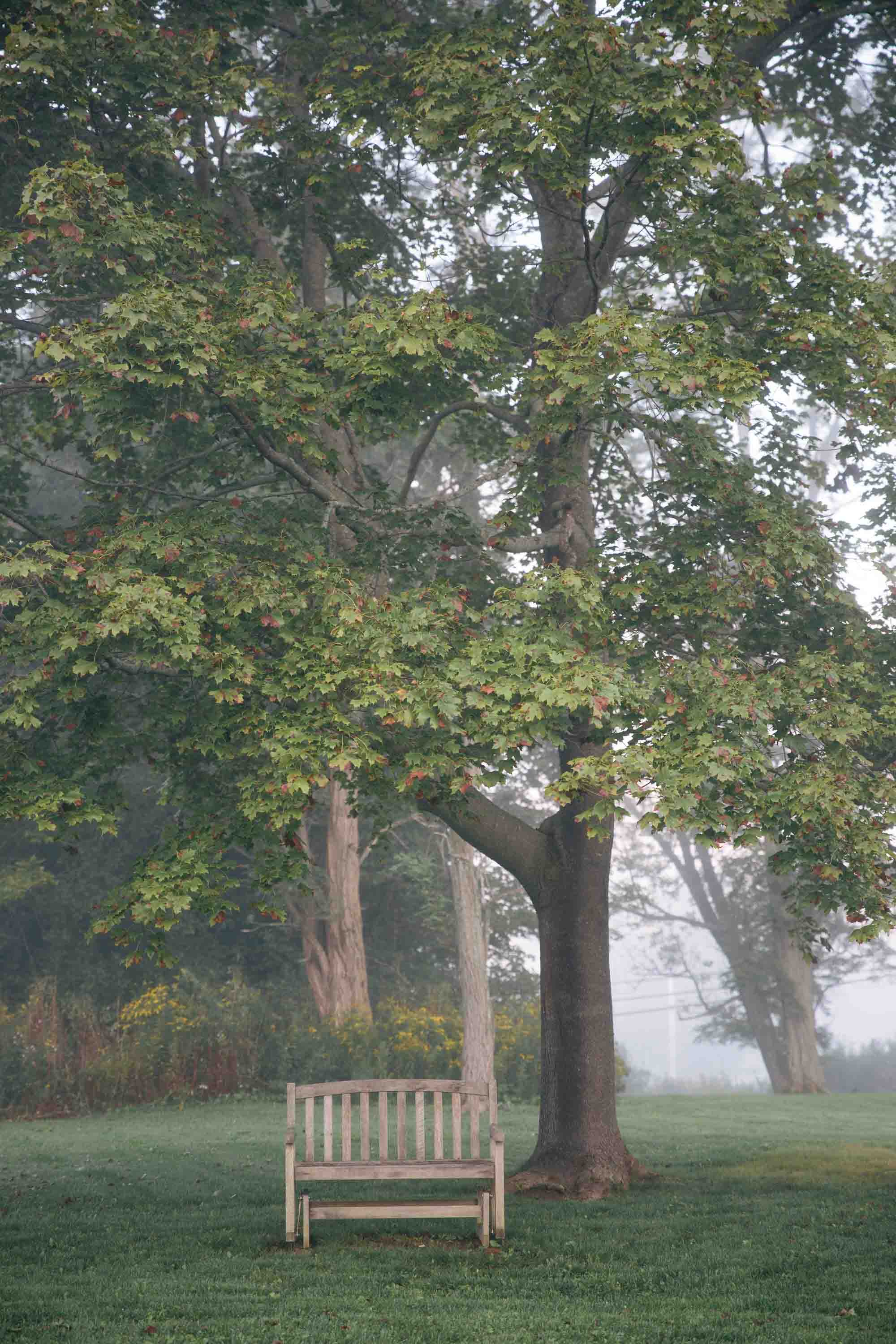 Sitting outside on the property is so peaceful, making it hard to believe this is only a three hour drive outside New York City! It truly feels like a different world entirely.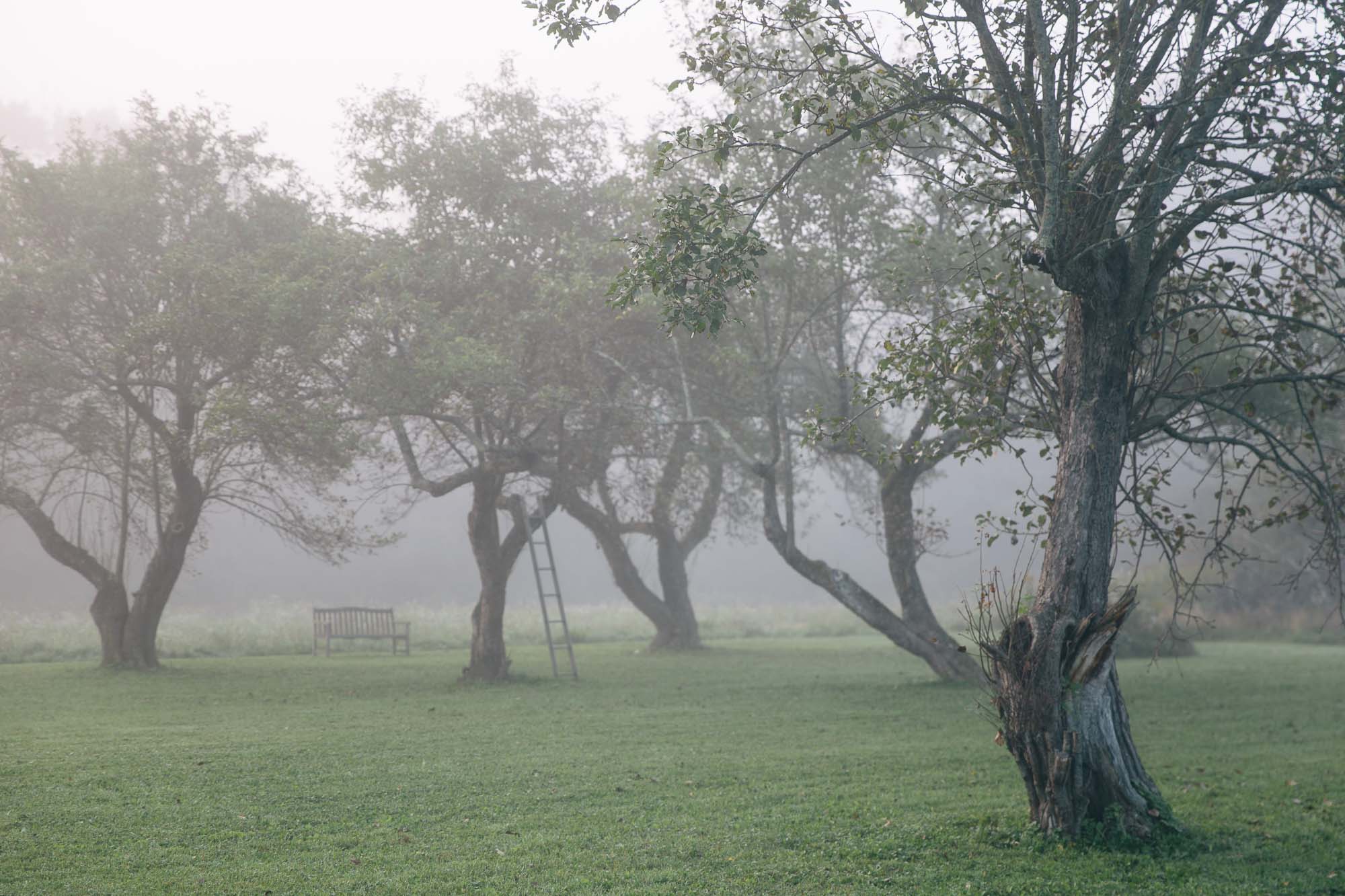 The apple orchard on a foggy morning.
I cannot recommend The Inn at Kenmore Hall enough! It was so charming, stylish, and cozy…the perfect country getaway. My only regret is that we couldn't stay longer, and I'm already scheming for when I can go back again!