Recently I was lucky enough to attend an event in celebration of the fantastic new book Everybody Rise, written by New York Times reporter Stephanie Clifford. The activities started with blowouts at Drybar (so fun), followed by discussing the book with the author over tea at the Plaza Hotel! It was a fantastic event and such a pleasure to chat with Stephanie about her book. Everybody Rise was a great summer read, and I'm extra excited because you guys can enter to win a hardcover copy at the end of this post! Keep reading for more details from the day and scroll to the end for the giveaway…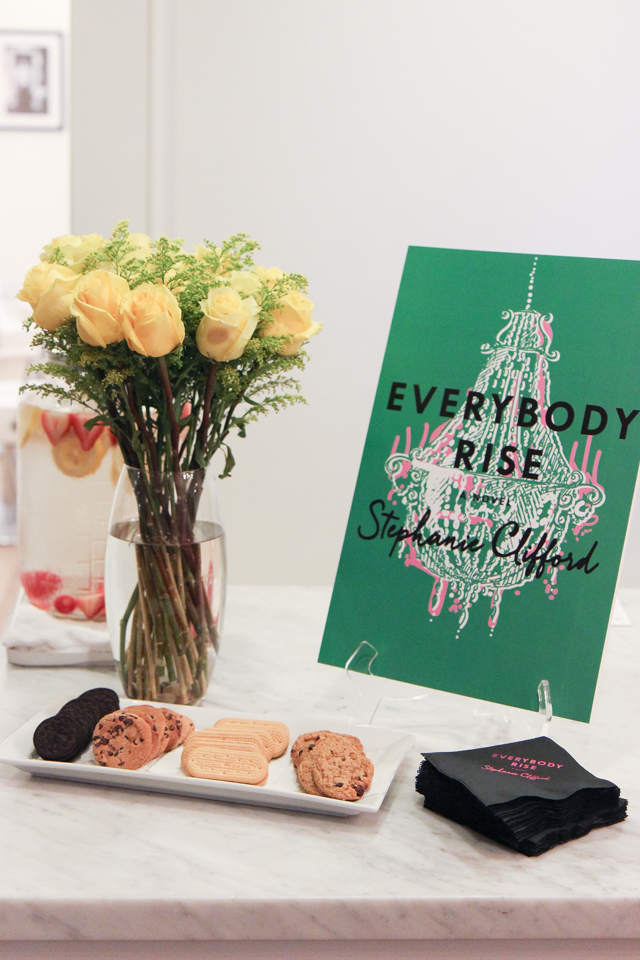 I really enjoyed Everybody Rise, which is being released on August 18th. The novel hits on issues of identity, social status, friendship, and more, and it reminded me a bit of a modern day Jane Austen novel. The book follows 26 year old Evelyn Beegan, whose parents are your classic social climbers. After graduation from prep school and university, Evelyn lands on the Upper East Side of Manhattan with a job at a social networking website that aims to recruit only the most elite members of high society – requiring Evelyn to insert herself into the lives, parties, and Hamptons houses of the very people among whom she's never quite fit in. Things begin to spiral out of control as Evelyn spins lie after lie in an attempt to cement her place in this new world – muddying her values and beginning to lose her sense of self along the way.
Author Stephanie Clifford describes Everybody Rise as a book about fitting in and figuring out who you are, as well as a book about mothers and daughters…which is fitting, since Stephanie herself became a mother while writing this book! She worked on the novel between the hours of 6 and 8AM on weekdays before heading off to her reporting job for the New York Times, where she currently covers the Brooklyn court system.
Ok, tea at the Plaza – such a splurge, but SO worth it! I highly recommend doing this if you have a special occasion to celebrate or just really want to go all out and have a special day. The Palm Court at the Plaza is absolutely gorgeous, and the tea service was a dream – the pastries and scones were delicious, and the whole presentation was impeccable. They also have an "Eloise" tea which is adorable for kids (or adults), and includes a cone of pink cotton candy!
How gorgeous and chic is that tea cake holder? I'm obsessed with it (Also pretty sure it's not called a "tea cake holder.").
While at tea we were all able to ask Stephanie questions about the book, her creative process, and how she balances writing, working, and motherhood. One of the bloggers asked Stephanie what her insights would be for anyone wanting to write a novel, and I think she had some great advice to share:
"I think it'd be start immediately, as silly as that sounds. There's always a reason to put it off until tomorrow….start as soon as you can and make it a part of daily life. Then not to worry about the outcome. Whenever I got into the mode of worrying about how it would be received or would it be published, I was just like, 'that's not my job right now. My job right now is to finish this. Then once it's finished I can worry about that.' "
Stephanie talked about how she created a morning ritual of sorts in order to facilitate the writing process, making a deal with herself that she had to devote two hours each morning to the novel. "If I didn't do anything, if I stared at the ceiling, that was fine. That just took…the choice out of it, it became a habit and set up the space to be creative." Since she occasionally does New York Times work from home, Stephanie realized that she needed to make her writing space both physically and mentally separate from that. So she put some plants in her windowsill and turned to face the window while writing, making sure to physically turn her chair in a different direction if doing Times work. By creating a serene writing space for herself, Stephanie managed to mentally separate her job from her creative endeavor.
The gorgeous ceiling of the Palm Court at the Plaza.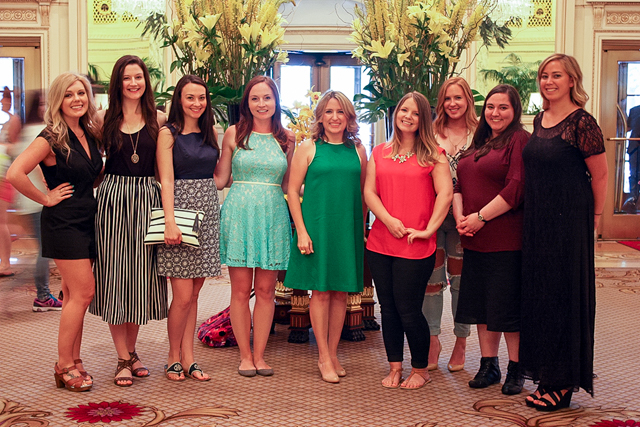 All of us bloggers and writers with author Stephanie Clifford – she's in the middle wearing the dress that matches her book! I'm wearing my Everlane Ryan Tank and striped J. Crew midi skirt (on sale!). Stephanie couldn't have been more friendly and gracious, and I'm really so happy that I got to meet her!
Everybody Rise is a well-written, smart, and thought-provoking novel – funny at times, but substantial as well. It hit on things that I really haven't read about before, but that I think should be written about, such as the potential pitfalls of trying to keep up in a city like Manhattan and the ways that money and jobs play into that. It's a perfect beach read with a brain…plus I have to point out that it's a gorgeous book that will look super pretty on any bookshelf. I really enjoyed it and I think you all will too. That's why I'm excited today to have a giveaway for one hardcover copy of Everybody Rise! Simply follow the simple instructions in the widget below (giveaway is open to US addresses only). The winner will be notified via e-mail, so please be sure to leave your e-mail address when you enter. Good luck!
all photos by Jacqueline Clair for York Avenue, with the exception of last photo provided by event organizers!