Sotheby's is currently holding At Home, its Third Annual Designer Showhouse and Auction. As they explain it: "twelve interior designers and design firms will each create one unique room within a home constructed within the fifth-floor exhibition space of Sotheby's Manhattan headquarters." The architectural design of the 6,300 square foot space was done by Trey Lafave Architecture and Interiors. The designers were tasked with selecting pieces from various Sotheby's departments to integrate into their designs, such as 20th Century Design, English & Continental Furniture, Ceramics, Fine Arts, and more. The point, as I see it, is to show how these fine art and antique pieces can be mixed and matched with more contemporary furnishings to create a luxurious, but livable, current space. The showhouse is open to the public through April 16, and an auction will be held on April 17th for the various furnishings and antiques used throughout the space. I've included some of the designers' renderings for their spaces, which Sotheby's sent out in the press materials and I thought might be cool for you all to see! Read on to see those, along with my favorite rooms and details…
One of my favorite rooms was Robert Passal's Master Bedroom.
This bed is just amazing! I love that ledge around the side and how the top just feels so enveloping. The shape and breadth seem luxurious, but the style is simple and fresh. The blush linen bolsters were custom made.
The room's wall covering was hand drawn by Parisian painter Sylvie Michel Bilger, and will be made into wallpaper in the future. She was inspired by Cy Twombly. I absolutely love the lamp (love), by Liz Marsh Designs, and the seersucker details that were everywhere, and amazing. There was a seersucker couch at the foot of the bed and they used seersucker slipcovers to cover these amazing ornate looking vintage chairs that apparently had seen better days. Such a great mix of contemporary + vintage, preppy + ornate.
Perfect desk/nightstand situation.
One of the most impressive parts of the room? The china cabinet, which was used as a bookcase. On either side you can see a collection of blue and green vessels, which looks so lovely and provides a great burst of color. This piece already has several interested buyers, apparently…not too surprising!
I love the little wicker stool used as a book holder/nightstand. Feels very beach house-y.
Such a cool, textural piece of art, again by Liz Marsh Designs.
Coolest firewood holders ever, hands down.
Another favorite was the Drawing Room by Patrick Mele:
The wall covering is a fabric by Pierre Frey, which is based on a street diptych by French artist Charles Pringuay. I love it so much, and the vibrant peach colored walls underneath are just as good. This room was pink last year too, if you recall!
A perfect juxtaposition – these small still life paintings paired with the ultra edgy wall covering.
Tarot cards cover a door in the Gallery by Fawn Galli, next to a modern "chair."
Bunny Williams designed the Living Room in neutrals with glamorous touches of metallic and a plethora of textural details.
Trompe-l'oeil door!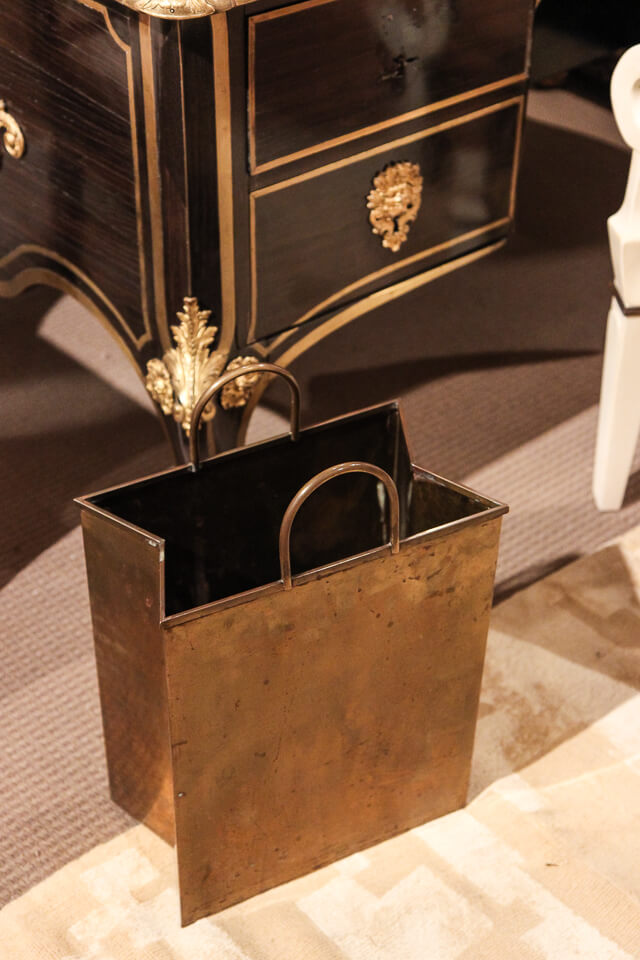 Cool trash can.
I really like these unique wall sconces.
This coffee table was used throughout the showhouse, but each was filled with something different. This was one of my favorites!
I LOVED this vignette – Ormond Gigli's "Girls in the Windows" is amazing, and of course I loved the bust.
Shelley Morris Interiors designed the Dining Room with a really cool double tulip table and this ornate mirror above the mantel:
The moody Library was designed by Scott Sanders. Look at how he expertly arranged those catalogues…great inspiration for magazine organization.
Sandra Nunnerley's Family Room, featuring amazing art and unique chairs. Check out this giant palm frond:
BHDM's sunroom was a lovely mix of green, black, and white:
The charming, happy Breakfast Room designed by Jenny Wolf Interiors:
photos by me, renderings care of Sotheby's