Last Tuesday, my sister and I jetted off for a four night stay at the five-star Cap Est Lagoon Resort and Spa, located on the island of Martinique. Martinique is a unique destination as it is a Caribbean island but also an overseas region of France, making it a great blend of island-y vacation + French getaway. Everyone there spoke mainly French (and English), the food was French, and the majority of the guests staying at the resort were French. For someone like me who has yet to visit France, this was an amazing little taste of the country (and definitely increased my desire to visit as soon as possible!). Above, you can see the amazing view from the terrace of our room. Read on for more…
This trip came about in the funniest and most random way – I actually won it! Too weird, right? Back in September I attended an event called Best of France in Times Square along with a few other bloggers and media people. They had a little blogger tent set up with a few people from various tourism boards, and they were holding a giveaway for trips to Martinique and Guadeloupe. They took everyone's business cards and put them in a bag, and when it came time to pull out the winner for the trip to Martinique, out came mine! I seriously couldn't have been more shocked by the whole scenario. Before this I hadn't traveled on a plane since college, and didn't even have a passport. It was overwhelming but seriously exciting!
Getting from Point A (winning) to Point B (Martinique) was not what I would call totally smooth sailing. There was some red tape to get through and lots to organize, but thanks to a lot of hard work and many emails on my sister's part, the details were finally set and ready to go six months later! We flew Norwegian, which offers a nonstop flight to Martinique that takes just a little over four hours from JFK. Interestingly, it actually takes about eight hours to get there from France, which is kind of funny because it's such a popular destination for French people and relatively unknown to Americans (even though our flight is so much shorter).
Our prize consisted of the round trip flight and a four night stay at the Cap Est Lagoon Resort and Spa, an amazing five star hotel located right on the beach. They have a free breakfast buffet, which was great, and two restaurants on the property, as well as a spa, a pool, and rooms with free wifi. I'll share more about the whole hotel experience on Wednesday!
Kite surfing seemed to be the water sport of choice. Is that a European thing?
Every day was sunny and warm, with temps in the low 80's and lots of strong breezes keeping things cool. It wasn't too hot and it wasn't humid, which was nice. There were also periods of rain, where it would suddenly (like seriously, out of nowhere), pour, and then five minutes later, be totally dry and sunny again.
Another view looking out over the water from our terrace.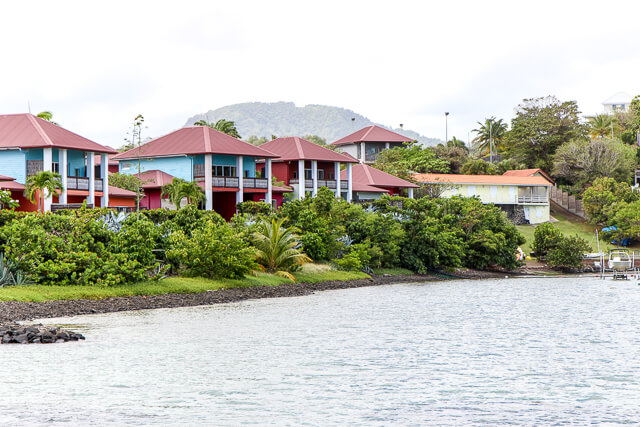 The colorful villas of Cap Est.
The pina coladas were so much better than the ones I've had in the US. Martinique is known for their rum and the drinks were not lacking in that department! The island's other main export is bananas – on the way to the airport we passed fields and fields of banana plants.
On a more personal note: before we left for the trip, I was feeling really stressed from a video shoot that I had at the apartment a few days prior (I shared snippets on Snapchat, more on that soon hopefully!), and the whole idea of traveling seemed really overwhelming to me because basically, I haven't traveled in my adult life. I enjoy NYC so much that for a while I just felt like, why should I travel? There's enough to do here to keep me occupied for a lifetime! Plus I hadn't flown for years so I was freaked out about that too.
I have to say though, I couldn't be happier that this trip happened, and it's definitely changed my whole mindset about traveling. The minute I got there (even the minute we got to the airport), it just felt like an adventure. Being somewhere different was so refreshing – the different sights, the different culture, the different language and people. It made me realize why people love to travel so much! It was even just so nice to have something new to take pictures of…and the flying was no sweat. I've definitely had a major change of heart and traveling more is a new goal of mine. I'm determined to make it to Europe in 2017!
Anyway, the Cap Est Lagoon Resort and Spa was wonderful – everyone was so nice and accommodating, the room was huge, and the views spectacular. Be sure to check back on Wednesday for more on that!
photos by me