I can't remember how I first discovered California-based Sugarfina, but I've been obsessed with the luxury candy boutique for as long as I can remember. The couple behind the brand, Rosie O'Neill and Josh Resnick, started the company based on a gap they noticed in the market for a candy store that catered to adults, rather than kids. Together they travel the world sampling and sourcing small-batch candies from the far reaches of the globe, and bring their favorites back to be sold at Sugarfina – which since its inception in 2012 has swiftly grown to encompass 12 stores in the US and Canada. I can't get enough of the gorgeous aesthetic of their shops, and the fun, unique candies that they sell (many of which aren't available anywhere else in the US) – which is why I'm absolutely thrilled that Sugarfina recently opened up their first location in New York City! Located in the Time Warner Center at the Shops at Columbus Circle, this little jewel box of a boutique is fully stocked with over 70 different candies from all over the world (Japan, Greece, Italy), all packaged up in chic lucite boxes bearing the signature blue and white Sugarfina labels.
Obsessed with the colors on the Kyoto Blossoms (imported from Japan, obviously). Click through for more!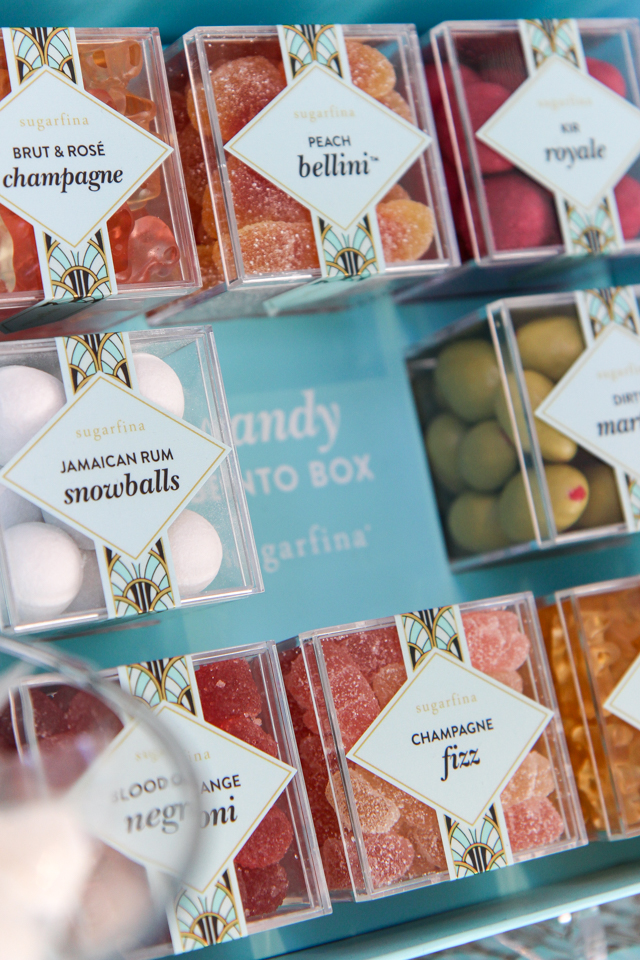 A candy cocktail bento box! How cute is that?
Martini glass full of Champagne Bubbles.
Gorgeous gift boxes.
Sugarfina Pearls imported from Greece.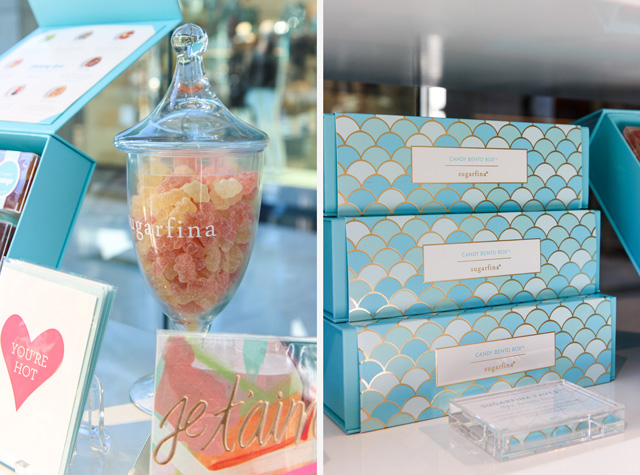 I'm such a big fan of Sugarfina – and not just because it's a candy store! I just think it's so cool that Rosie and Josh came up with such a simple, but brilliant concept (a gourmet candy store for foodies), and executed it so wonderfully. They built the business from the ground up and I think their branding and attention to detail are huge parts of what has made Sugarfina such a fantastic and fast-growing business. No aspect is overlooked – from the lucite boxes which allow the colorful candies to show through, to the chic Tiffanys-esque blue labels and boxes, to the sophisticated but fun logo, to the design of their stores and packaging (each online order comes with a handwritten note and fun little candy samples!) – these small things are what really makes a brand stand out and flourish, in my eyes. Take a look at their colorful and clean website – it just pulls you in and makes you want to be a part of the Sugarfina world! Being the Champagne Gummy Bear addict that I am, I can't tell you how excited I am that they've finally brought that world to New York City.
Sugarfina NYC: Time Warner Center
The Shops at Columbus Circle (10 Columbus Circle)
PS – there appear to be rumblings about a second NYC store on the Upper East Side…fingers crossed!! Columbus Circle is a trek and it would be rather thrilling (albeit dangerous) to have a Sugarfina right in my 'hood 🙂
photos by me