I think at this point everyone probably knows about Momofuku Milk Bar, the whimsical and creative bakery helmed by pastry chef extraordinaire Christina Tosi. Milk Bar has eight locations – six in NY, one in Toronto, and one in Washington DC, and their menu is just super creative and amazing. Christina is a sweets mastermind who has come up with such popular items as the Compost Cookie, Crack Pie, Cereal Milk, and other somewhat crazy but also crazy delicious treats. Milk Bar has savory food, cake truffles, shakes, cakes, cookies, soft serve…and more! The menu rotates all the time and they do seasonal items as well, but always with their own special Milk Bar twist. Read on for more from this beloved NYC sweet spot: 
The original Milk Bar is in the East Village (right across from its sister restaurant, Momofuku Noodle Bar), and the one I visited for this post is their Upper West Side shop. A perfect place to stop for sustenance on my way back from a walk in Riverside Park.
Christina has two cookbooks – Momofuku Milk Bar and Milk Bar Life, and you can buy things like the Corn Powder and the Cereal Milk mix in order to make the recipes. A lot of the bakery's recipes are also online (which I think is very cool of them).
My favorite is the Cereal Milk soft serve and the Birthday Cake shake – insanely yummy. And just kind of happy to look at!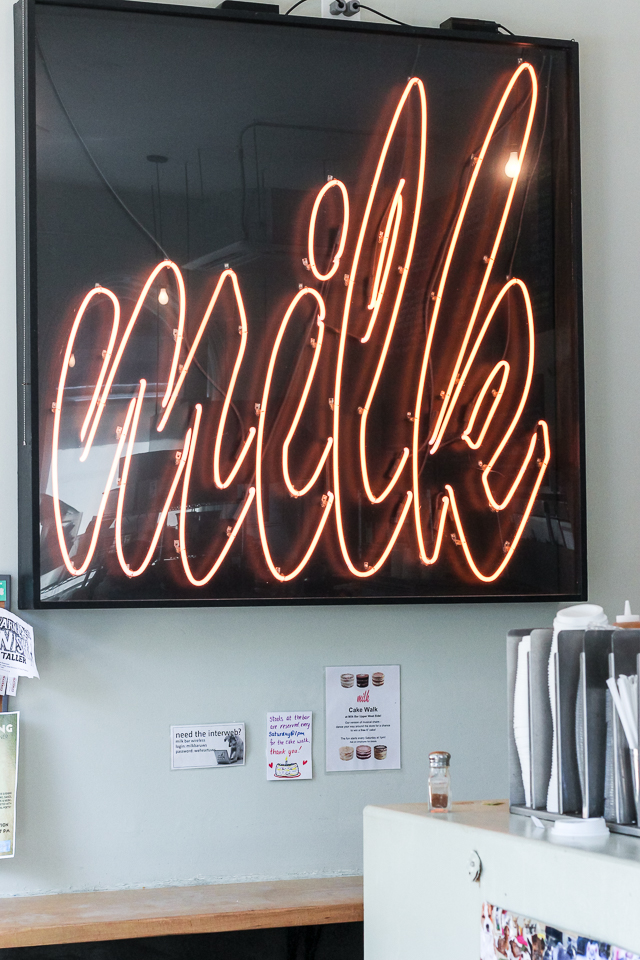 And check out this adorable and fun video from Bon Appetit to see the process of putting together a Milk Bar birthday cake…I totally want to make one now:
Momofuku Milk Bar Upper West Side
561 Columbus Avenue, at 87th Street
Open daily 9AM-11PM
photos by me