This is a sponsored post in collaboration with Move Loot. 
I say it all the time, but I think vintage furniture adds so much character and life to a space. Hunting down great secondhand pieces can be a challenge at times, which is why I was excited to be made aware of Move Loot, a San Fransisco based company that's like an online consignment store for furniture. You can shop gently used and vintage furniture items through their huge online marketplace, and also sell your own unwanted pieces in a way that is convenient, simple, and practically effortless. Here are a few favorites that I found while perusing Move Loot's online marketplace:
Ok, call me crazy all you want, but if you slapped a coat of white paint on this you would see it in Lonny or Domino decorating some super chic apartment. Guarantee it. I love how unique this piece is! And it's 73% off! It's super affordable and full of character and charm.
I'm OBSESSED with this handmade table and the reclaimed wood top. How gorgeous is that? It reminds me of ABC Kitchen.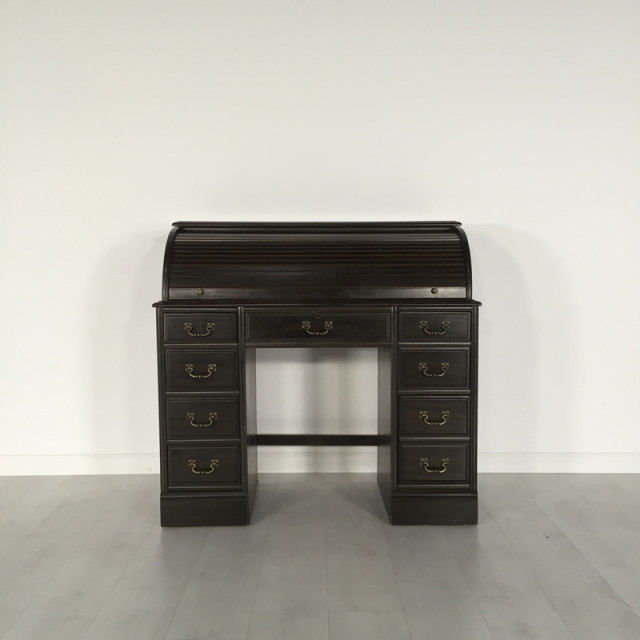 Rolltop desk! I love it…it feels so romantic and Victorian, like you would find it in a big gothic English estate. I like it in black actually too…reminds me of my vanity. Pair this with a super modern chair (a ghost chair, perhaps?) – perfection.
This gilded demilune table would add some gravitas to a space, much like a gorgeous gilded mirror (which I'm such a sucker for). Demilunes always stand out to me because they're one of the eight essential pieces described in Good Bones, Great Pieces (fantastic design book, by the way. Highly recommend).
Four gently used barstools for $40! I really like these, all they would need is little cushions for the seats (if you wanted).
This chair costs less than $100. With the money you saved on it you could re-upholster it in an amazing fabric (like Kelly Wearstler's Channels fabric or Scalamandre Hollyhock Pyne) and wind up with an absolutely gorgeous mix of traditional meets modern…very similar to these gorgeous Society Social chairs.
These Hollywood Regency side tables are just cool and eye-catchingly unique.
Move Loot offers a unique marketplace where you'll find items from brands like Design Within Reach, West Elm, Pottery Barn, Restoration Hardware, and more, for fantastic prices. I'll confess: I had way too much fun scrolling through the site to pick out pieces to feature…it felt like a fun trip to the flea market, and I love that they have such a wide variety of styles and items from different eras. This is such a great way to decorate if you're on a budget and don't want to use "filler" furniture while you save up for investment pieces. You can also find some great stuff on there if you're interested in doing a DIY makeover on something that might just need a little TLC (or just a coat of white paint!), like the desks I wrote about in this old post.
The other great thing with buying from Move Loot rather than other sites is that they've vetted the pieces for you, so no worry about shady sellers or dishonest depictions of the items. Also, buying secondhand furniture is appealing because even if it has some signs of wear, it all just adds to the patina and the charm of the item. Pieces that have some history behind them add something to a space – I happen to like that better than spaces where everything is brand shiny new.
Michelle Adams' vintage credenza in Lonny
You guys know how excited I get when cool new things come to NYC, so I was super excited to learn that after being available in areas of California, North Carolina, and Georgia, this month Move Loot is launching in New York! That means that now if you live in the NYC area, you can consign your furniture with Move Loot or buy from their large selection of pieces. This is really pretty exciting for me, as my sister recently moved and I've been bugging her to buy some vintage pieces for her apartment. She's really not into searching through dusty flea markets or thrift shops at all (much to my disappointment), so the ease of ordering online is something that I know will appeal to her. Also exciting: people in New York can have some pretty amazing furniture to consign (which I learned firsthand by visiting Decor NYC) – so I'm pretty psyched to see what amazing pieces will pop up when Move Loot opens up their NYC marketplace! Now if only I had room in my apartment for some new furniture…guess I'll have to live vicariously through my sister!
How do you guys feel about vintage furniture? Would you consider using a service like Move Loot? I'd love to hear your thoughts in the comments!