image source: Paris in Four Months
I'm bursting with excitement because (drum roll, please)…I'm going to London AND Paris for the first time this fall!!! Words can hardly express how very psyched I am (I need like, a hundred heart eye emojis). I'm going with three of my friends from work at the end of October. We'll be staying at The Bailey's Hotel in South Kensington, then taking the Eurostar to Paris (not sure yet where we'll be staying there).
I've never been to Europe, and I've been dying to go to London for quite some time now. For some reason I'm even more excited for that than I am for Paris! I'm going to be a total tourist and hightail it right over to Notting Hill and Chelsea, which seem to be the most adorable and charming neighborhoods ever. I can't wait to photograph the pastel colored houses! That feels like quintessential London to me, and nothing gets me more excited than the thought of having a new and entirely different place to photograph.
We have about five days in London (I assume I'll be losing some hours to jet lag) and three in Paris, and right now we're brainstorming ideas for what to do. If anybody has any recommendations, please share! And also if anyone follows any great London or Paris bloggers or Instagrammers, please let me know as I'd love to follow along and pick up recs that way as well. Here are a few items on my agenda thus far: 
image source: Angry Baker instagram
Checking out the colorful houses in Notting Hill and Chelsea.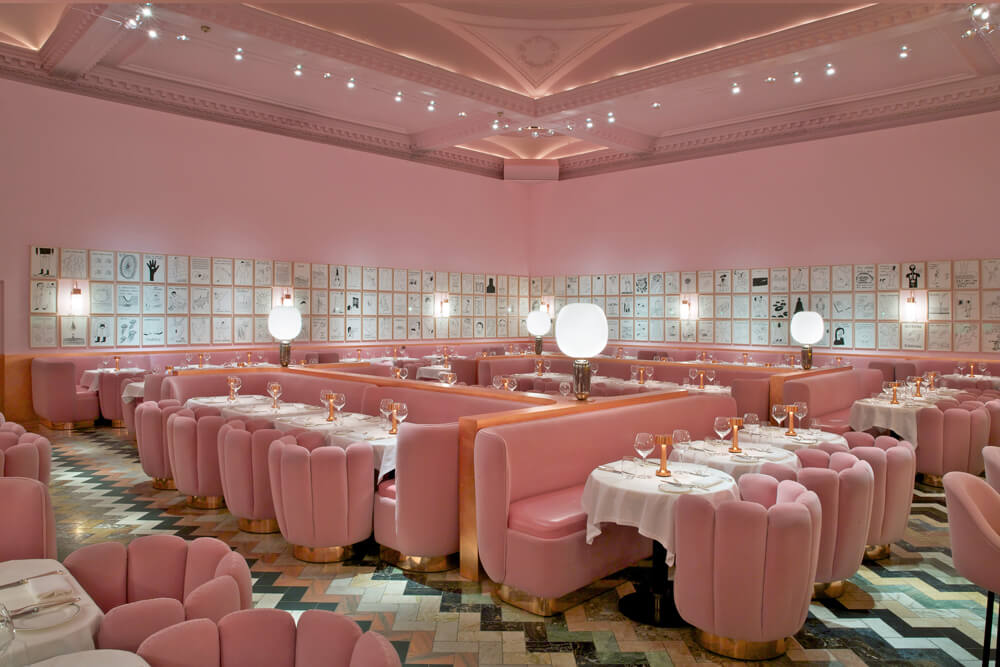 Tea and/or a meal at Sketch London (can you even believe how gorgeous this place is?!)
image source: The Fabulous Times
Persephone Books, this super cute bookshop that reprints works by mainly female writers.
Afternoon tea at Fortnum and Mason (or Claridge's…or if anyone has any recs, let me know!)
Hampton Court Palace (possibly).
image source: Angry Baker instagram
Pentreath and Hall, a decor shop on Rugby Street.
The Mae Deli by Deliciously Ella, for healthy eats.
We're also thinking of visiting The Tower of London, The London Eye, and Buckingham Palace, as well as taking a day tour out to Stonehenge, Bath, and Windsor Castle. Perhaps also the Victoria and Albert Museum or The British Museum.
I seriously get the shivers thinking about it…I just know I'm going to love London.
And then, Paris in the fall:
image source ?
We haven't started planning much for Paris yet, but this guide seems to have some good spots (and incredible photography). I'll post some of my wish-list itinerary for Paris soon. Again, any and all recommendations for both cities would be so welcome!