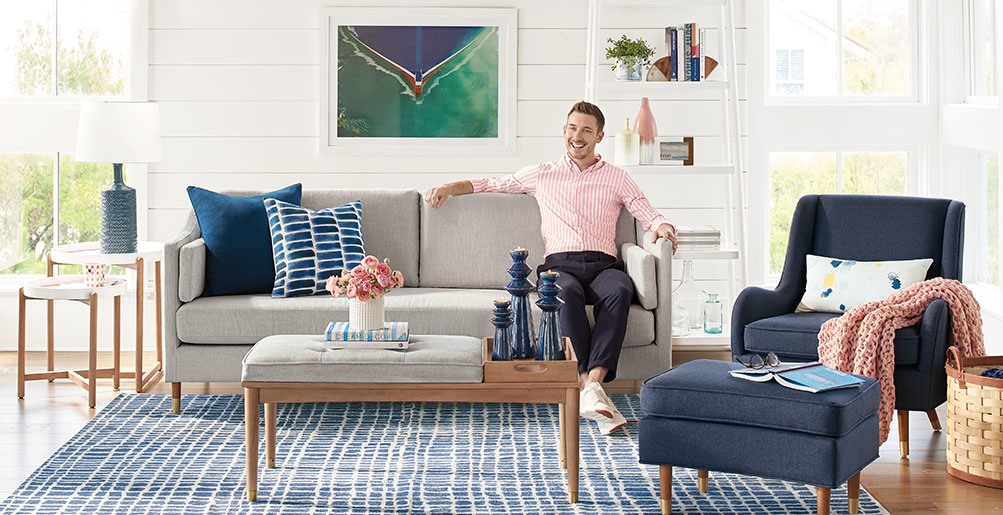 It's always exciting (not to mention rare) when a new decor collection comes out that's both gorgeous and affordable – but even better when it's been created by a friend! I'm crazy proud of my bud Will for his new furniture and decor line – the Bright.Bazaar collection by Will Taylor, available at Grandin Road.
I'm sure most of you follow Will's blog Bright.Bazaar and know him for his colorful design sense, inspiring travel images, and two successful and gorgeous design books. What you might not know is that Will is one of the funniest, most genuine, and hard-working people in the blog world. I'm so happy that he and his heartmate Toby moved to NYC a few years ago, and count myself lucky to have developed a friendship with both of them.
And so I'm crazy proud of Will and super excited for his new venture! It feels like a natural continuation of his ten years of interior design blogging, and a perfect embodiment of his personal style. He describes the collection as Scandinavian coastal, which if you've seen his home tours you know are two elements that have always been a big part of the Bright Bazaar look. The pieces feature the clean, modern lines of Scandinavian style while also incorporating the warmth, texture, and relaxed vibe that you'd expect to see in a seaside home. It makes sense as Will has recently been renovating his own beach house (so fun to watch!) and his Instagram feed is always awash in a sea of blue hues and amazing coastal travel pics! Will's signature blue is a running theme and I was of course pleased to see that he incorporated touches of blush pink (my fav) as well! Here are just a few of my favorite pieces:
Some of the best things about the Bright.Bazaar collection – every piece is affordably priced (even the sofa is under $1000!), versatile, and perfect for small spaces. I love that various items like the Copenhagen bench and Dock Cabinet can do double duty, which is something I'm always on the lookout for as a small-space/studio-apartment dweller. Will has taken his years of experience in both design and travel to create a collection that is modern, without being trendy, functional, without sacrificing style, and unlike anything else I've seen out there.
Be sure to check out Will's post to learn more about the inspiration and process behind creating the collection – and let me know which pieces are your favorites!