I'm so excited to tell you guys about this fun event I went to the other night at the AERIN showroom, where we viewed items from the AERIN Home and AERIN Beauty lines and also got to make amazing floral arrangements with Raul Ávila Inc (they actually do the floral arrangements for the Met Gala!). As a blogger I get invited to a decent amount of events, but this was one of the better ones I've been to in a while (or maybe the best one, ever). Every detail of the evening was carried out with the utmost class – no surprise, as the one thing you can count on from the AERIN brand is that everything associated with it will be elegant and sophisticated.
Here are some items from the Home and Beauty lines, which are just gorgeous. The packaging is spectacular and I love the gold accents like those little heart trays and the hammered vase. Excellent holiday gift ideas here!
The guys from Raul Ávila Inc. were so nice and friendly, and brought the most gorgeous flowers. Which, if you've seen the current selection at my local bodega, you would understand how happy this made me. Ranunculus, anemones, paper whites…all in the most gorgeous shades of white and pink. Incredible. They created stunning arrangements for us to take home which just seriously made me so happy, as I've been craving fresh flowers.
We each got to take home an arrangement in one of those absolutely stunning vases. I'm so in love with mine – click through to see the rest of the post and how I styled the vase in my apartment! 
The showroom is, of course, elegant and stunning. You may remember last year when I visited her showroom at the New York Design Center – this one is a little farther uptown.
So sparkly!
Epic coffee table book collection.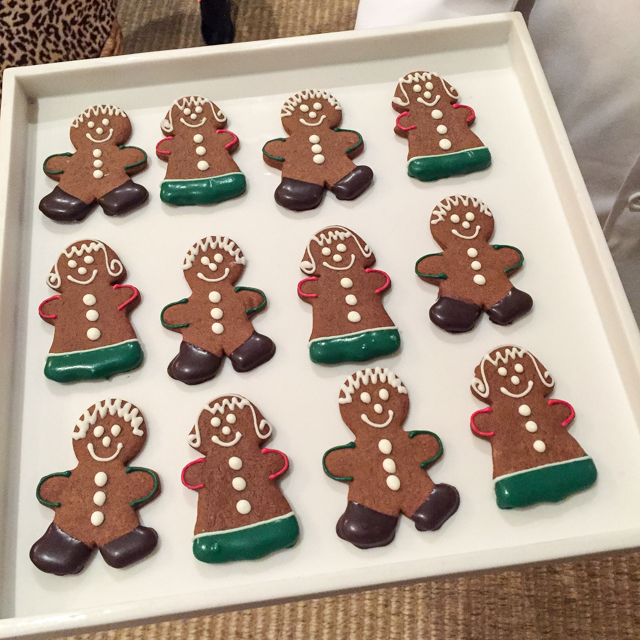 A very nice waiter was circulating with these adorable little gingerbread people. They weren't just for show either – they were seriously delicious. Like, the one of the better cookies I've ever had. Still wondering who made them.
That gorgeous Cy Twombly book that I've had my eye on for a while now. LOOK at that cover! Insanely gorgeous.
I just happened to have the perfect, empty spot waiting to be filled with something that had a little height – so voila!