I've recently become a big fan of New York based designer Ashley Whittaker, whose aesthetic has been described as neo-traditional- a fresh and modern take on classic design and architecture. I love the colors and textures she incorporates into her work, and the fact that her rooms feel sophisticated but relaxed and not over-decorated. Her spaces don't scream "a designer did this!", and yet, a designer definitely did. Ashely started her career in the PR department at Ralph Lauren, and later worked with Markham Roberts. Above, a detail from a Park Avenue duplex she designed…read on to see more from that project and my other favorites from her portfolio! 
Park Avenue duplex:
I of course absolutely adore this wallpaper (de Gournay?). It brings the foyer to life.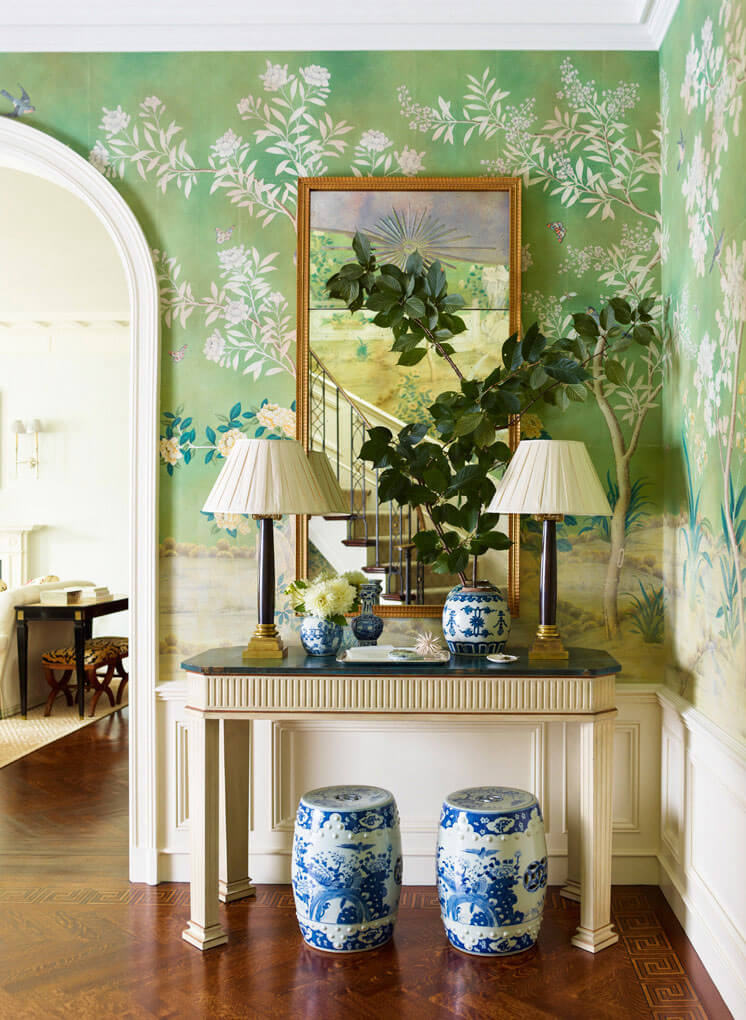 A home in Greenwich:
Don't you just want to hang out in this sunroom with a cool glass of lemonade and a great book on a warm summer day? It's so welcoming! The wall treatment lends a sort of sweet country vibe, but the neutral rug and black wicker chair keep things feeling grounded. I love the coffee table so much! Also a fan of the patterned x bench.
Gorgeous architectural details. I love the rug and mix of blues.
The mixed tones keep these pink accents from feeling too sweet or juvenile.
A West Village space:
I love the energy of this wallpaper, especially as it leads into that calm and neutral room.
Look at the pretty aqua color of that bookshelf! I wouldn't have thought that would work, but it so does. Love the couch too – (linen perhaps?), and the brass wall lamp.
A Lower 5th Ave project:
I had this room pinned forever without knowing whose it was (and used it as evidence to convince my sister to get brass curtain rods). I love this room. Everything in it just works so well together.
NYC pied-a-terre, featured in House Beautiful:
How brilliant to use that bold wallpaper here, since it's only on one accent wall, and thus not overwhelming. So smart! It gives the small space such impact, and looks amazing with the yellow accents. It's like updated preppy.
Perfect pattern mixing…and those grasscloth walls.
There's so much more to see in her portfolio, including a gorgeous Southampton space that seriously gets me in the mood for summer! Definitely check it out.
images via ashleywhittakerdesign.com