I've made a new discovery and it is NOT going to be good for my wallet. The discovery is French brand Comptoir des Cotonniers, and it's the stuff that my fashion dreams are made of. I've passed by the Madison Avenue store dozens of times without stopping in to look, but on Sunday a shirtdress in the window caught my eye and caused me to slow down. The skirt and blouse beside it drew me in further…and then bad stuff happened. I walked inside and discovered that I wanted my entire wardrobe to be from Comptoir des Cotonniers. I've really never walked into a store and seen so many pieces that could work for so many different occasions to the point that it really looked like you could built an entire wardrobe from this one store. Everything was just luxe enough, totally wearable, completely unique, and charming but also sophisticated, with special details and great fabrics…just exactly how I want to dress. I've gathered a few of my favorite pieces into this post, but before you get too excited I have to mention that they do not have e-commerce in the States at this time – womp, womp. What's up with that? They do have five stores in NYC and one in Greenwich, so if you can check 'em out (or don't, if you want your bank account to stay intact).
I feel like you need to see these things up close too, to really get the understanding of the great details in each piece.
The details on this dress are so great – the dots on top, the short sleeves, and the two pockets in front.
UGH THIS SKIRT! It is so, so very good.
I'm in love with this floral pattern AND the contrasting trim. It seems like such a sophisticated floral. It's whimsical and charming, but not childish or cloying – and the cut keeps it feeling fresh, modern, not too girly. LOVE!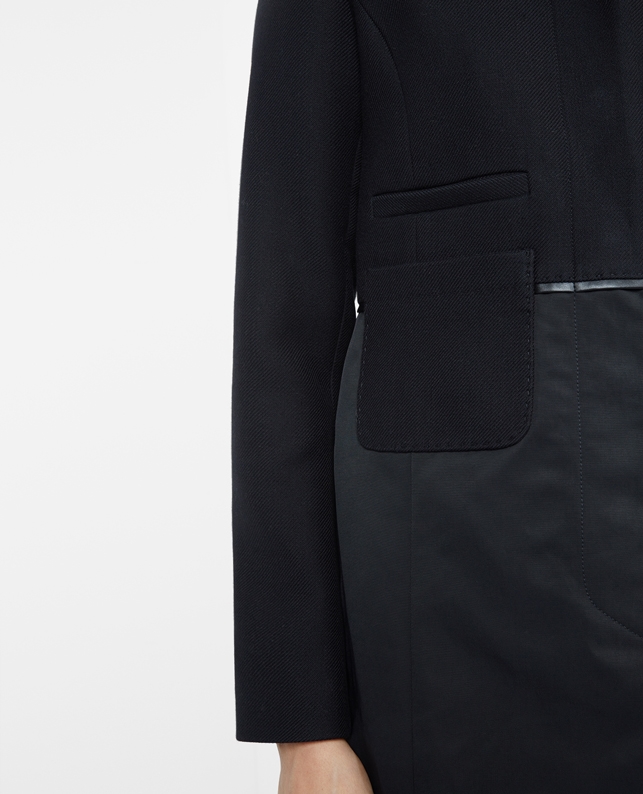 Kinda hard to see, but look at the contrasting fabrics in this coat…I like. Very, very much.
Quilted biker boots – yes.
I love that they carry casual tees that are perfect for easy days (like the striped one above), and then the dressier floral blouses and dresses that would be perfect for brunch or an event. They also have plenty of dresses and skirts that would work well for fancier occasions – and I love their outerwear with its chic, cool-French-girl vibe. See what I mean – full wardrobe in one shop!