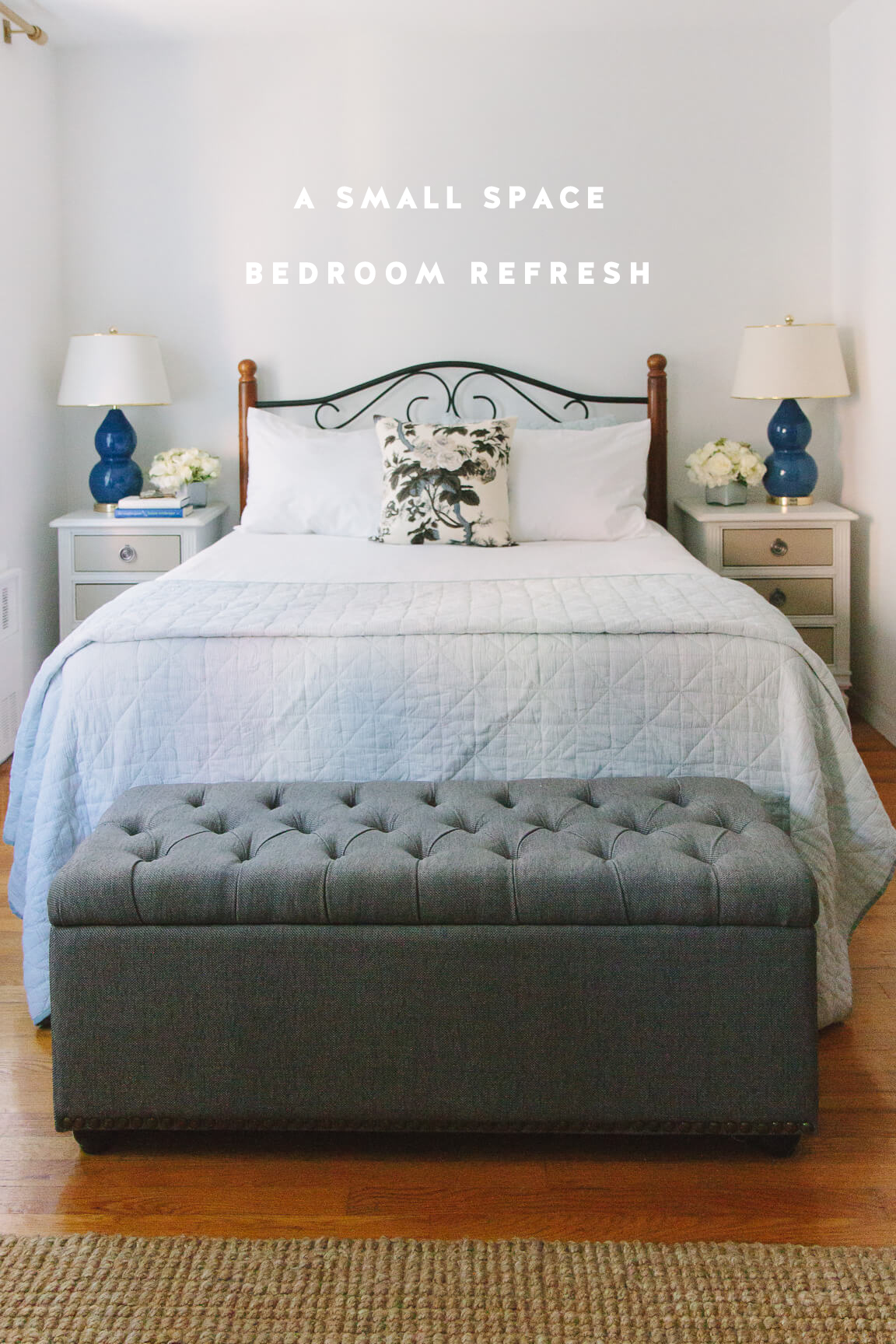 This is a sponsored post in collaboration with Eileen Fisher for Garnet Hill. All opinions are my own! 
I'm SO excited for today's post. My apartment has been covered thoroughly on this blog (especially as of late, you guys are probably like, shut up about it already!). and there isn't too much left that I can do with it, so it's about time I moved on to another space – my sister's apartment! Today I'm super excited to share a little "bedroom" refresh that I did in her New York City studio apartment…and just wait 'til you see the transformation (no offense, Ali :). Since I couldn't change any of the big things, I focused on decluttering, restyling, and tightening up the color scheme. I styled the bed using a set of brand-new Lustrous Cotton Sateen sheets from the Eileen Fisher Home Collection at Garnet Hill. You guys remember how obsessed I am with Eileen Fisher's linen sheets, so it was super fun to style a set from a different collection. Read on to see the before, and learn more details on the makeover!
Before: 
Swear I did not stage this…this is exactly what it looked like when I walked in. Perfect for a makeover!
After: 
My sister lives a super busy, on-the-go lifestyle, so when she comes home after a full day of work, business school classes, and working out, she needs a place where she can truly relax. The Lustrous Cotton Sateen Bedding from Eileen Fisher provides that perfectly. They're soft, smooth, and silky to the touch, with a subtle sheen that provides just a slight lux vibe vibe while still having that earthy, natural quality that one associates with Eileen Fisher products.
Great sheets are a perfect way to bring a simple luxury into your everyday – what could feel more indulgent than slipping into crisp, clean sheets at the end of a hectic day? Let's be honest, we don't all pamper ourselves on a daily basis (who has the time, money, or even the inclination to do so), so getting a luxurious version of something you need to use anyway is a great way to treat yourself without having to make any special effort.
I love that the August page of this Inslee calendar matches the blue color scheme perfectly!
This year marks the ten-year anniversary of Eileen Fisher Home for Garnet Hill, and I'm really excited to celebrate with them! The collection is all about natural fibers like linen and cotton that have a wonderful feel to them, with a focus on soft colors and textures that create an elegant, pure look. No frills or unnecessary details, just the simple touches that elevate an item above the everyday. I think it's so important for your home to be a sanctuary – a place you can come home to at the end of the day and feel comfortable, relaxed, and well taken care of. That's part of why I'm such a fan of the whole Eileen Fisher Home aesthetic. I use my linen sheet set all the time – someone in my laundry room even stopped me the other day to inquire about and enthuse over them!
Lending The Singles Game to my sister since she plays tennis! And obviously also because it matches her lamps :). B Floral NYC provided the flowers for this makeover and they did such an amazing job.
I've never worn any Eileen Fisher clothing before, but I definitely see the connection between her clothing line and the home line (which is sold exclusively at Garnet Hill). They're both about quality pieces that you'll use for years and years, with a focus on elegant simplicity – an idea I think we all want to incorporate into both our homes and our closets!
I had so much fun restyling this room and hope to work on a few more changes in the future – a new upholstered headboard, definitely a new bedskirt, and some great art to go above the bed. A few sources:
Eileen Fisher Lustrous Cotton Sateen Cases, Fitted Sheet, and Flat Sheet in Pure White (all c/o) // Painting on the windowsill is by Jen Ramos // Quilt is West Elm // Bench TJ Maxx // Lamps // Pillow
We also incorporated this Eileen Fisher Organic Cotton Throw Blanket into the room, and I love how it looks layered over the aqua quilt. It's the perfect weight for these end of summer nights when it starts to cool down just a touch and you want a light, soft layer.
Huge thanks to Eileen Fisher and Garnet Hill for partnering on this post!
photos by me