I think it's clear to readers of this blog that I have an obsession with studio apartments, which developed even before I moved into a studio of my own. I love the ingenuity they inspire in terms of coming up with creative layouts and storage solutions, plus I just love the cozy factor. As much fun as it is to admire sprawling, airy interiors, there's just something about small spaces that I find so welcoming and inspiring. Here's a studio tour from Apartment Therapy that I've had bookmarked for a long time, and which served as a big inspiration to me when laying out my own apartment.
I love the way she used an airy room divider (the black piece on the right hand side) to separate the bedroom area from the living room (as I did in my own little apartment). I'm a huge sucker for exposed brick too-it just lends such an appealing warmth to the space. In fact, even though the color scheme isn't my exact style, I really admire the way things like the bedding, the rug, and the armoire create such a warmth.
Using an airy room divider creates a feeling of separation without making the place seem smaller. I like the seating arrangement with the chair facing the couch.
I adore this little writing desk. Definitely inspired my choice to paint my
vanity
black. I just think it looks so cozy, like the whole area is just begging you sit down with a nice cup of coffee and get to writing. I LOVE the juxtaposition of the gorgeous antique writing desk with the modern vertical bookshelf. Vertical bookshelves are an obsession of mine- one of the first purchases I made for my own apartment.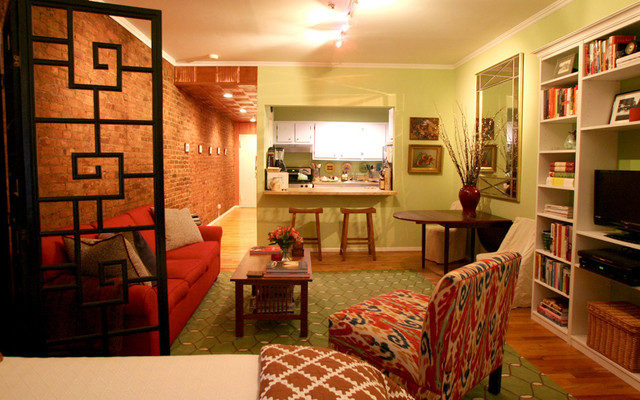 This shot just shows how a studio can feel so spacious and open (though granted, as studios go, this one is pretty generously proportioned). I love the entertainment unit/bookshelf, and how it sort of allows the television to blend in. The little dining table in the corner is great. I only wish I had room for a little table in my studio!
Lovely little detail shot.