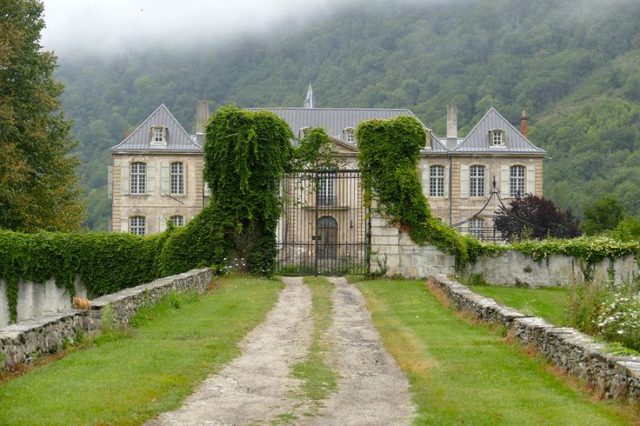 The image above is from the mesmerizing Chateau de Gudanes, a French castle being renovated and restored by a brave Australian couple. You can follow along as they document the process on Instagram, and you must check out the home tour that Lonny published! It is so amazing, like stepping back in time to a crumbling, romantic dream. It reminds me of the Titanic and could totally be the house from this book (well, sort of…that book was set in London but whatever). I'm officially hooked!
Another eye-opening post from Food Babe about how chain restaurants in the UK (Starbucks, McDonalds, etc.) are serving Europeans the same food they serve at their locations here in the US, but with a few key differences: drastically less sugar, drastically more organic ingredients. Why are we getting the short end of the stick?! Please read the article and share it with everyone you know – these unfair practices will never change if consumers don't demand it!
Loren Hope's fall look book is too good to be true. So much eye candy! My favorites include these, stacked as they did in the look book, this, and this. They're currently having a 15% off sale which is pretty great (so many good sales going on now for some reason – I guess it's like pre-holiday or something).
The smartest decorating advice that you've never heard before.
Why the Upper East Side is now cooler than Brooklyn. I feel so vindicated!
I'm having such a good time following along on Erin Gates' book tour, virtually. I had a great time meeting her in NYC and it's so fun to follow along as she posts from all of her tour stops. The best part? Seeing all of her amazing outfits!
A new Everlane favorite: this black cashmere V-neck sweater. It looks slouchy, cozy, effortless, and like something a cool French girl would wear. I think everyone needs one really great cashmere piece, and where better to get such a basic than Everlane?
Freaking out about the wrong thing. Frank Bruni is an excellent writer and I agree with pretty much every single statement that he made in this piece. Best part: "vanity trumps sanity." Sad but true and couldn't have phrased it better myself!