I have a lot of favorite Instagrammers, and Jessika Goranson is at the top of my list. From her shots of gorgeous architecture on the Upper East Side of NYC (obviously I have a soft spot for that :), to her jaunts to the English countryside (seriously amazing), to the glimpses into her charming shop Holiday in Boston's Beacon Hill, there's just something about her taste and eye for photography that I love. Best of all though, have been the peeks into her cozy UES apartment, complete with working fireplace (love), dashes of leopard, and antiques galore. So I was surprised and excited when my friend Alexis mentioned that Jessika's home had actually been featured in a past issue of Lonny (can't believe I missed that!). I was beyond thrilled to see a full tour of the gorgeous space that I've loved getting glimpses of on Instagram:
Love the wallpaper and that gorgeous little print!
Who wouldn't love to stay in this adorable guest bedroom, with the pom-pom pillows and the Hermes blanket? So inviting. (Also I have to say I love Lonny's use of the term "intimately proportioned"-that's a really good way of describing apartments in NYC!)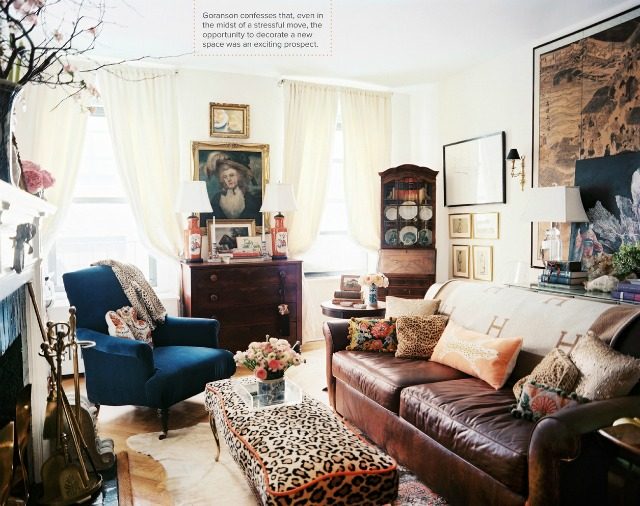 Another view of the amazing living room. It feels like a room in an old country house in England, doesn't it? That's what I love about it. It's got that cozy, eclectic, antique-y vibe, with the mixed patterns, the leather couch, and the secretary in the corner. It feels very sophisticated, but still fun and interesting.
Have you ever seen a black and white color scheme look so warm? The whole apartment is just so cozy and inviting. Also, feminine, but not TOO feminine. How elegant is that wallpaper, and the demilune table? And those lamps! That's actually kids wallpaper, which I think is brilliant – so great to pull from unexpected sources.
Ok, and once I read this quote from her, I became convinced that we could be decor besties:
I couldn't agree more. I've always dreamed of having a library room so large that it requires a ladder. That's partly how I justify buying so many books-gotta fill my future library!
Be sure to check out the
full home tour
in Lonny's Jan/Feb 2013
issue
– tons more to see of this charming abode, and all of Jessika's design advice is spot-on.
All photography by Patrick Cline via
Lonny